A regular vigorous workout program can help you reach your weight-loss and fitness goals, but it can also leave you feeling achy for days afterward. Anytime you perform an activity that puts unaccustomed loads on your muscles, you may feel soreness in those muscles from 12 to 72 hours afterward. Mild muscle soreness that subsides in a few days isn't anything to worry about, but it might make it harder for you to get back into the gym again the next day. A balanced diet can provide the nutrition you need to support healthy muscle growth and recovery. Supplements can also help, but speak to your doctor before choosing one.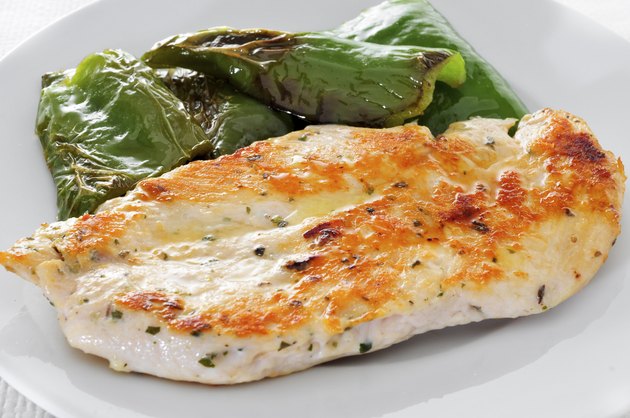 The Importance of Protein
Protein is one of the most crucial post-exercise supplements for repair of damaged muscle tissue and expedited recovery, according to Russell Abaray, MS, USAW and Douglas Boatwright, PhD, in an article published on the National Strength and Conditioning Association's website. By reducing muscle damage, protein can also help reduce muscle soreness, say Abaray and Boatwright. A study published in the Journal of Applied Physiology in March 2004 supports this claim. Researchers divided male U.S. Marines into three different treatment groups. One group received a placebo containing no carbohydrate, protein or fat; one group received a supplement with carbs and fat, but no protein; and the last group received a supplement containing carbs, fat and protein. Results showed that only the group receiving the protein-containing supplement experienced less soreness a third of the way through the study and at the end of the 54-day study.
Branched-Chain Amino Acids to the Rescue
Three specific amino acids -- leucine, isoleucine and valine -- referred to collectively as branched-chain amino acids, or BCAAs, are one of the best supplements for reducing muscle soreness, according to Marie Spano, MS, RD, and Chad M. Kerksick, PhD, in a March 2007 article in Today's Dietitian. In a study published in Medicine and Science in Sports and Exercise in May 2010, researchers divided 24 non-weight-trained male participants into two groups. One group received supplementation with BCAAs while the other group received a placebo. Study participants received the supplement 30 minutes before the workout, 90 minutes after workout, between lunch and dinner and prior to bedtime. For the next two days, participants received four supplements daily between meals. Observations showed that the BCAAs effectively reduced post-exercise muscle soreness compared to a placebo.
Caffeine Can Alleviate Soreness
If you like coffee, you're in luck -- caffeine is one of the most effective supplements for reducing muscle soreness, according to Spano and Kerksick. In a study published in the Journal of Strength and Conditioning Research in November 2013, researchers randomly assigned nine males to consume caffeine or a placebo 60 minutes before completing the same workout. Researchers measured markers of soreness in 24-hour increments for five days after the workout and found that those who ingested caffeine before the workout had significantly less muscle soreness on days two and three compared with the placebo. After a washout period, the researchers switched the groups and performed the experiment again with the same results.
Increased Vitamin C Intake
On the Precision Nutrition website, researcher and exercise physiologist Helen Kollias says the first thing you can do to prevent post-workout muscle soreness is to up your vitamin C intake. As an antioxidant, vitamin C can help to reduce oxidative damage and inflammation caused by strenuous exercise. A study published in International Journal of Sport Nutrition and Exercise Metabolism supports this. Researchers gave 18 health men a placebo or a vitamin C supplement both before and after they performed a set of eccentric elbow extensions. Researchers found that vitamin C significantly reduced muscle soreness in the first 24 hours. If you're thinking about supplementing with vitamin C, consult your doctor or a sports nutritionist for a recommended dose.