When you are performing the shoulder press, you are using far more than three muscles to execute the lift. The arm muscles are the prime movers in the shoulder press, but the muscles of your trunk and core contract to stabilize you when you are lifting. Consult your physician before beginning any diet or exercise program.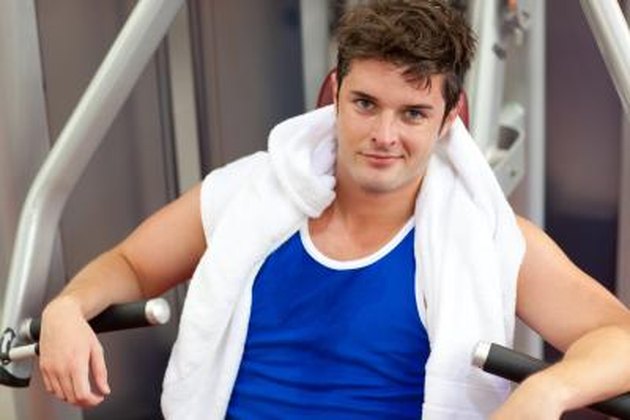 Shoulders
The shoulders, or deltoids, are one of the prime movers in the shoulder press. The deltoid has three aspects, or heads -- anterior, or front, lateral head or the outside of your shoulder, and posterior, or the back of your shoulder. The function of the deltoid is to raise the arm, and pressing weights over your head, the arm should be raised to full extension. This will strongly activate the anterior deltoid with some activation of the remainder of the shoulder.
Triceps
The triceps are the large muscles on the back of your arm and function to extend the elbow, or straighten your arm out. The triceps are active throughout the full range of motion of the shoulder press, regardless of hand spacing. The closer your hands are on the bar, the greater the activation of the triceps.
Back
Your back helps stabilize your shoulders during the lift. The trapezius, or large muscle at the top of your back just below your neck, stabilizes your shoulder blades and keeps them from moving backward or down. Many of the smaller muscles that stabilize your upper back are recruited while pressing, including the rhomboids and teres major and minor. The latissimus dorsi, or widest muscles of the back, are slightly recruited to stabilize your torso. This increases if you perform the lift standing as opposed to seated.
Position
Many muscles do little more than maintain the alignment of your structure, but are critical. The internal and external rotators are both extremely active, making the shoulder press better for balanced rotator cuff development than the bench press. Your abdominals and lower back contract to maintain your torso in an erect position, and your forearms contract to allow you to hang on to the bar. Rarely are only three muscles involved in any exercise, but the shoulder press involves most of the muscles of your upper body, making it an excellent exercise for strength and power.