Celine Dion is a veritable powerhouse on stage — and to keep energy levels up for her passionate performances, the artist knows she needs to fuel her body the right way. It turns out the French-Canadian singer has a very healthy appetite, and her go-to favorite foods might surprise you.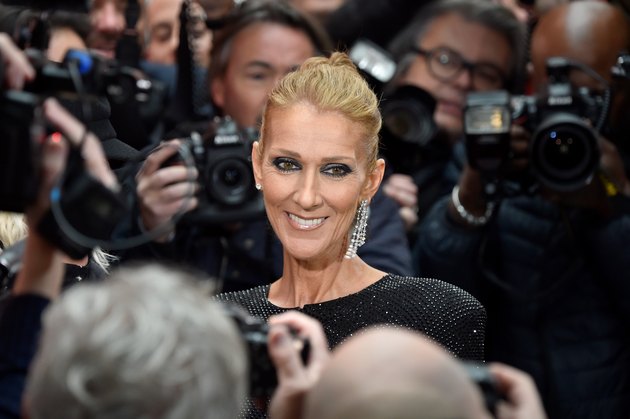 The 50-year-old has faced her fair share of disapproval over her slim physique, but Dion has always confidently shut the critics down, revealing that her figure has much to do with her genes.
"People think I'm starving myself, that I don't eat, that I exercise all the time. It's not true," she insisted to Rachael Ray in 2009. "My father, my brothers and sisters — they were all very thin."
So what exactly does the legendary songstress love to eat?
Breakfast
Dion sticks to her French roots when it comes to her petit dejeuner (that's French for breakfast). To kickstart her day, she opts for a blast of caffeine along with a buttery, delicious pastry.
"Normal breakfast is a cup of coffee (an espresso)," she revealed to The Hollywood Reporter. "And a croissant."
Although that doesn't sound like a lot, the popular baked good is pretty high in calories, with a large croissant clocking in at 270 calories. The pastries also contain plenty of saturated fat because of the butter content — and if Dion adds a touch of butter and jelly too, she could be packing in even more.
Snacks
When it comes to eating between her meals, Dion favors fruit, and she's pretty specific about what she likes. On one of her backstage riders, she requested fresh fruit in the form of pineapple, melon and cherries, though she made it clear that she was interested in fruits that were as fresh as possible: "Anything in season."
Lunch
Dion adores traditional French meals — and no, we're not just talking about French fries, although they do occasionally appear in her eating repertoire.
For lunch, Dion may well indulge in a baguette or a simple salad, but when dining with company you can expect her to pick some of her favorite, more hearty dishes.
For instance, during a lunchtime interview with a Vanity Fair journalist, the star served up cauliflower vichyssoise, a thick soup made with boiled, pureed vegetables such as leeks, onions, potatoes — and in her case, cauliflower — and cream that's often served cold. As if that wasn't filling enough, Dion followed it up with another one of her French favorites, a quiche with salad. The meal was topped off with fresh berries and a type of sweet Italian custard called Sabayon.
Dion doesn't just stick to caffeine in the morning, either: She loves to team a "cup of joe," as she calls it, with lunch and for an afternoon pick-me-up, too.
Meat
Dion might get her five-a-day produce in with a colorful variation of fruits and vegetables, but you won't find her steering clear of chicken, pork or steak. In fact, Dion is part owner of Schwartz's Jewish Deli in Montreal, Canada, which specializes in smoked meat.
She's even been known to sneak in a hot dog from a street vendor after a start-studded red-carpet event such as the Met Gala. Only Celine could make eating a street snack in a ball gown look classy!
French Fries
That isn't the only time she's had a craving for a greasy snack. In addition to the fruit on her rider, the songstress also asked for potato chips — in flavors like ketchup, salt and vinegar, and sweet and sour, but absolutely "no Ruffles."
And in a far more chic display, Dion videoed an installment for Vogue in which she posed in haute couture while devouring French fries.
Exercise
Dion might not exercise all the time, and she may be blessed with good genes, but that doesn't mean she omits exercise from her routine.
In addition to her calorie-torching shows, Dion also keeps fit and flexible with some off-stage exercises.
"I start on the stationary bike," she revealed to Elle. "Then, I lie on my stomach on a massage table, pushing into my palms or elbows to tone my shoulder blades in order to hold my neck — which is very long — while I sing. My physiotherapist makes sure my spine is aligned and that my shoulder blades aren't stuck together."
Of course, being a mom to eight-year-old twins — Dion has an 18-year-old son, René Charles, too — also keeps her on her toes, and she admits she didn't have to contend with battling her weight after their birth either.
"You get busy with twins and you feed them so they help you to recover very fast," Dion told Us Weekly. " So I helped them help me."
Dion also told Rachael Ray that her star sign contributes to her ability to burn off calories quickly.
"I'm Aries, and I'm a very nervous person," she admitted. "I'm very energetic, you lose a lot of calories."
Well, Celine, we're just a tad jealous — and you've officially made us want to come to your house for dinner! In fact, we'll come for breakfast and lunch, too, if that's okay.