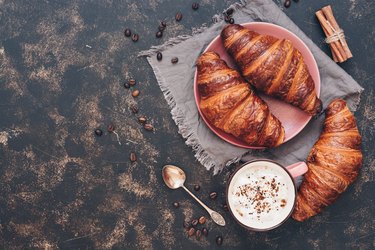 If you've ever savored a delicate croissant pastry, you probably weren't thinking about croissant calories or croissant nutrition. Because croissants have substantial amounts of fat, saturated fat, sodium and carbohydrates, consider placing them in your diet's "special treat" category.
Croissant Calories and Nutrition
One large butter croissant contains 240 calories, notes Washington University in St. Louis. This tasty pastry has 33 grams of carbohydrates, making up 11 percent of a 2,000-calorie daily diet. It also contains 12 grams of total fat, 6 grams of saturated fat, 0.5 grams of unhealthy trans fat and 5 grams of sugar.
On the positive side, a butter croissant does offer 6 grams of protein and 4 grams of dietary fiber. However, these small croissant nutrition benefits don't begin to offset the negatives of the fat, sugar and carbs in croissants.
Eating Croissants for Breakfast
Harvard Health Publishing explains that your metabolism keeps your body's energy supply at a constant level, whether you've recently eaten a meal or not. When you consume breakfast after a 10- to 12-hour interval without food, your first daily meal helps your body to switch from fasting mode to energy storage mode — so you should make that meal count.
Ideally, you should eat a breakfast that includes low-to-moderate amounts of protein and fat. Omega-3 fats sourced from fish and nuts, and substantial amounts of fiber, are recommended.
You should also consume very little simple sugar and other quickly absorbed carbohydrates. Instead, eat more complex carbohydrates with slow absorption rates. High-fiber, low-sugar cereals, or whole wheat or pumpernickel breads with a low glycemic index, are good choices.
Unfortunately, the high fat content and other negatives of traditionally made croissants knock them off the list of suitable breakfast foods. However, depending on your daily calorie guidelines, a croissant might qualify as an occasional treat.
Guidelines for Healthier Croissants
The Ohio State University Extension offers a solution to a healthier croissant you can make at home. You can substitute prune puree or applesauce for half of the butter, and modify the baking time accordingly. Instead of whole milk, use healthier skim milk, 1 percent milk or unflavored soy milk with calcium. Replace up to half of the all-purpose flour with healthier whole wheat flour.
The Mayo Clinic recommends that you modify your diet so whole grains comprise half (or more) of the grains you eat. These beneficial high-fiber grains help you feel fuller, making it easier to manage your weight.
Whole-grain consumption has also been associated with a decreased risk of heart disease, diabetes, some cancers and other health conditions. Nutritious whole grains include brown rice, buckwheat, oatmeal, popcorn and whole wheat pasta.
Certain whole grains are also high in soluble fiber, which helps to reduce total cholesterol levels, states the Cleveland Clinic. Soluble fiber sources include oat bran and oats, barley, ground flaxseed, bananas, citrus fruits, broccoli, sweet potatoes and squash, among others.
Insoluble fiber is also important to your digestive system health. Also called roughage, it helps to promote regular bowel movements, and plays a role in keeping your weight at a healthy level. Insoluble fiber can even help to prevent certain gastrointestinal problems. Insoluble fiber sources include vegetables, nuts and whole wheat crackers, cereal and pasta.