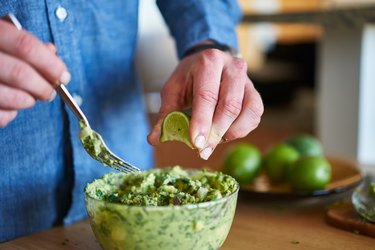 Avocados are a nutritional powerhouse. The stone fruit fruit is a good source of fiber, vitamin K, folate, pantothenic acid, copper, antioxidants and healthy fats.
"Avocado is very high in monounsaturated fats that have been shown repeatedly to reduce the risk of heart disease, lower blood pressure and improve insulin sensitivity," says David Perlmutter, M.D., a neurologist and author of Grain Brain, advocates that the avocado is one of the best foods for our brains and body because of the fat content.
One of the best (and tastiest) ways to consume avocados is guacamole, so we've pulled together our favorite recipes that put a surprising spin on your basic guac. Check out the list of game-changing guacamole recipes below.
How to Pick a Ripe Avocado
First things first: You want to start with perfectly ripe avocados. And while picking one can seem like a game of roulette, it doesn't have to be.
You can determine the level of ripeness by how soft or firm an avocado feels, although you don't want to push too hard, which can cause bruising. You'll know the most commonly consumed avocados, Hass avocados, are ripe when their skin starts to turn black instead of green.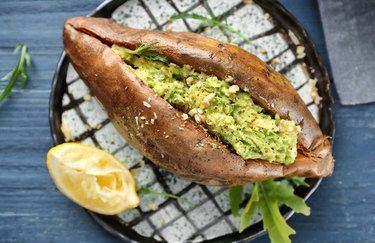 1. Baked Sweet Potato With Guacamole
Move over avocado toast, this baked sweet potato with guacamole is, quite possibly, the best thing ever (OK, we're biased). And if you're following Whole30 or the Paleo diet, you can easily incorporate this into your weekly game plan for breakfast, lunch or dinner.
While baking sweet potatoes does reduce some of their nutritional content, it's minimal, says Cynthia Sass, RD, and NYC- and LA-based performance nutritionist. And it's absolutely safe to eat the skin of sweet potatoes — it has up to 10 times the antioxidant power than the flesh.
2. Roasted California Grape Guacamole
From cumin to grapeseed oil, this guacamole is full of unlikely ingredients that come together for a delicious and nutrient-dense dip that's only 91 calories a quarter cup.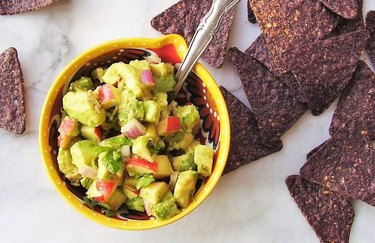 3. Autumn Apple and Avocado Guacamole
This bright, sweet and spicy take on the usual savory guacamole recipe will become your next go-to thanks to the unusual pairing of apples and jalapeños.
4. Guacamole With a Secret Ingredient
As you're probably realizing, guacamole is a versatile dip thanks to the thick, creamy texture of the avocados. This makes adding ingredients to your favorite recipe a no-brainer, especially if you want to up the fat content.
This guacamole recipe in particular is great as a post-workout snack, as it uses Greek yogurt as the secret ingredient. That means it increases the total grams of protein per serving from three to seven.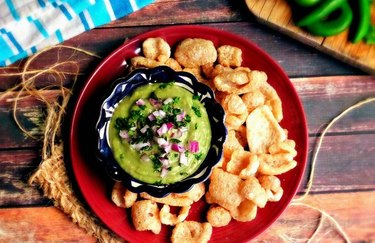 5. Avocado Salsa Verde
The secret to crowd-pleasing guacamole? Spicy chili peppers and tangy tomatillos. Tomatillos, as opposed to regular tomatoes, add an exciting, slightly acidic layer to the dish's flavor profile. The contrasting notes play well with the creamy base of avocados and the bright, citrusy flavor of cilantro.
And if you think you can't have your guacamole and keep it low-carb or keto-friendly, think again. Try serving cucumbers and radishes alongside this dip. Or get fancy with your everyday salad and swap this salsa for your usual dressing.