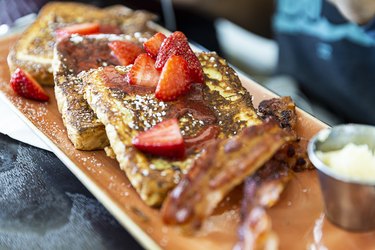 If you're following a low-carb diet or simply tracking your carb intake, traditional white bread can easily exceed your carb budget (two slices have about 30 grams of carbs). So, what's a loaf lover to do?
Plus, they also contain more protein and fiber to keep you fuller for longer. (We love Silver Hills Bakery Vegan Sprouted-Grain Bread, $4.99 on Target.com.)
Featuring whole and sprouted grains, these six satisfying low-carb breakfast recipes with bread (with 23 grams of carbs or less) will crush your cravings without costing you much of the starchy macro.
1. Egg, Organic Ham and Toast Scramble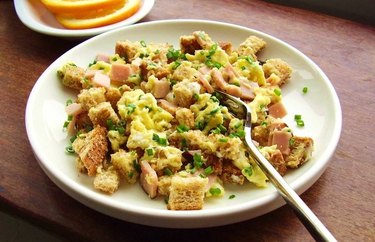 ‌Calories:‌ 325
‌Carbs:‌ 17 grams
Toast is for egg dipping, so why not dice it up and toss it into your morning scramble? That's exactly what this cross between an omelet and a breakfast sandwich does.
High-protein eggs and organic ham combined with fiber-rich whole-grain bread will keep your belly satisfied and your blood sugar levels steady for hours, Rissetto says. For even more filling fiber (and texture), she suggests adding sautéed spinach to your scramble.
2. Smoked Salmon Avocado Toast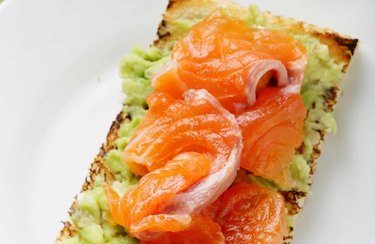 ‌Calories:‌ 307
‌Carbs:‌ 7 grams
Fish for breakfast? While seafood may not seem like an obvious morning meal, this salivating smoked salmon gives your average avocado toast a major upgrade and a big boost of muscle-building protein. With a mere 7 grams of carbs per serving, this tasty toast won't break the carb bank. Plus, it's convenient — only 4 minutes to prep from start to finish.
To feel more full (and get extra heart-healthy omega-3s), Rissetto recommends eating 5 to 6 ounces of salmon (instead of the 3 ounces called for in the recipe).
3. Cinnamon French Toast With Yogurt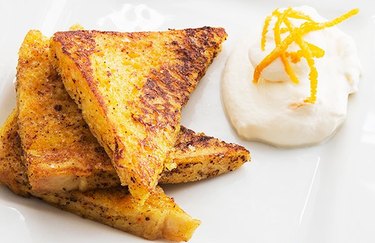 ‌Calories:‌ 277
‌Carbs:‌ 22 grams
This delicious low-carb breakfast proves you don't need heavy, carb-laden challah bread to make a fantastic french toast. Low in saturated fat and high in protein from eggs and Greek yogurt, top this toast with berries for a bit of sweetness and even more gut-healthy fiber.
4. The Buenos Dias Toast With Refried Beans and Hard-Boiled Eggs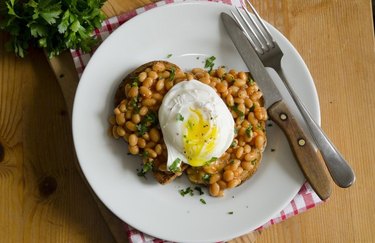 ‌Calories:‌ 192
‌Carbs:‌ 22 grams
Loaded with fiber (5 grams) and protein (12 grams) from refried beans and healthy fats from hard-boiled eggs, this is a perfectly balanced breakfast that promises to stave off the belly rumbles until lunchtime, Rissetto says.
Plus, with all the textures, from crunchy toast to buttery refried beans — plus a splash of spicy salsa — this loaded whole-grain toast is guaranteed to tickle your tastebuds.
5. The Goob Peanut Butter Toast With Greek Yogurt and Grapes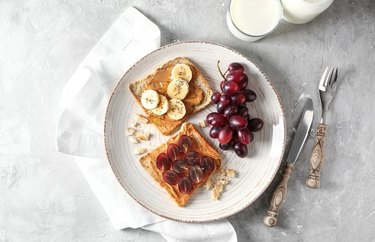 ‌Calories:‌ 216
‌Carbs:‌ 22 grams
Peanut butter and jelly fans, this one's for you. This version of the classic sandwich staple sacks the sugary jelly in favor of juicy red grapes for a fresh take on an old-school favorite that won't sacrifice the flavors you love.
Meanwhile, low-fat Greek yogurt combines with creamy natural peanut butter for an extra protein punch. If you're watching your sugar intake, Rissetto recommends swapping out grapes for berries, which would also bulk up the fiber content.
6. Avocado Breakfast Sandwich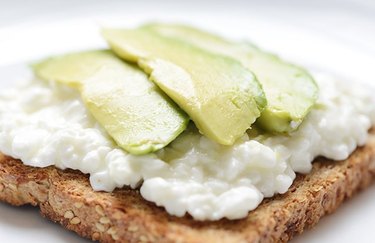 ‌Calories:‌ 266
‌Carbs:‌ 23 grams
As far as breakfasts go, this one is as complete as it gets with a beautiful balance of blood sugar-stabilizing whole grains, heart-healthy fats and satiating protein, Rissetto says.
Highly underrated, cottage cheese brings a bounty of flavor and texture (without many calories) to this twist on avocado toast. Not to mention, the creamy cheese boosts your morning meal's nutrient profile thanks to its calcium content.