Less of a "diet" and more of a healthy eating approach, the Mediterranean diet is a heart-healthy eating plan that includes foods of the people who live in the region around the Mediterranean Sea, such as Italy, Greece and Croatia. And while Greeks eat differently from Italians, who eat differently from the Spanish and French, they do share many of the same principles.
Eating primarily whole, plant-based foods, such as fruits and vegetables, whole grains, legumes and nuts is the core of the Mediterranean diet. Fish and seafood are recommended twice weekly and moderate portions of dairy foods, eggs and poultry. Red meats and sweets are not off limits entirely, but rather enjoyed infrequently. Butter is replaced with healthy fats such as olive oil and avocados, and herbs and spices are used instead of salt to flavor foods. Daily physical activity is also a key component to this healthy lifestyle.
This eating style has been associated with remarkable health benefits, including an increased lifespan, reduced risk of heart disease and diabetes and lower risk of certain cancers. To save time and money while embracing a Mediterranean lifestyle, stock up on these 10 Costco items to help you make a quick meal or snack that's as tasty as it is good for you.
1. Kirkland Signature Organic Diced Tomatoes
While fresh fruits and vegetables are a staple of the Mediterranean diet, for year-round convenience, Kirkland Signature Organic Diced Tomatoes are the next best thing. Packed at the height of freshness and certified organic, these vine-ripened tomatoes are an excellent source of vitamin C and other important antioxidants like lycopene, a heart healthy plant nutrient that may help protect against sunburn and certain types of cancer. Diced tomatoes are a wonderful ingredient in soups, baked entrees, and pasta dishes, or use them to make a homemade marinara sauce that will put store-bought options to shame.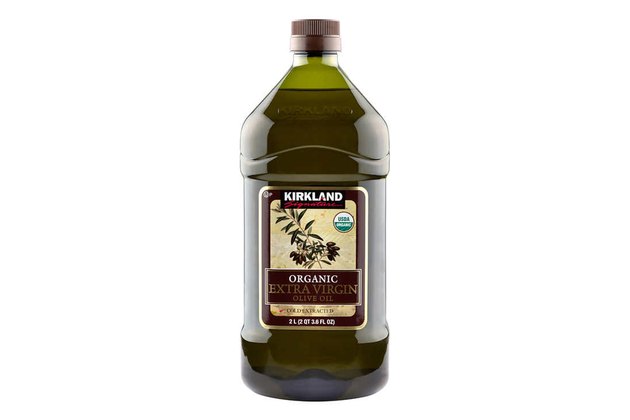 2. Kirkland Signature Organic Extra Virgin Olive Oil
The staple of all staples, olive oil is a must-have for a Mediterranean-friendly pantry. While both regular olive oil and extra virgin olive oil are extracted from the fruit of olive trees, extra virgin olive oil is made from pure, cold pressed olives creating an unrefined product with a robust flavor.
Rich in antioxidants and better-for-you unsaturated fats, use extra virgin olive oil to make homemade dressings and sauces, drizzle over cooked items or sautee or roast vegetables. A mainstay of "Best Buys at Costco" lists, the Kirkland Signature Organic Extra Virgin Olive Oil is a great way to get a high-quality product at a reasonable price.
3. Trident Seafoods Salmon Burgers
A Mediterranean-style diet recommends seafood as the main source of protein — and for good reason! Seafood is an excellent source of quality protein, provides important minerals (including zinc, iron and selenium) and contains healthy omega-3 fatty acids (DHA and EPA), which may play a role in heart, brain, and eye health.
For convenience and taste, Trident Seafoods Salmon Burgers are a nutritious pick at Costco to keep in your freezer. Packed with more than 1,300 milligrams of omega-3 fatty acids per serving, these wild and sustainable salmon burgers are also gluten-free with no fillers. Perfect in a bun, these salmon burgers are also delicious in a wrap, over a salad or straight from the grill.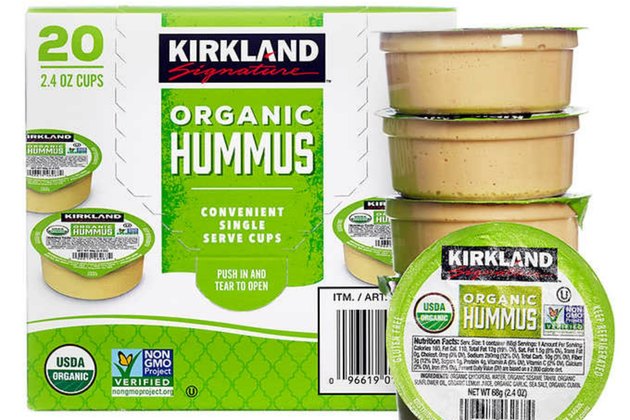 4. Kirkland Signature Organic Hummus Singles
Hummus, made from cooked garbanzo beans (chickpeas) blended with tahini (sesame paste), olive oil, lemon juice, garlic and spices is a classic Mediterranean food. Garbanzo beans, like all beans, pack a unique combination of nutrients with a nutritional profile similar to both a protein and vegetable.
For a timesaver to homemade hummus, Kirkland Signature Organic Hummus Singles (20 count) at Costco offers a "clean" ingredient list with built-in portion control. Each 160-calorie container provides 4 grams of plant-based protein and 3 grams of fiber for staying power. Enjoy hummus as a dip with veggies or pita chips, spread on bread or as a healthy ingredient in your favorite recipe, like deviled eggs or salad dressing.
5. Wonderful Pistachios
Nuts, including pistachios, are one of the cornerstones of the Mediterranean diet. For an easy grab-and-go option, pick up a bag of Wonderful Pistachios at Costco. A good source of both plant-based protein and fiber, as well as unsaturated fats, pistachios are a tasty food to have on hand.
The shelled version is a convenient option when cooking, adding nutrition and crunch to your side dish or entree, while the in-shell version is a smart choice for snacking. Research suggests that snacking on in-shell pistachios may help slow consumption and the empty shells offer a visual cue, potentially helping you eat less and feel just as satisfied.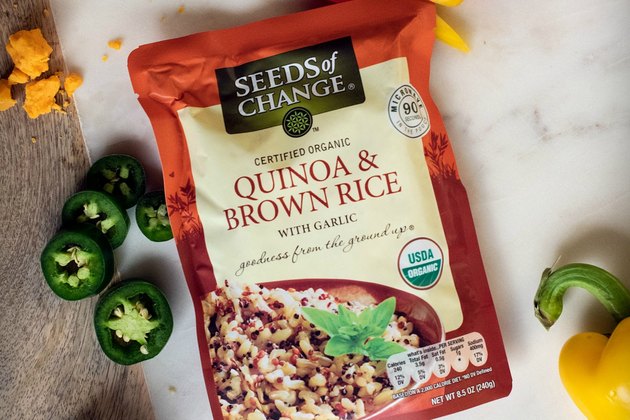 6. Seeds of Change Organic Quinoa & Brown Rice with Garlic
Each box contains six bags you can pop in the microwave for 90 seconds, so it's easy to get the right serving size in a flash. If it's one of those days when you need dinner on the table in less than five minutes, try using it to make a grain bowl with some frozen veggies or beans, plus a drizzle of extra virgin olive oil for a tasty Mediterranean-friendly bowl in minutes.
7. Pressed by KIND Fruit Bars
Whole, fresh fruit is ever-present in the Mediterranean. Apples, cherries, grapes, apricots, oranges, berries, peaches and pears are all common to the Mediterranean diet. In addition to having fresh fruit on hand, there are packaged fruit products that deliver whole food nutrition.
For convenience, pick up a box of Pressed by KIND Fruit Bars variety pack at Costco (18 count). Made with real fruit plus chia seeds, each bar delivers two servings of fruit with no added sugar. A good source of fiber, the bars are also dairy- and gluten-free.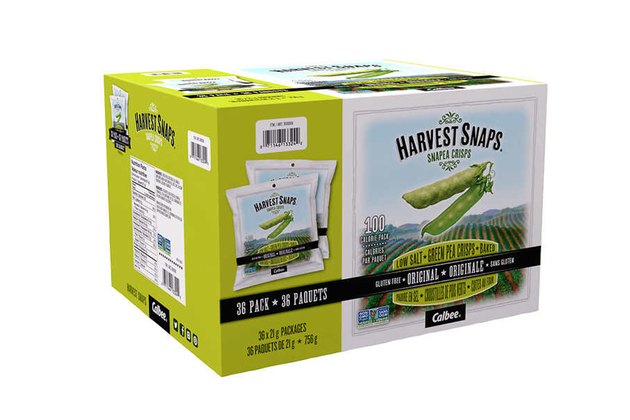 8. Harvest Snaps Green Pea Snack Crisps
Legumes (beans and peas) are a core part of the Mediterranean eating plan. Legumes provide antioxidants, plant-based protein, fiber and important vitamins and minerals (including iron, folate, calcium, magnesium and zinc).
Fresh cooked peas are a great option when they're in-season and you have time to cook them, but for a packaged convenience food, Harvest Snaps Green Pea Snack Crisps are a nutritional upgrade compared to your average bag of chips.
With green peas as the first ingredient, these baked crisps are a good source of protein and fiber for staying power, plus they're gluten-free and low in sodium. Some Costco stores carry the large (20 ounce) organic bag, while others carry the single-serve (100 calorie) bags in a pack of 36.
9. POM Wonderful Pomegranate Juice
When choosing juice as part of the Mediterranean diet, it's recommended to choose 100-percent fruit juices, which have no added sugar by definition, and to pay attention to portion control. Known for its antioxidants, enjoy POM Wonderful alone, mix it with sparkling water or use it in a smoothie.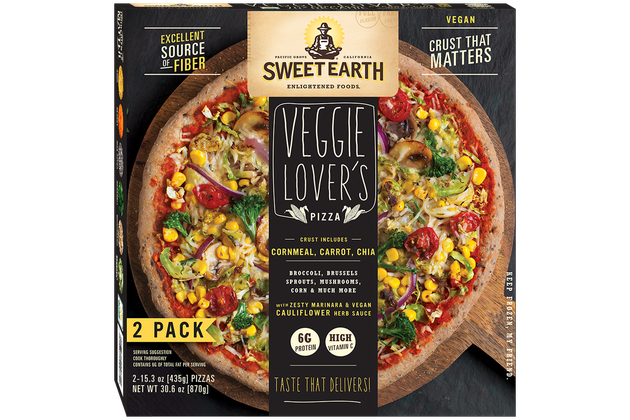 10. Sweet Earth Foods Veggie Lover's Pizza
The siren call of the Costco food court pizza is hard to resist, but if you can make it to the freezer section, you'll find a delicious, veggie-packed substitute that actually aligns with the Mediterranean lifestyle. Sweet Earth Foods Veggie Lover's Pizza (2-pack) at Costco is a vegan option that's loaded with veggies. Plus, the crust is made from cornmeal, carrot and chia.
Frozen pizzas can be a great option to have on standby for rushed evenings, and with a pizza made with quality ingredients and a side salad, you can actually pull off a veggie-heavy meal in a few minutes. One slice has five grams of fiber, which is more than you'll get from food court pizza and at only a fraction of the calories.