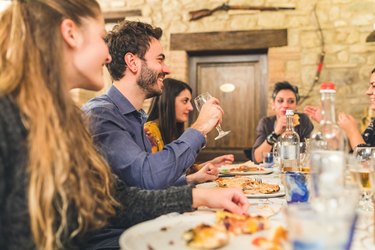 A beloved Italian chain restaurant, Olive Garden is as popular as it is tasty. Whether you're craving pasta, chicken or seafood, you won't be disappointed. However, not blowing your diet with unlimited bread sticks and a 1,500-calorie "Tour of Italy" entree can be challenging, to say the least. To help you navigate the menu with healthier options that still deliver on taste, nine registered dietitians share their Olive Garden recommendations.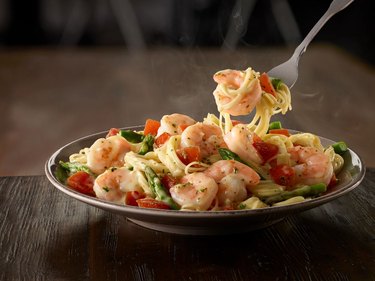 "If you are in the mood for pasta when at Olive Garden, I say go for it," says Keri Gans, RDN, author of The Small Change Diet. "Their shrimp scampi pasta dish, at 510 calories, would be my pick. Not only is it lower in calories than most dishes on the entire Olive Garden's menu, but the shrimp provides satiating protein and heart-healthy omega-3 fatty acids. To boot, this pasta dish comes with antioxidant-rich tomatoes and asparagus."
Speaking of protein, it should account for about 10 to 35 percent of daily caloric intake. Aim to get anywhere from 50 to 175 milligrams of protein per day, depending on your level of activity and other dietary needs, per the Cleveland Clinic.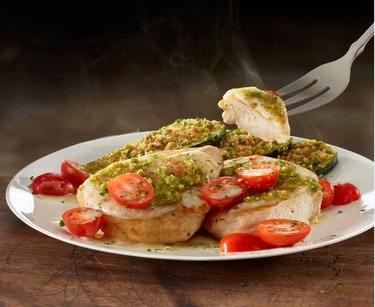 "I'm a fan of the Chicken Margherita because it's grilled, not fried, so it's not swimming in oil. However, you can make it even healthier by asking your server to go light on the cheese, which will trim fat, calories and sodium. While you're at it, ask to leave the parmesan-crusted zucchini that comes on the side off and swap in a salad instead, for a healthier veggie alternative."
It's recommended to less than 2,300 milligrams of sodium per day, which is equal to one teaspoon of table salt, per the FDA.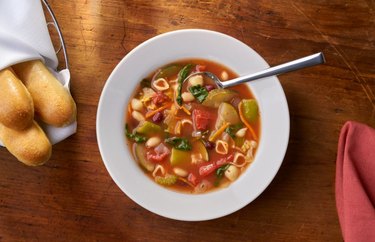 "Packed with beans, other vegetables and a savory broth, the minestrone soup is a satiating choice with a filling four grams of fiber in one bowl," says Marisa Moore, RDN, Integrative and Culinary Dietitian. "You can make a meal of it by getting a second bowl as part of their endless soup offer or pair it with a salad or side of vegetables."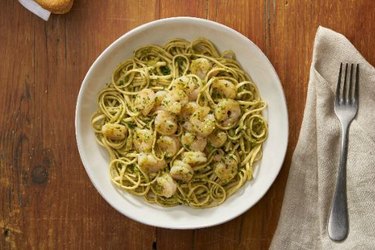 "This create-your-own pasta dish allows you to enjoy the pasta that you're craving but in a more customizable, healthier way," says Amy Gorin, RDN, owner of Amy Gorin Nutrition in the New York City area. The Cucina Mia allows you to choose the type of pasta, sauce and toppings you would like.
"I'd recommend going with the whole-grain linguine with marinara sauce with sautéed shrimp and a double helping of garden veggies. This combo provides satiating protein from the shrimp, as well as filling fiber from the whole grains and veggies — and the extra veggies will help fill you up for very few calories."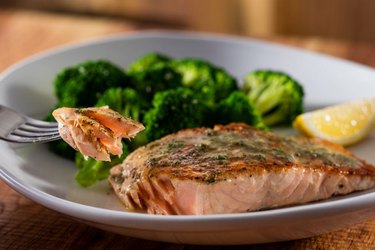 "Besides being an excellent source of protein to keep me feeling satisfied, salmon is a great source of omega-3 fatty acids that support heart health and fight inflammation," says Bonnie Taub-Dix, RDN, author of Read It Before You Eat It.
"It's served with parmesan garlic broccoli so you'll also be getting a chance to add the fiber and nutrients within this cruciferous veggie. I'm not thrilled about the 960 milligrams of sodium per serving, but compared to many other fast foods, the nutrient profile of this fish dish is still a better choice than most others."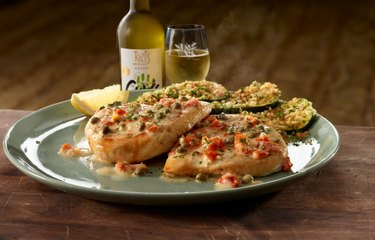 6. Chicken Piccata (and a Famous Bottomless Salad)
"Chicken Piccata is my go-to at Olive Garden. It's protein-rich, perfectly seasoned and full of flavor," says Regan Jones, RD of This Unmillennial Life Podcast. "Rather than making a full dish of pasta my entree, I opt for a bit on the side and enjoy it with the chicken and Olive Garden's famous bottomless salad. Their salad specifically is one of those popular menu items that even non-salad lovers seem to enjoy. I think this is a good thing, especially if eating at Olive Garden with kids. It's a great way to get children in the habit of enjoying a salad with every meal."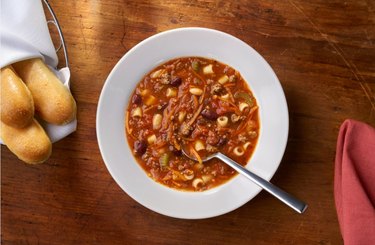 "At Olive Garden, I'd go with a soup and salad combo. Start with Olive Garden's Pasta a Fagioli for 150 calories, just two grams saturated fat and three grams of fiber. This is a plant-based soup made with beans, which provides fiber, protein and B vitamins," says Liz Weiss, RDN, creator of the Liz's Healthy Table podcast and blog.
"Like many of the entrees at Olive Garden, the Pasta a Fagioli is a bit high in sodium (710 milligrams), but it's the lowest of all their soup offerings. To round out the soup, order the Famous House Salad (for an extra two grams of fiber), but get it without the dressing to cut down on sodium (520 milligrams), and make your own 'dressing' at the table by asking for olive oil and balsamic vinegar on the side."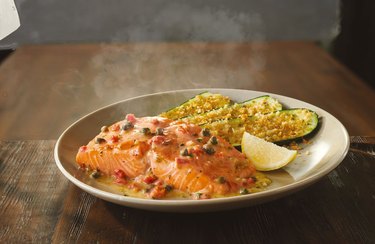 "I would recommend the Salmon Piccata with steamed broccoli substituted for the parmesan-crusted zucchini. It's packed with protein, averaging around 45 grams per meal," says Jim White, RD, ACSM Health Fitness Specialist.
"Italian food can add up in calories pretty quickly due to the large portions of pasta, however, this dish is about 500 calories and comes with a serving of veggies. Substituting the broccoli for the parmesan-crusted zucchini provides a non-starchy vegetable without the hidden saturated fat and refined carbohydrates. Plus, salmon boasts the added benefit of heart healthy omega-3 fatty acids."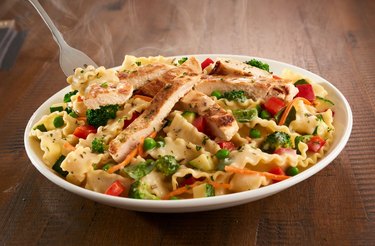 "It's tempting to want to just order a big bowl of pasta, but picking something like the Chicken Giardino that also offers meat and vegetables is a better choice," says Mary Ellen Phipps, RD,, founder of Milk & Honey Nutrition.
"The protein from the chicken and fiber from the veggies helps your energy levels stay stable after a big meal and won't leave you feeling sluggish like a bigger bowl of pasta would. And the sauce on this particular dish is broth-based, meaning it's packed with flavor but doesn't add a ton of extra calories."
Was this article helpful?
Thank you for your feedback!