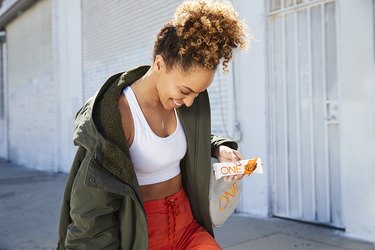 Life is busy, and finding time to get through your to-do list, actually wash your face, and work out is a feat to celebrate. But does it really have to be such an unattainable goal?
Ashley Joi, fitness trainer and ONE Brands ambassador, doesn't have a typical nine- to-five job, but it doesn't change the fact that she's got some seriously hectic days. So, while a dream workout for her includes "hang cleans, front squats, dumbbell bench press, medicine ball slams, jump rope, battle ropes, and sled pulls," she doesn't always have time to pull it off.
And that's when she does some tweaking. "The key is to do something as soon as you get up," she says. "So many apps provide four to five body weight exercises (pushups, planks, high knees, alternating reverse lunges, burpees) for 30 seconds on and 30 seconds rest." While she showers, she brews her coffee, and then goes through the rest of her routine. "Now at 45 minutes left in the hour, I enjoy a cup of coffee, eat, look at emails, get dressed, and head out the door!"
"If you believe you're worth taking time for, make the time."
When it comes down to it, it's all about being flexible with your schedule. "Sometimes you have to get creative and the time may be an hour before you usually wake up, or between work and errands, or push errands back an hour," Ashley Joi says. " If you believe you're worth taking time for, make the time." Check out Ashley Joi's advice below for making the most out of one hour every single day.
1.  Make a list of your daily to-dos
Organization is key to creating a routine that'll actually stick. "Keep track of what you're actually doing to help you identify where your time is going," says Ashley Joi. If you find that you can do without 15 minutes of true crime before bed or you can swing waking up 10 minutes earlier, you can create a window of workout opportunity.
However, this doesn't mean you should completely overhaul your schedule. Start slow and gain better perspective of your priorities—and who knows, you might discover something new about yourself after seeing your daily timeline on paper.
2. Get in 100 core exercises before you brush your teeth
Before you freak out, Ashley Joi stresses to go at your own fitness level. "Do four core exercises (sit ups, toe touches, Russian twist, bicycles), 25 times each," she says. And bam, you can cross ab day off your calendar.
While her specific advice is centered on core, you can take this approach to basically anything fitness and wellness related. Steal from Ashley Joi's personal routine and knock out a 15-minute interval workout to get your heartbeat up before you get to the rest of your daily rituals.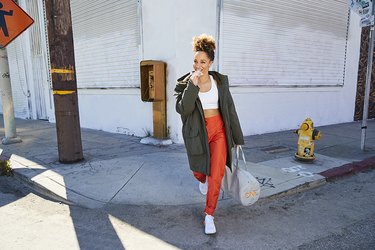 3.  Don't feel you need to do fast food because of time
This is a big one. Just because you don't have time to whip up something gourmet, doesn't mean you have to settle for the drive-through. Ashley Joi's secret to eating nutritious food on the go? ONE Bar. "I have ONE bars in all my bags (fanny pack, gym bag, purse, random bike bag). So, no matter my routine or bag of the day, I always have one on me," she says.
In addition to being a nourishing on-the-go snack that provides 20 grams of protein and only one gram of sugar, Ashley Joi loves ONE for its unmatched taste. "Not every protein bar has successfully created true chocolate flavor, and they have a Dark Chocolate Sea Salt Bar which gives me life!" Ashley Joi says.
Moral of the story: Don't put too much pressure on yourself to get your schedule just right. Instead, be open to change, try out some new (quick) workouts, and eat foods that are equally convenient as they are nutritious.