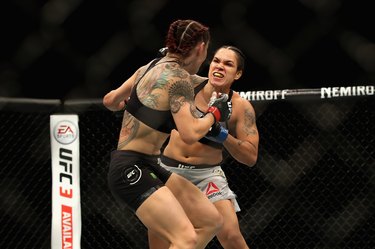 For a dose of real-life, kick-butt inspiration, we're turning to the women of mixed martial arts (MMA), specifically the Ultimate Fighting Club (UFC). We've rounded up the women leading the charge to help you get motivated for your next workout.
Mixed Martial Arts vs. Ultimate Fighting Club
MMA is the actual sport while UFC is a league within the sport. The easiest way to explain it? Alex Lee, social news editor at MMAFighting.com, says it's like basketball is the sport, while the NBA is a league. "Fighters compete in MMA, but they can fight for the UFC or any number of other organizations," he says.
UFC is the largest and most successful MMA promotion by far, with Bellator MMA being number two in North America. "But there are hundreds of smaller promotions in North America and across the globe that put together MMA shows," Lee says.
The Best Female MMA Fighters
The current best female MMA fighters are typically whoever is at the top of their weight classes in the UFC, says Lee (see below for that list). However, there are notable champions in other promotions who are considered to be close to that level. Lee includes:
Julia Budd: featherweight champion, 145 pounds, in Bellator MMA
Ilima-Lei Macfarlane: flyweight champion, 125 pounds, in Bellator MMA
Aga Niedzwiedz: an MMA champion, 125 pounds, in Poland
Vanessa Porto: flyweight MMA champion, 125 pounds, in Invicta FC, an all-female promotion
The Best Female UFC Fighters
According to Lee, the top female UFC fighters in each division are:
Amanda Nunes: bantamweight, 135 pounds (Nunes also recently won the featherweight — 145 pounds — title, so she's currently the champion in two different weight classes.)
Valentina Shevchenko: flyweight, 125 pounds
Jessica Andrade: strawweight, 115 pounds
But there are several other top fighters in the UFC, well-known for different reasons, he says. Detailed below is a list by weight class to sum up why each female fighter is so highly regarded.
Strawweight Fighters (115 Pounds and Under)
Joanna Jedrzejczyk: Former champion from Poland who successfully defended the strawweight title five consecutive times before losing to Namajunas at UFC 217 on November 4, 2017. Jedrzejczyk also recently fought Valentina Shevchenko for the flyweight title, losing by unanimous decision, to one of the sport's most popular female fighters.
Rose Namajunas**:** Nicknamed "thug," Namajunas is a former UFC Women's Strawweight Champion.
Nina Ansaroff: She's a top contender on a four-fight winning streak.
Claudia Gadelha: Long considered the second-best strawweight in the world behind Jedrzejczyk, Gadelha has fallen just a notch below some of the other contenders.
Tatiana Suarez: This former Olympic wrestling hopeful had her career derailed by a neck injury and thyroid cancer. After her thyroid cancer was successfully treated, she's back and won all seven of her fights and UFC's The Ultimate Fighter reality show.
Michelle Waterson: This top contender and longtime veteran is also known as "The Karate Hottie," Waterson is very popular due to her personality and fighting style.
Flyweight Fighters (116 to 125 Pounds)
Jessica Eye: A longtime veteran who battled through a losing streak, she's emerged as the number one contender and has won her last three fights.
Liz Carmouche: Famous for being part of the first women's fight in UFC history against Ronda Rousey at UFC 157 (February 23, 2013), Carmouche holds a win over the current champion Valentina Shevchenko.
Antonina Shevchenko: She's a kickboxing star who is currently undefeated (7-0) in MMA and who has an older sister, Valentina Shevchenko, who competes in strawweight.
Paige VanZant: She debuted in the UFC when she was just 20 years old. Despite mixed results in the cage, she's achieved considerable mainstream success due to her appearance on Dancing With The Stars, where she finished second.
Bantamweight Fighters (126 to 135 Pounds)
Holly Holm: Former champion and longtime competitor, Holm is also one of the most decorated female boxers of all time.
Ketlen Vieira: Undefeated Brazilian fighter with a 10-0 record (4-0 in the UFC), Vierira is currently viewed by many as the top contender at 135 pounds.
Ronda Rousey: The most famous female MMA fighter of all time by a wide margin, Rousey has been inactive since December 30, 2016, and is possibly retired from fighting. She is currently a top performer for the World Wrestling Entertainment company.
Featherweight Fighters (136 to 145 Pounds)
Cris Cyborg: Longtime featherweight champion before losing to Nunes, Cyborg was on a winning streak of 21 straight fights dating back to November 20, 2005.
Want to Learn More About MMA?
Begin by watching the UFC. It's an accessible product that runs dozens of free shows throughout the year, and for the most part, you're guaranteed at least two or three high-level fights per show.
"There was a time when there was maybe a handful of UFC shows a year for people to watch, but the sport of MMA itself boomed in the 2000s, and now there is a UFC event almost every week in addition to shows from other promotions," Lee says.
From there, you'll start to learn the rules as well as what makes a good fight, a good fighter and good technique vs. bad technique. Then look into other promotions and fighters from there.