Indoor cycling is one fitness trend that's holding strong. In fact, 20 percent of fitness fans are currently taking indoor cycling classes, or would consider taking one, according to a 2019 consumer survey from Les Mills Global. Group workouts are also a top trend for 2019, taking second place in the American College of Sports Medicine's annual worldwide survey of fitness trends.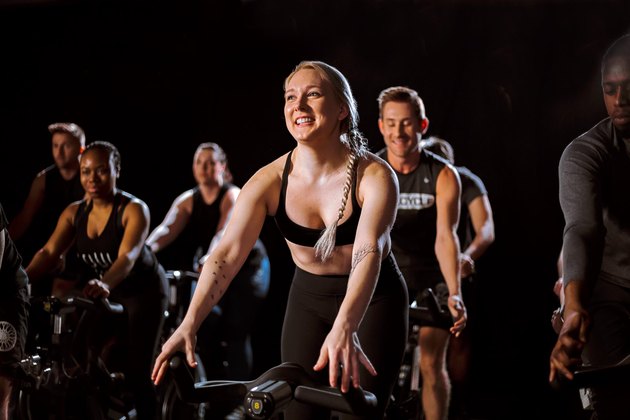 And when it comes to indoor group cycling workouts, SoulCycle remains one of the top choices. Haven't made it to a studio yet? Here's what you need to know before taking your first class.
What Is SoulCycle?
Named by Fast Company as one of the most innovative companies, SoulCycle is a chain of indoor cycling studios that aims to give riders an inspiring, one-of-a-kind group workout. The first location opened in New York in 2006, according to SoulCycle's website. By 2010, another four studios had been added. Today, SoulCycle is all over the U.S., from New York to California, and just about everywhere in between.
"SoulCycle is more than a workout — it's an experience," says Samantha Jade, senior instructor for SoulCycle.
Classes are meant to feel like a cardio dance party. The workouts are choreographed with an instructor-built playlist and take place in a dim, candlelit room. This helps riders focus on the loud, high-energy music and get lost in the uplifting energy of the environment, Jade says. (If you're worried about the loud music, ask for a pair of earplugs at the front desk.)
So, who is SoulCycle for? "In short, everyone!" Jade says. "Our studios are a space for riders to come as they are and celebrate who they are so they can emerge feeling stronger and inspired."
The workout itself can be adapted to any fitness level by adjusting the resistance level on the bike and going at your own pace — especially if you're a first-timer — but in general, you can expect a high-intensity ride. In fact, if you keep your intensity high, you may burn between 500 and 700 calories in one 45-minute class. Thanks to the addition of free weights (you'll grab these as you walk into the room), the workout will engage your entire body.
SoulCycle Class Format and Size
The number of bikes varies slightly from studio to studio, but classes typically accommodate 55 to 60 riders, Jade says. This means that once you're inside, you can expect an energetic group atmosphere, with all riders working together as a pack.
Workouts last 45 minutes and usually begin with a warm-up. From there, you'll head into hills and sprints, perform a series of upper-body exercises with a pair of light dumbbells and finish off with a high-intensity cardio interval. Then, you'll cool down with a restorative stretch, both on and off the bike.
At various points throughout the workout, the instructor will tell you to change positions and perform different moves on the bike (first position, second position, third position, tap back, push up). By changing positions (for example: going from sitting upright in the saddle to lifting your hips off the saddle), you'll engage different muscle groups and get your heart rate up. You also have the opportunity to make the ride more challenging by turning the resistance knob to the right to increase intensity.
What to Bring and Wear to a SoulCycle Class
Beginners may find that the bike and bike seat take some getting used to, according to the SoulCycle website. If you're new to indoor cycling, consider investing in a pair of padded bike shorts or a cushioned gel seat that you can bring along to the studio. Once you get a few visits under your belt, you probably won't need either anymore.
You will, however, need a pair of cycling shoes. "Clipping in" (that's Spin lingo for securing your cycling shoes into the bike's pedals) will keep you locked in place throughout the workout, helping you work more powerfully and efficiently. You can buy your own pair of cycling cleats, or rent some for $3. If you're buying or already own a pair, both Delta and SPD will be compatible with the SoulCycle pedals.
As far as what to wear, keep in mind that you'll be moving constantly. "It's recommended that [riders] wear breathable, sweat-wicking tops and bottoms that fit close to the body," Jade says. Think: a fitted tank or tee, and shorts or leggings. This way, you'll stay (mostly) dry, and your clothes won't snag on the bike at any point during your ride. Be sure to bring water as well. (Or plan on buying a bottle at the studio.)
Make the Most of Your First SoulCycle Class
Plan on arriving 15 minutes early so you have time to sign in, get a tour of the studio and set up your bike. SoulCycle staff can help you adjust the bike so it's comfortable for your height and body type. To see how the bike adjustments work ahead of time, check out the instructional videos on the SoulCycle website. Here's what the ideal bike looks like, according to Jade:
The top of the bike saddle reaches the height of your hip bones.
The distance between the front of the bike saddle and the handlebar knob is equal to the length of your forearm, plus the width of three fingers.
The bottom of the handlebars are the same height, or higher than, the top of the saddle.
The handlebar depth will depend on what feels comfortable during the upper body choreography.
Other need-to-know hot tips before your first time:
You'll need a pair of dumbbells for the arm series. Be sure to pick your weights out of the bin by the instructor's podium before class starts. As a beginner, start with lighter weights than you think you need — two-pounders are a great choice to start, says Jade.
Clipping in and out of the bike pedals is pretty simple, but don't be afraid to ask for help if you need it. If you're new to indoor cycling, watch this video so you have an idea of clipping in and out works.
Be aware that if you haven't signed in four minutes before the start of class, your bike may be given to another rider. Call the studio if you think you'll be late.
Locations and Pricing
SoulCycle is currently in a number of states, including: New York, California, Philadelphia, Massachusetts, Washington, Florida and more. Pricing varies depending on the location, but new riders are often able to get their first class at a reduced price.
In addition to single classes, SoulCycle also offers package deals. Check the studio listings on their website for pricing details and to book a ride at a location near you.