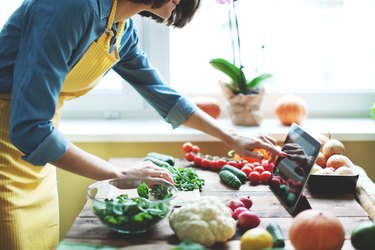 There's no denying that meal kits like Blue Apron and HelloFresh are convenient ways to get dinner on the table. Step-by-step recipes and fresh ingredients delivered to your doorstep? Yes, please.
Fortunately, nutrition and weight-loss expert Samantha Cassetty, RD, says meal kits are great for those watching their weight.
"They alleviate some of the decision-making fatigue that stems from trying to figure out what to eat," she explains. "We make about 200 food-related decisions every day, and by dinner time, it's often overwhelming — especially since you're making family and work decisions all day, too. A meal kit can minimize the stress while still serving healthful meals to help you meet your goals."
But with so many choices, which one is best?
To help you navigate the world of home-delivery meal kits for weight loss, we researched what makes each one unique and asked nutritionists to weigh in on our top picks. Here are the best bets to help you stick with your plan, hit your goals and still get everyone in your household fed.
Best for Foodies and WW Followers: Blue Apron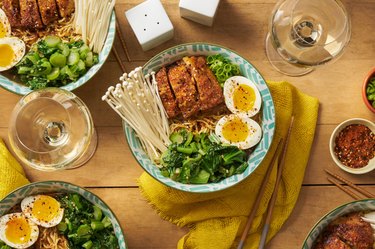 The OG meal kit, Blue Apron burst onto the scene in 2012 and started a trend. What still tends to set Blue Apron apart is its innovative meal options. From Pork Lo Mein to Caribbean Spiced Chicken Thighs, the seasonal-based menu is diverse to say the least.
The company has also partnered with WW (formerly Weight Watchers) to offer six point-calculated meals that range from 0 to 15 SmartPoints.
To maximize the health benefits of a meal kit, Cassetty recommends keeping an eye on the portion sizes. "Since starchy carbs are often a less-expensive component of a meal kit, you might find the portion exceeds your needs," she says.
​Delivery options:​ Choose two to four meals per week for two or four people. The "Wellness for 2" kit includes carb-conscious and WW-approved meals (you can get two or three meals per week).

​Buy it:​ Blue Apron; ​Price:​ Starts at $7.49 per serving
Best for People Who Need Customizable Meal Plans: Sun Basket
Cassetty has recommended Sun Basket to clients because she likes that the company uses organic produce and has a variety of kits available for different needs.
"You can mix and match among their menu items — say, choosing a vegetarian dish one night and a carb-controlled option another," she says.
Sun Basket offers a good amount of gluten-free and grain-free options as well as Mediterranean diet-based meals suitable for people with diabetes and heart disease.
​Delivery options:​ Pick two to five meals per week for two to four people.
​Buy it:​ Sun Basket; ​Price:​ Starts at $10.99 per serving
Best for Keto and Paleo Dieters: Green Chef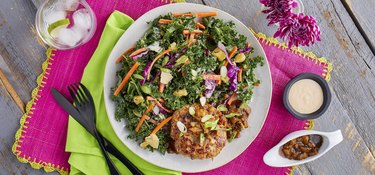 If you're following the paleo or keto diet and are tired of meal prep, Green Chef's kit might entice you. Look for options like Coconut-Crusted Chicken, Shaved Steak with Tzatziki and Togarashi-Spiced Steak, which should satisfy your macro goals.
Dietitian LeeAnn Weintraub, MPH, RD, notes that, while weight loss and maintenance depend on your individual calorie requirements, keep in mind that the meals portioned for "two people" may be more than you need. "I found that meals for 'two' were more food than my husband and I would eat in one sitting, and we would have enough for one leftover meal — usually lunch the next day for one of us," she says.
​Delivery Options:​ Choose two to four meals per week for two, four or six people.
​Buy it: ​Green Chef; ​Price: ​Starts at $5.99 per serving
Best for Calorie-Counters: HelloFresh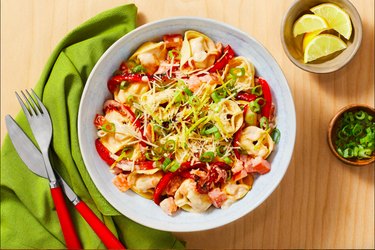 If you're tallying calories, the HelloFresh "Calorie-Smart" meals might be your best choice. Recipes like Chicken Sausage Zucchini Boats and Cajun Blackened Chicken and Rice Bowls are curated by in-house nutritionists and max out at 650 calories per meal (compared to some meal kits that log as many as 800 calories per meal).
Plus, Cassetty says, cooking your own food can help you manage your weight because it puts you in charge of the ingredients you're using rather than leaving that up to the chefs who prepare your takeout or grocery-store meals. And that holds true, she says, whether you're relying on a kit or cooking from scratch.
She recommends choosing meal options that offer a generous portion of produce (especially veggies), lean proteins, healthful fats (mostly from plant sources, like extra-virgin olive oil or avocado oil, olives, avocados, nuts and seeds), as well as whole grains.
​Delivery options:​ The "Calorie Smart" and "Family Plan" include two to three recipes per week for two or four people, while the "Classic Plan" offers two to four recipes per week for either two or four people.
​Buy it:​ HelloFresh; ​Price: ​Starts at $7.49 per serving, plus $8.99 shipping
Best on a Budget: Dinnerly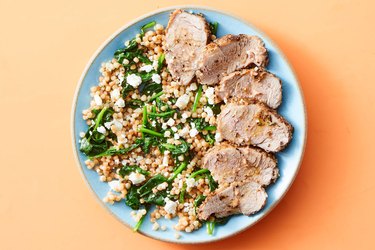 For those looking for fast, simple and inexpensive meals, Dinnerly is your go-to choice thanks to recipes containing only six ingredients. If you're looking to lose weight, choose low-calorie, low-carb meal options like Barbecue Pork Tenderloin and Basil Cauliflower Fried Rice. Beyond saving on calories, you'll save on cash, too, since this kit is by far the least expensive on the market.
​Delivery options:​ Choose from three to six meals per week for two or four people.
​Buy it:​ Dinnerly; ​Price: ​Starts at $4.69 per serving, plus $8.99 shipping
Best for Vegans or Plant-Based Dieters: Purple Carrot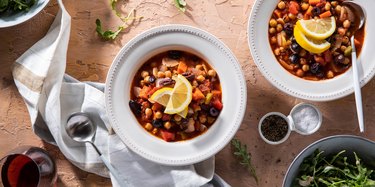 Going vegetarian, and even vegan, is a growing trend, both for weight loss and other health reasons.
There are many healthy side effects of eating more veggie-heavy meals. "There is no doubt that most of us would benefit from eating more plants, but many people struggle to translate this simple idea into a reality at home," Kristin Koskinen, RDN, LD, nutritionist and owner of Eat Well, Live Well, tells LIVESTRONG.com.
Enter Purple Carrot, which not only offers plant-based dinners, but breakfast and lunches to boot. Koskinen's handy tip? "When you find a recipe you like, file the recipe card that comes with your kit and replicate it on your own later."
​Delivery options:​ Choose from three or four meals a week for two people, or two to three dinners per week for four people.
With regards to all meal kits, Koskinen makes one last recommendation: "If you subscribe to a kit that allows options, step outside your comfort zone every once in a while. Choose something that uses ingredients that are unfamiliar to you or that you can't easily find in your area."
This is a great way to broaden your palate, she says, and introduces nutrient you may not otherwise get.