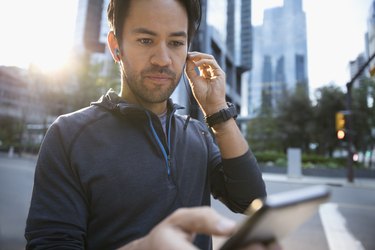 When you're a kid, nearly everything you do can be fueled by healthy competition, whether you're on the playground or in the classroom. As you get older and the stakes get higher, competing gets a little more tiresome. But it might be just what your workout routine needs.
A September 2019 study published in JAMA Internal Medicine found that adding a competitive or game-like element to tracking exercise with a wearable device increased the amount of time participants spent being physically active.
"I believe the best competition in a fitness environment is competition with yourself or as a team," says Caley Crawford, certified personal trainer and director of education at Row House. With that in mind, here are a few apps that can put the fun back into your workouts by sparking some healthy competition.
1. Activity (for Apple Watch)
Sure, you likely already know that the Apple Watch Activity app tracks data and alerts you when you hit certain goals. But did you know you can connect with your friends and turn your data into a competition? Jesse Alexander, senior master instructor at CycleBar says he competes with a fellow instructor so they can help hold each other accountable. Each week, the winner gets bragging rights on social media.
To share activity, open the Activity app on your iPhone and tap the Sharing tab. Invite up to 40 friends (they also need to have an Apple Watch). Once you're connected, challenge each other to complete activity goals, including closing all three rings, finishing workouts or earning achievements. It's a great way to check in on each other and motivate your friends to meet their goals.
2. Strava
Strava touts itself as "the social network for athletes," and for good reason. The app takes data from your smart watch, phone, personal GPS unit, fitness tracker and other devices and puts it into your "Strava feed" where you can share photos, keep up with friends' activities, compete and cheer each other on.
The app also lets you to discover new trails and find more heavily trafficked areas for safety or more remote areas for solo conquests.
3. DietBet, StepBet and RunBet
Choose your goal, then put your money where your mouth is with these three games that combine gamification with social support and behavioral economics. Commit to losing weight with DietBet, get inspired to take more steps with StepBet or start a running routine with RunBet.
"All our games require that players bet real money on themselves at the start," says Ally Wertz, VP of digital marketing at WayBetter, the parent company of all three apps. "We hold the money in the pot during the game and divide it up among all the winners afterwards who are guaranteed to get their bet back and typically make a 25 to 75 percent profit as a reward for sticking to their healthy behaviors."
4. Endomondo
Endomondo is a free app and website that helps you track activity, set goals and get motivated to elevate your fitness level. You start with a fitness test to assess your current level, then embark on a plan set by the app. You can connect with friends and family or the entire Endomondo community of users to hold yourself accountable.
While most workout apps focus on running, Endomondo includes tracking and planning data for a wide range of activities. The free app is pretty comprehensive, but optional paid membership add-ons are also available.
5. Fitocracy
Fitocracy is gamification at its core. It was even started by a couple of gamers who had the bright idea of tracking fitness achievements and rewarding accomplishments as if the users were playing a video game. Enter your own exercises, reps, sets and weights into the app or add exercises from their database. The app saves your data and tracks your progress.
The best part for competitive folks is its MMORPG features (that's massive multiplayer online role-playing game, for the non-gamers!). The app tracks milestones and achievements, letting you level up, earn badges and accept "quests" (challenges to complete multiple activities within a certain timeframe).
You can find new friends by creating a profile within the app or join with IRL friends and family to compete with each other online. You can even challenge your friends to a Duel for some one-on-one competition!
Give Your Competitive Side the Occasional Break
More interested in being part of a supportive community than competition? Download the MyPlate app and join our challenge Facebook group for support and motivation without the emphasis on the leaderboard.