The treadmill has a reputation for being boring (hence the nickname "dreadmill"). But treadmill workout classes are here to help remedy that. Once you experience one for yourself, you'll see that this group fitness activity is decidedly more fun and interesting than a standard jog at the gym.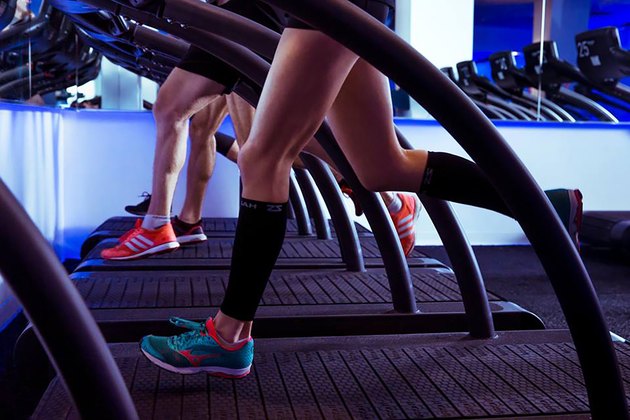 You'll walk, jog or run alongside people of all fitness levels — something that's tougher to do outdoors — and many classes incorporate upbeat music, mood lighting and motivating coaches.
And according to 2018 year-end data from ClassPass, it's one of the top fitness trends. Curious to learn more? Here's what you need to know before your first treadmill workout class.
Who Are Treadmill Workout Classes For?
Treadmill workout classes are perfect for a wide range of goals and interests, whether you're looking to change up your routine, train for a marathon or lose weight. The great thing about cardio machines like treadmills is that everyone is able to walk or run at their own pace, so classes are suitable for beginners and advanced exercisers alike.
"People think they need to be super fit in order to come and take a class, but this is actually where you start to get in shape," says Corinne Fitzgerald, NSCA-certified personal trainer and head coach at Mile High Run Club (MHRC).
Treadmill workout classes are especially helpful if you're training for a race. They can be a great substitute for outdoor training when the weather turns sour. But even if the weather is nice, taking a class means you'll always have a coach nearby to support you during rough patches — and offer feedback.
Plus, running on a treadmill makes it easier to stick to your target training paces: "When you're running outside, it's really easy to lose your pace and not even know it," Fitzgerald says. "When you're running on a treadmill and you want to slow down, you have to actively press the button, and you don't have to be constantly looking at your watch."
However, if you're more a fan of more focused weight-lifting workouts or need something low-intensity and low-impact, this may not be the class for you.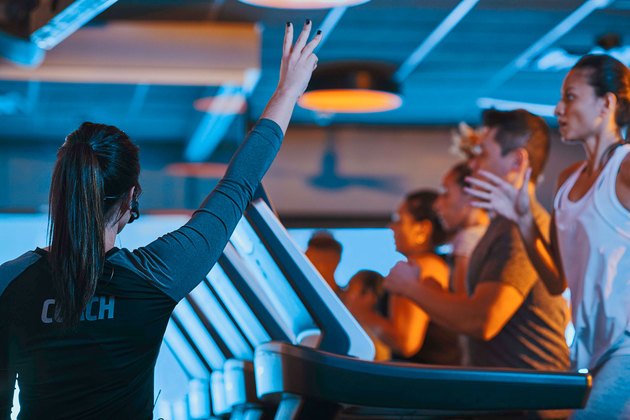 Treadmill Workout Class Format and Size
While treadmill workout classes typically involve running (duh!), most also feature a strength component. Depending on the class or studio, the strength segment may be geared toward supporting your running or to burn as many calories as possible.
The signature 60-minute Orangetheory workout, for example, aims to get you working within target heart rate zones for specific intervals, with the goal of maximizing calorie burn. Meanwhile, MHRC offers a variety of classes for different training goals. For example, the MHRC Dash 28 is a foundational class that's ideal for beginners or anyone interested in combining cardio and strength training in a single session.
"If you don't run that much or you've never really run before, 28 minutes of all interval training is just the right amount to get you started," Fitzgerald says. After the treadmill segment, runners move to the floor to do 15 minutes of running-specific strength exercises like squats and lunges.
MHRC also has a Dash Core class, which also includes 28 to 30 minutes of intervals on the treadmill, but instead of doing strength exercises afterwards, runners do 15 minutes of core exercises like planks, glute bridges and mountain climbers.
More advanced runners may opt for High 45 (45 minutes of steady-state, speedplay and incline intervals) or The Distance (60 minutes of longer intervals). The time-crunched may prefer Dirty 30, which is designed to get you in and out in just 30 minutes.
Most MHRC classes start with a five-minute warm-up jog on the treadmill, but runners are encouraged to do mobility and warm-up work before class. Check with your studio or club of choice to see if warm-ups are incorporated into the classes, or if you're expected to prep on your own.
Class sizes will vary greatly depending on the studio, time of day and time of year. At MHRC, classes can range from 15 to 36 people, with early morning and late afternoon classes often running at full capacity. Classes are often packed on bad weather days as well.
What to Bring and Wear to Treadmill Workout Classes
"One thing I love about our sport is that it's very minimalistic," Fitzgerald says. "All you really need is a good pair of shoes."
In addition to comfy running shoes, you'll want to wear a tank top or light, moisture-wicking T-shirt and a pair of shorts or leggings. And of course, bring a water bottle or sports drink. Keep it in the cup holder on the treadmill (don't leave it in your gym bag!) so you can easily grab it when you need to hydrate.
Tips for Your First Treadmill Workout Class
While treadmill workout classes tend to be appropriate for a wide range of fitness levels, some classes may be better for beginners than others. Check class listings or ask the club or studio for recommendations if needed. Fitzgerald recommends beginners start with MHRCs Dash 28 or Dash Core class.
And since classes are filled with people who run at entirely different paces, instructors can't tell you how fast to run at any given time. That means you'll have to run according to your rate of perceived exertion, or how hard you feel you're working, which may take a little practice to get used to. MHRC has pacing cards categorized by experience level posted on the treadmill that may help guide you, but ultimately, you'll have to decide for yourself what pace to run.
No matter which class you choose, try to leave your expectations at the door, Fitzgerald says. Don't get discouraged if you have to slow down or walk at some point during the class, especially if you're a newer runner. "Just come with a good attitude and remember that you have to start somewhere," Fitzgerald says.
Locations and Pricing
MHRC has three locations, all in New York City. If you're a first-timer, you can buy two classes $40. Otherwise, a single class costs $35, a four-class pack costs $120, and an eight-class pack costs $220. MHRC also offers a few different membership options, which range in cost from $100 to $250.
Other popular treadmill studios and class locations include:
Orangetheory: You can get Orangetheory's signature 60-minute treadmill and strength training workout at more than 1,000 studios all over the world. Get your first class for free. After that choose from three different membership plans, or opt for a drop-in class. Pricing varies by location.
Peloton Tread: If you have the Peloton treadmill, you can stream live and on-demand treadmill classes through Peloton Digital (membership cost separate from treadmill cost). Or, take an in-person class at the Peloton studio in New York City. Your first in-person class is $20, and after that, a single class is $32. You can also buy classes in packs (5, 10, 20 and 30), or get an unlimited membership for $400 a month.
Equinox Precision Running Lab: Both Equinox members and non-members are welcome to visit the Precision Running Lab at Chestnut Hill in Boston, Massachusetts. A non-member class costs $30, while members can access member-only classes as part of their membership.
Barry's Bootcamp: Barry's Bootcamp is home to the infrared treadmill and strength training workout. Choose from any one of their studios in 13 states, and buy a class package (1, 5, 10, 25, or 50 classes) or a 30-day membership. Pricing varies by location.