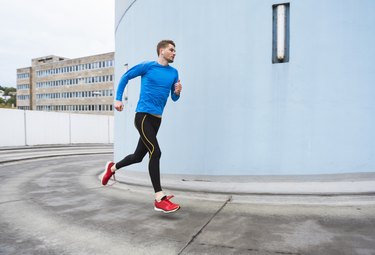 Running and HIIT are two of the most versatile workouts out there. You can run anywhere, any time and at any speed or incline. Similarly, with HIIT, you can mix and match exercises, format and interval length. And when combined, these two workouts give you speed- and endurance-boosting sweat session unlike any other.
Benefits of Outdoor HIIT Running Workouts
Sure, you could spend hours and hours racking up your miles (and if you're a serious runner, you probably do). But no matter your goal — speed, endurance, fat loss, etc. — adding HIIT to your running workouts can help get you there faster.
In an April 2012 study published in the Journal of Obesity, researchers reported that this type of training can help reduce body fat, improve aerobic fitness and preserve lean muscle mass.
HIIT also helps build your speed and endurance in a shorter period of time. An April 2015 meta-analysis published in Sports Medicine examined the research on the relationship between HIIT and VO2 max and found that gains in VO2 max (which is maximal oxygen uptake and a measure of your fitness level) were greater following HIIT when compared with other forms of training.
Of course, doing this outdoors has a myriad of other benefits as well. According to a February 2011 study published in the journal Environmental Science and Technology, exercising outdoors is associated with greater feelings of revitalization, increased energy and positive engagement.
"Taking your run outdoors shakes up the monotony of your indoor workout regimen: You get to take in the world around you in a palpable way and have a chance to disconnect — almost like a small vacation — making it more likely for you to adhere to this workout regimen because it becomes enjoyable," says Precision Run coach Andrew Slane.
Plus, it's a great way to see how fast you really are, says Slane. "Running outdoors allows you to authentically experience your strength and true speed, because you've removed the aid of the tread and have to grip the ground with your feet to propel your body forward."
3 HIIT Workouts for Runners
Ready to add the benefits of HIIT to your training regimen? Here are three different HIIT running workouts — track, hill and Fartlek — that were created by experts to help you become a better (and faster) runner.
1. Track HIIT Workout for Beginners
This is a great workout for newbies to the track, says Greg McMillan, running coach and exercise physiologist. "The goal for a workout like this is to ingrain what your 'race pace' really is. By running these intervals at your ideal pace, you can get a great feel for it. Remember: Faster isn't better here."
10 to 12 x 400 meters at goal 5K pace
Recover 200 to 300 meters (walk or jog) between each
Note: Each lap is 400 meters, or a quarter-mile.
2. Hills + HIIT Running Workout
Incline efforts can boost your aerobic capacity and help you better tolerate and clear lactic acid, says McMillan. The below efforts will be hard, but not all out. Practice using strong running form.
"Pump your arms and drive your feet hard down and behind you to drive your knees upward and to propel yourself up the hill," he says. "Learn to use your optimal hill running form for efficiency and power."
Run 6 to 8 times a moderately sloped hill (6- to 8-percent grade) at 5K pace.The hill should take you 60 to 75 seconds to ascend.
Walk back down to the bottom.
Tip
"You can run this workout on a treadmill if you cannot find a suitable hill in your area," says McMillan.
3. Road-Based Fartlek Workout
Fartlek (Swedish for speed play) training is a form of interval training that's not not about specifically prescribed intervals, but rather, how you feel determines the length and speed of each interval, according to the American Council on Exercise (ACE).
For this workout, the interval effort varies, says McMillan. It should be your greatest (think 5K pace) at the beginning, slow down toward the middle (think half-marathon pace at the five-minute mark), then speed back up as you descend the pyramid. Jog for two minutes between each effort.
1 minute at 5K pace
2 minutes a bit slower
3 minutes a bit slower
4 minutes a bit slower
5 minutes at half-marathon pace
4 minutes a bit faster
3 minutes a bit faster
2 minutes a bit faster
1 minute at 5K pace