The slow cooker is one handy kitchen appliance. It allows you to prep a big batch of meals for the week — and that's especially helpful if you're on the keto diet, where it can be hard to find foods that work within the plan's limitations. (Goodbye, carbs and hello, fats!)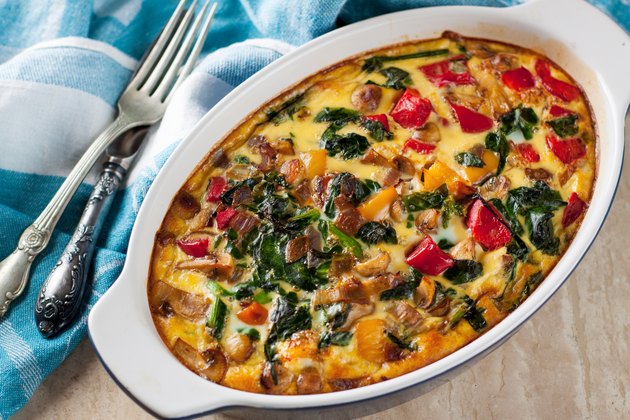 With the Crock-Pot, all you have to do is assemble your ingredients in the morning and let it cook while you're out and about. And depending on the dish, you can expect some amazing mouthwatering aromas circulating your home.
1. Slow Cooker Brisket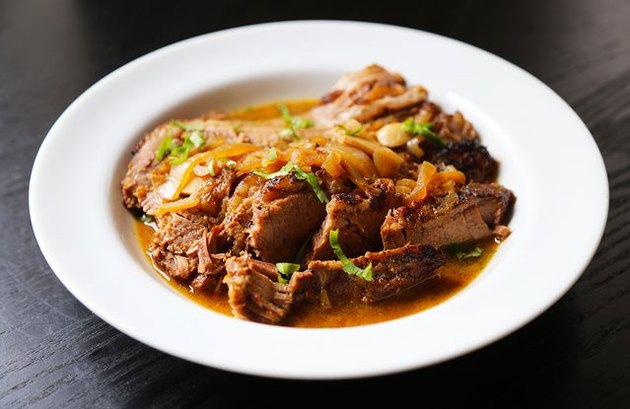 Juicy, tender brisket is a great keto-approved slow cooker meal that can be paired with some cauliflower rice and veggies for extra fiber. This recipe boasts melt-in-your-mouth flavor, some spice and an impressive 16 grams of protein to keep you full for hours.
"I like this simple protein-packed dish that you can cook in the slow cooker and then save for future meals," says Maggie Michalczyk, RD.
2. Slow Cooker Vegetable 'Pasta' Lasagna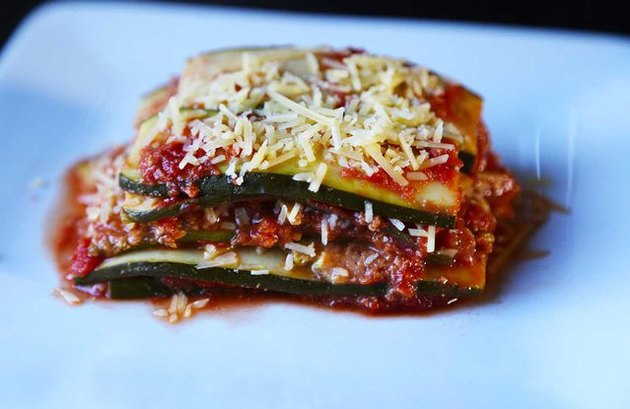 Don't want to wreck ketosis by eating pasta? This veggie-based lasagna is keto-friendly, as it has only 12 grams of net carbs per serving. Plus, you'll stay full thanks to the 5 grams of fiber. It's also quick to make, requiring a mere 22 minutes, deeming it perfect for weeknights when you're tired after work. "I like this take on lasagna because it adds more nutrition per bite by using vegetables," Michalczyk adds.
3. Slow Cooker Chicken Cacciatore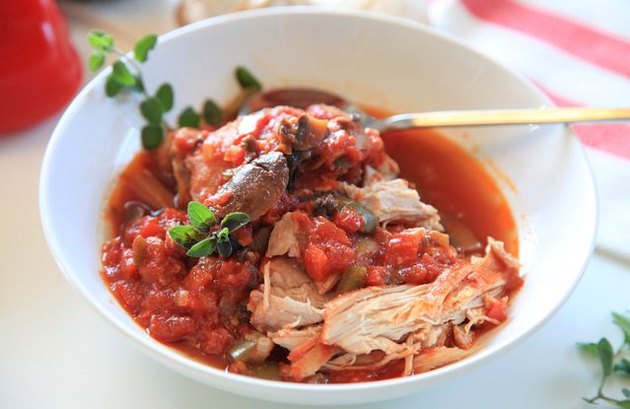 This hearty chicken dish has some great flavor and spice, and it's low in carbs, with just 6 grams of net carbs a serving. It's packed with veggies like mushrooms and peppers to boost the fiber and antioxidant count. What's more, it packs in 21 grams of fat coming from heart-healthy olive oil and 20 grams of protein to build lean muscle.
4. Slow Cooker Salsa Verde Chicken
This spicy chicken isn't super low in carbs but it can be keto-friendly if you just watch your carbs for the rest of the day. "This one's a simple yet flavorful weeknight option. It's packed with protein from the chicken and vitamin C from the tomatillos," Michalczyk says.
While this dish packs in 13 grams of net carbs and 9 grams of fat, you can bump up the fats by adding in some avocado and sour cream. Use this salsa verde chicken as a filling for tacos and lettuce cups or in soups and stews.
5. Sweet Potato and Sausage Breakfast Casserole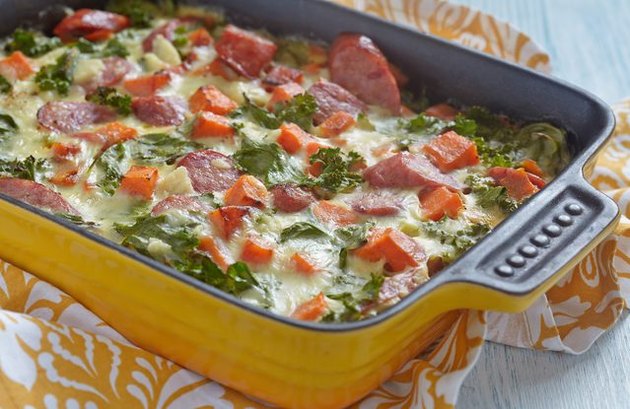 If you want something hearty and comforting that'll stick to your bones on a chilly fall morning, this breakfast casserole with meat and veggies has you covered. It's lower in net carbs, with 11 grams per serving, and it contains 24 grams of fats.
"Sweet potatoes are a great source of vitamin A and fiber and the eggs and chicken sausage both contain protein that will help you stay full until lunch," Michalczyk says. This is a great make-ahead breakfast option, too. Plus, you can lower carbs by swapping the sweet potato for a low-carb veggie, like broccoli. And add some avocado for more fat if you like!
6. Healthy Pulled Barbecue Chicken