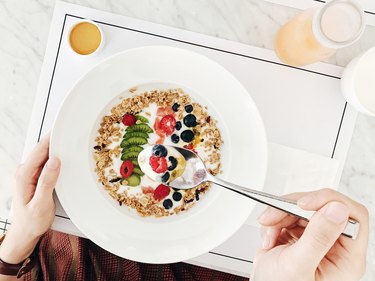 When the temperature dips and there's frost framing your windowpanes, there's nothing like a warm bowl of oatmeal to thaw the chill out of your bones.
These five hot oatmeal recipes will make you as cozy as a bug in a rug on wintery days. Better yet, they'll keep your belly full and your muscles strong with 15 grams or protein or more per serving!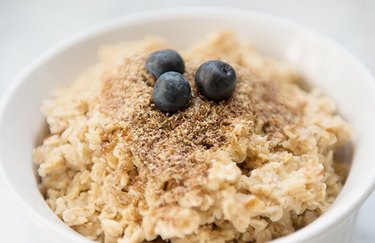 With simple ingredients like oats, milk and flaxseed, cooking this no-fuss oatmeal is as easy as one, two, three. High in heart-healthy omega-3s, flaxseed is also a fiber-packed superfood. Just one ounce contains 8 grams, or 31 percent of your daily recommended value, according to the USDA.
2. Peanut Butter Protein Oatmeal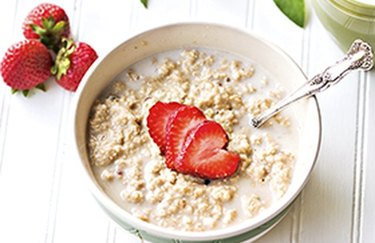 This yummy oatmeal recipe sneaks in egg whites for added fluffiness and an extra protein boost. A handful of plump, juicy raisins will satisfy your sweet tooth while natural peanut butter provides healthy, satiating fats to keep you full until noon. For an even richer texture, use crunchy peanut butter instead of the smooth variety.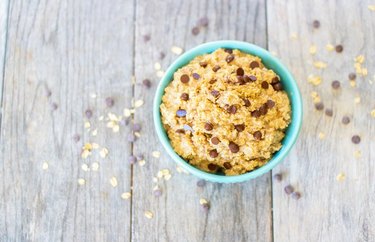 Coveting cookie dough? This healthier oatmeal twist owes its ooey-gooey, doughy texture to a combo of oats, almond butter and vanilla almond milk. A sprinkle of cacao nibs will crush those chocolate cravings and please your penchant for sweets without the dreaded sugar crash.
4. Supercharged Oatmeal Protein Pancake
The ultimate twofer, this recipe combines oatmeal and pancakes into one yummy meal. With an oat-based batter, these flapjacks pack a whopping 26 grams of protein per serving thanks to the mixture of eggs and egg whites. To add a little sweetness (along with vitamins and minerals), simply top your griddlecakes with good-for-you berries.
5. Savory Vegan Zucchini Oatmeal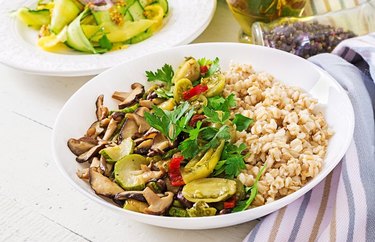 Who says you can't enjoy oatmeal past breakfast time? Expand your culinary horizons with this savory oatmeal dinner dish that'll keep you warm and cozy on a cold winter's night. And with one whole zucchini in each serving, you'll be on target to achieve the USDA's recommended number of veggies per day, plus boost your nutrition with vitamins C and B6.