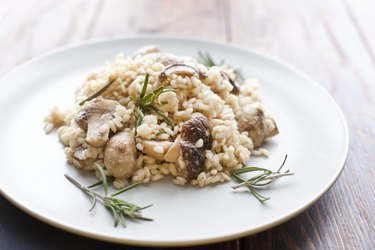 A traditional Italian dish, risotto is made with arborio rice, a type of short-grain white rice, according to the Whole Grains Council.
As it's cooked and stirred, arborio rice releases starch which, when paired with the added broth or cheese, helps give the risotto its classic creamy base.
While Italian restaurants are usually a no-go for those following a gluten-free diet, risotto is one dish you can typically order without worry.
Gluten is a protein found in wheat, barley and rye and these grains' derivatives. Since risotto prepared with rice (which is naturally gluten-free), and usually mixed veggies and perhaps some meat or seafood, risotto is generally gluten-free.
If you're ordering risotto in a restaurant, you should double-check that it's free of gluten ingredients.
Restaurants may choose to stir in wheatberries or farro to give the risotto some more texture but these grains contain gluten, according to the Celiac Disease Foundation. Or the chef may use a malt-based sauce, which contains rye. Always double-check by asking your waiter to confirm with the chef that your dish is gluten-free.
Maybe you're using a meal delivery service or buying pre-prepared risotto at the supermarket. In that case, you'll want to search the ingredient list to make sure your risotto is free of hidden gluten.
If the package is free of gluten ingredients, you'll still want to keep an eye out for a designated Gluten-Free label. Even if a food is prepared without gluten ingredients, it may still be at risk for cross-contamination. This occurs either during manufacturing or preparation when gluten ingredients come in contact with your food, according to the Celiac Disease Foundation.
But the gluten-free label means that the product is FDA-tested and contains 20 parts per million (ppm) of gluten or less, which is a generally safe value.
In some cases, the package may even have a Certified Gluten-Free seal from a third-party organization like the Gluten-Free Certification Organization. This means the package contains less than 10 ppm of gluten.
Tip
To give your risotto a healthier twist, you can prepare the meal with short-grain brown rice instead of arborio. Brown rice is a whole grain, which means it's generally higher in antioxidants and nutrients like fiber, magnesium and iron than refined varieties, according to the Whole Grains Council.
Gluten-Free Risotto Products
Ready to give risotto a try right at home? Try these gluten-free options.
1. Giusto Sapore Italian Risotto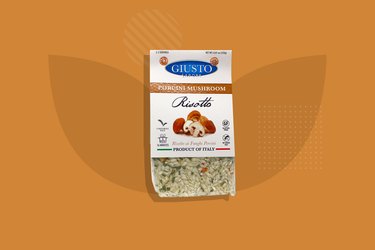 This mushroom-packed risotto is gluten-free and needs only 16 minutes to prepare. Plus, there's no salt added to this recipe so you can control exactly what goes into your dish.
2. Cucina Aurora Garden Vegetable Risotto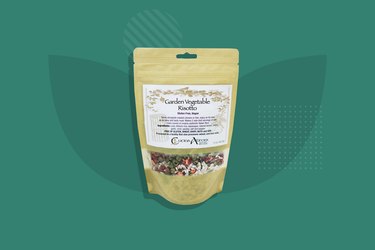 Cucina Aurora's gluten-free risotto is ready in just 20 minutes and is made with no artificial ingredients or preservatives. The arborio rice ensures your dinner will have the perfect creamy consistency.
3. Lundberg Gluten-Free Creamy Parmesan Risotto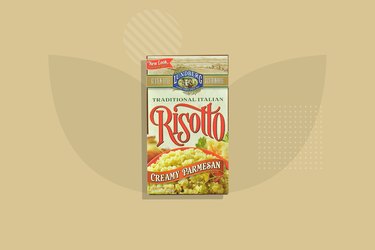 If you're a fan of creamy and cheesy Italian food, give Lundberg's parmesan risotto a try. It's gluten-free and will give you the gooey texture you're craving.
How to Make Gluten-Free Risotto At Home
Vegan Broccoli and Sage Risotto Recipe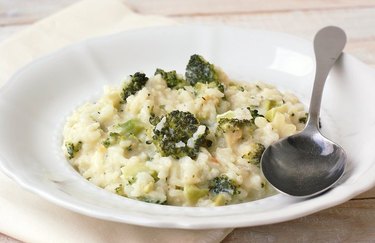 The best way to rest assured your risotto is free of gluten ingredients is to prep it from scratch right at home. This vegan risotto recipe takes about 40 minutes to prepare and is only 238 calories total, making it the perfect side dish. Serve it alongside your preferred protein for a complete meal.
This recipe is loaded with broccoli and butternut squash, making it high in plenty of plant-based nutrients. While broccoli is loaded with vitamin C and vitamin K, the butternut squash will give you a good dose of vitamin A.