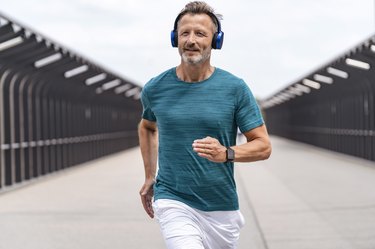 Running can be a bit of an intimidating activity — cue images of long-legged, lean, athletic types crossing marathon finish lines with arms raised in victory. What you may not realize, though, is that "runner" isn't synonymous with "marathoner," "competitor" or even "athlete."
A runner is someone who runs, and that can be pretty much anyone! If you've been walking for a while and are looking for more of a challenge, you too can become a runner. Build speed and endurance by adding short jogging intervals to your walks.
Not only will they help you run faster and longer, but intervals help boost your fitness level and help combat the age-related decline in aerobic fitness, according to July 2017 research from ‌Exercise and Sport Sciences Reviews‌.
Plus, alternating between walking and jogging burns calories in about half the time as steady-state workouts, according to a December 2017 study published in ‌Biology of Sport‌.
If you've been wanting to start a running regimen but you're not sure where to begin, try this 20-minute walk-jog workout perfect for new runners.
5-minute warm-up walk
30-second jog
2-minute walk
20-second jog
90-second walk
15-second jog
1-minute walk
10-second jog
2-minute walk
15-second jog
90-second walk
20-second jog
2-minute walk
30-second jog
3-minute cooldown walk
Your warm-up can make or break your workout! A good warm-up primes your body for exercise by elevating your heart rate, increasing your rate of respiration (breathing), dilating your blood vessels, loosening up your joints and increasing blood flow to your muscles.
Start this running warm-up nice and slow, and gradually increase your walking speed as the five minutes goes by.
Now that your body is warm and ready to go, it's time for your first jogging interval. Don't push it too hard here, because you still have a ways to go. If you wear an activity tracker or smartwatch, you can monitor your heart rate — it should hover around 70 percent of your max heart rate.
Ease back into a walk. Maintain a pace that allows your heart rate to decrease and you to catch your breath.
Your second jogging interval is up: Try to jog as fast as you did for your previous 30-second interval.
Your walking intervals are slowly decreasing, but so are your running intervals. This style of workout helps you build both anaerobic and aerobic capacity by keeping your heart rate elevated and sprinkling in bursts of speed.
This one's only half as long as your first interval: You got this!
Slow the pace down quite a bit for this one-minute walking interval — one minute may feel surprisingly short compared to 90 seconds or two minutes. Catch your breath as best you can.
This is your shortest jogging interval of the workout: Try to push the pace a bit, but don't overdo it — just slightly faster than your 30- and 20-second intervals. You have a few more intervals to go.
You have a longer walking interval here, so allow your heart rate to drop to prepare you for your next jogging interval.
Another 15-second jogging interval. Try to match the pace you jogged on the previous 15-second interval.
You have a minute and a half to rest until your next jogging intervals. Use this time to shake out your arms and take deeper breaths.
You're getting close to the end here, and you might be feeling tired, so pay extra attention to your form. When jogging, make sure to keep your eyes forward, chest high and shoulders back. Release the tension in your neck.
Back to a two-minute walking interval. Take it slow, because a longer jogging interval is up next (it's your last one!).
Here we go — your last jogging interval! The goal is to match your speed from the first 30-second interval, but it's completely OK if your pace is a little slower this time. You just worked really hard, so give yourself some well-deserved credit.
For the final three minutes of your 20-minute walk-jog workout (great job — you made it!), walk slowly for a cooldown. You can certainly continue walking after the last three-minute interval is up, but this will put you right at 20 minutes (and a few seconds).
Walking for longer might help you shake out any impending soreness or give you more time for your heart rate to return to its resting state. Either way, don't forget to stretch out your quads, calves and hamstrings with some stretches for your legs.