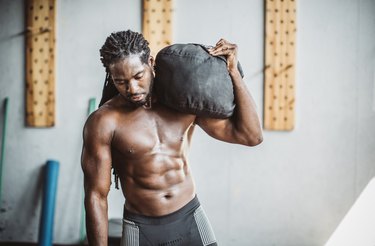 After you've done all the dumbbell exercises you can think of and your chairs are worn out from being used as workout equipment, it's time to bring a bit of variety to your home gym equipment. But with so many retailers sold out of kettlebells and resistance bands, you'll need other options.
Before you make a big purchase, familiarize yourself with these little-known, innovative (and cost-effective) at-home workout tools. After all, spending money on exercise equipment isn't necessarily a bad idea. You're investing in your physical and mental health — and who doesn't deserve to de-stress with a good workout?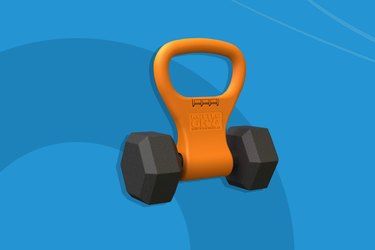 Getting sick of using your dumbbells for every single workout? The Kettle Gryp can fix that. Although this tool won't feel ​exactly​ like using a kettlebell, it's definitely the next best option.
Using the Kettle Gryp is simple: Snap it onto any of your dumbbells' handles and swing away. It's made of durable, impact-resistant plastic, so you won't have to worry about it breaking mid-workout, according to the product website. And since it weighs less than a pound, the Kettle Gryp is easy to throw into a backpack or travel bag.
Though it's compatible with most dumbbells, there are a few exceptions. Your dumbbell handle needs to be at least 4.5 inches long. Most dumbbell handles are about 6 inches, but some lightweight dumbbells may be shorter and incompatible.
And although there's a foam insert on the Kettle Gryp, enabling it to mold to just about any handle, you need a dumbbell that's less than 1.5 inches in diameter. Double check that your dumbbells fit this criteria before you buy.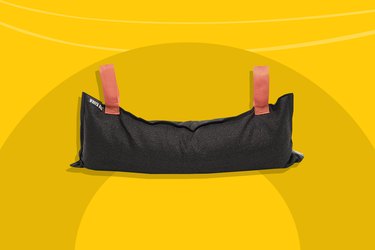 Whether you're a fan of functional fitness or just don't want to break the bank with a barbell and plates, consider trying out the Wreck Bag. It's a long, weighted bag with two handles, enabling you to add resistance to just about any exercise.
Unlike a traditional sandbag (which you have to measure and fill yourself), this product comes already filled with a shock-absorbing rubber material, according to the Wreck Bag site.
This tool is durable, too. You can get it wet or slam it against the ground without worrying about damaging the bag — or spilling sand everywhere. Just avoid dragging it across abrasive surfaces, which could cause tears.
Plus, the bag's handles make it easy to carry, so you won't be dropping the weight during your deadlifts or squats. Since it's available in a variety of sizes, you don't need to worry about the bag being too heavy or too light for your workout.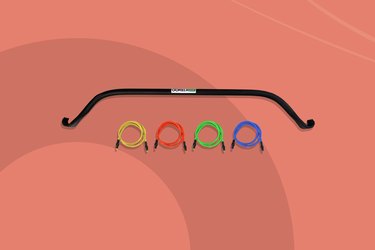 When it comes to at-home workouts, saving space is a must. After all, not many of us have tons of free space to devote to a full set of dumbbells, squat racks and weight plates. Enter, the Gorilla Bow.
This compact resistance band-based tool enables you to do just about any exercise without hogging your entire living room or basement. The Gorilla Bow looks and functions like a traditional bow and arrow with a resistance band for the string.
You can adjust the bands as you move from exercise to exercise with a weight capacity of 300 pounds of resistance, according to the company's site. The bow itself weighs six pounds, and it's packaged with a convenient carrying bag, making it the perfect companion for cross-country travel or backyard workouts.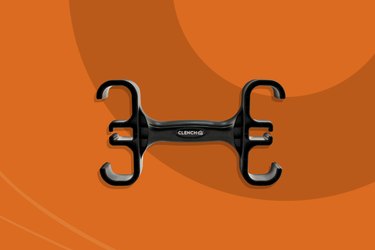 Available as a single handle or a pair, the handle has three different attachment points, allowing you to stack several bands at once, according to the product site. It's also ergonomically designed and fits in your palms much like a standard dumbbell.
Made with tough polymer, the handles can withstand over 150 pounds of resistance and more than 100,000 reps, the company says. These handles are lightweight, too, making them an easy addition to your gym bag.
Also, once you buy the Clench Band Handles, you'll receive access to a library of more than 100 instructional videos, explaining how to use the handles for different exercises as well as offering workouts and storage tips.
Keep in mind that the resistance bands are not included. Luckily, those are relatively inexpensive and easy to find on Amazon. Just make sure to buy long loop bands, rather than the smaller loops.