From air fryers and Instant Pots to stand mixers and toasters, the typical American kitchen is loaded with appliances. So you're probably asking, "Do I ​really​ need one more?"
If you don't already own a panini press, the expert advice ahead might just convince you that this appliance is worth the (fairly affordable) price and cabinet real estate.
"Panini presses are easy to use, incredibly versatile, require much less space and hassle than other cooking tools and are easy to clean," Lauren Cadillac, RD, a dietitian and certified intuitive eating counselor in New York City, tells LIVESTRONG.com.
The appliance was originally created to press paninis — crispy, warm sandwiches that Lisa McManus, the executive tasting and test editor at America's Test Kitchen, says are much more flavorful than eating a sandwich cold. Here's why: "The Maillard reaction that happens as the surface of the bread browns creates new flavor compounds, and the savory notes are enhanced."
In music to healthy eaters' ears, you don't need to butter the bread to get crisp, flavorful browning — so that can help cut down the fat in your meal, McManus says. Many panini press plates are naturally non-stick, too, so they release the food without having to add oil.
Don't limit your press to sandwiches alone. "Basically anything you might grill works great with a panini press," McManus says.
Consider these versatile ideas from Cadillac, McManus and Julie Upton, RD, a registered dietitian in San Francisco.
​Panini:​ Naturally, you can make pressed sandwiches in your panini press. Opt for whole-grain bread for more fiber, Upton says, and sneak in as many fruits (apples in a grilled cheese) or vegetables (tomatoes and peppers on a steak sandwich) to crank up the vitamin content.
​Fish:​ Season sturdy fish fillets as desired, then press between the plates until they reach doneness. You can also flip the press open-face and grill them like you would on a charcoal or gas grill. Try either strategy with this Grilled Sweet-n-Spice Salmon.
​Grilled vegetables and fruit:​ Grilled peaches, nectarines, watermelon and pineapple are ideal to add to salads, drinks (grilled peach-infused old-fashioned, anyone?) and salsas. Asparagus, summer squash, onions, corn on the cob and peppers work well pressed in the panini maker, too. Unlike on a grill, you don't have to worry about smaller pieces falling between the grates.
​French toast:​ Use either the flat, more griddle-like style, or the slotted grill side of the panini press — you can't go wrong when you crisp up that custard on a panini maker. Might we recommend our PB French Toast?
​Hash browns:​ Skip the skillet. If you like crispy shredded potatoes, then the panini press is the way to go because it presses out some of the excess moisture while surrounding the hash browns with heat from above and below — no flipping required.
​No-flip quesadillas:​ Speaking of no-flip, the panini press offers a less messy way to make quesadillas. As the cheese melts, the filling and tortilla warm up just enough. (We can't get enough of this sweet and savory Apple and Swiss Quesadilla.)
​Smashed potatoes:​ Press fingerling or new potatoes inside the panini maker. Once the flesh is tender, you can press the plates slightly closer together to give all of the small potatoes that beautifully smashed texture at once.
​Bacon:​ If you've ever dealt with bacon that folds or curls up too much while cooking in a skillet or on a sheet pan, try pressing slices between plates for a savvy solution. Test it yourself, then add those crispy strips to this Bacon and Egg Salad.
​Pizza:​ Cadillac has two nice slice ideas for the panini press. To reheat cold pizza without it going soggy, fold the slice in half and warm it in the press. Or if you're making pizza at home, roll out homemade or store-bought pizza dough so it's just smaller than the size of the press, then cook it unadorned until golden brown. Brush with olive oil, then top as desired.
​Brownies:​ As long as your panini press can fit the size of an 8-inch round pan, you can bake nearly any brownie recipe (including our Pumpkin Swirl Brownies) in the panini press. Whip up the batter, pour it in a pan, then place that on the panini press and close the lid as much as you can. Cook for about 20 minutes or until a toothpick stuck in the center of the pan comes out clean. The heat radiating from top and bottom will bake the brownies evenly, no oven required.
The Best Panini Press Brands to Buy
You don't need to spend a lot to score a high-quality panini press — most models cost less than $100. For the most versatility and best cooking results, look for one that has:
A floating hinge to adjust to the vertical height of your recipe
Removable plates for easy cleaning
A plate size that's large enough to accommodate a family-size portion (single dwellers can get by with a smaller plate surface area)
Adjustable temperature controls — these are less important for panini but do come in handy for evenly cooking other foods like fish, fruits and vegetables
Check out the top-rated panini presses below for your kitchen and recipe repertoire.
1. Cuisinart 5-in-1 Griddler
Beyond acting as a griddle, which you probably guessed by the name, this countertop appliance can be used as a contact or full grill, panini press and half-grill half-griddle (say, to cook an egg to place atop your burger). The nonstick plates are removable, reversible and dishwasher-safe, and the floating cover has a hinge to adjust to accommodate taller dishes.
2. DEIK Panini Press 6-in-1 Smokeless Indoor Grill
The temperature knobs can crank up the heat from warm to ready-to-grill at 220 degrees Fahrenheit in just three minutes. Once your temperature is right, simply set the time from 5 to 30 minutes to ensure you don't overcook your meal. These plates can also be removed and are sturdy enough for your dishwasher.
3. Ovente Electric Panini Press Grill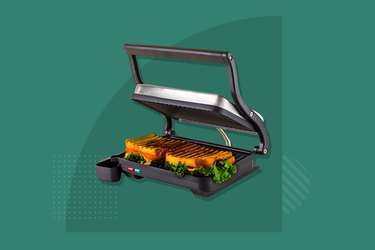 While this model doesn't have knobs for temperature control, it does cycle heat on and off to ensure it maintains a steady temperature on the non-stick plates. Its slim size makes this press-grill easy to store, and its lid can hinge or float to radiate heat over food (which comes in handy when you're melting cheese on a pizza).
4. Chefman Electric Panini Press Grill
With a floating hinge and press or lie-flat format, this slightly-smaller, budget-friendly panini press is a solid option if you're cooking for one or two. Unlike most other options on this list, it only has on and off settings rather than flexible temperature control.
5. Lodge 10 ½-inch Square Grill Pan + Victoria Cast-Iron Grill Press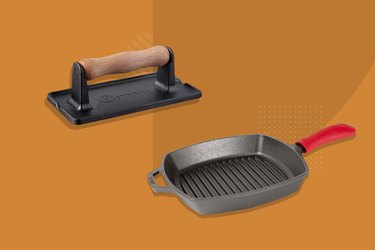 You can score similar results for bacon, fruits and vegetables, smashed potatoes and pressed sandwiches by using a cast-iron grill pan with a weighted press that fits inside, McManus says. (Note that brownies won't translate well with this strategy.)
Pre-seasoned and ready-to-use, cast iron pans get and stay hot for a stellar sear. Two handles on the pan make it easy to lift from stove to table, while the panini press piece fits nicely inside the grill pan.