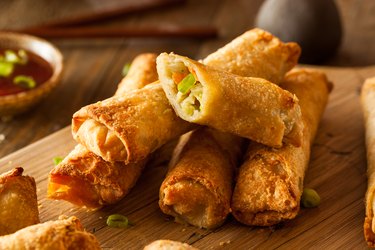 By now, many of us are loathing the constant repetition of our life that is cooking and washing dishes. Or maybe we're just tired of eating our own cooking day after day.
There's not much we can do to help you by way of creating the ambiance of dining out, and we can't teleport your friends to your living room, but we can help you recreate some of your favorite dishes that you've been missing.
We've pulled together seven of some of the most popular dishes but with a healthy spin, of course. From Panera to P.F. Chang's, we guarantee you'll enjoy these healthy copycat recipes.
1. Broccoli Cheddar Soup (Panera)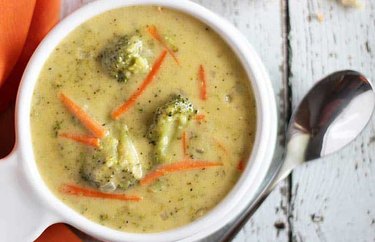 If you're looking for the comfort but with a healthier spin, this copycat broccoli cheddar soup recipe cuts the amount of butter in half and calls for low-fat cheese. Sharp cheddar is great to use because it's still so packed with flavor.
A typical bowl at Panera contains 360 calories, and you'll get about 20 percent fewer calls with this bowl. This is a result of reducing the amount of cheese and butter used — two sources high in saturated fat.
2. Bang Bang Shrimp Tacos (Bonefish Grill)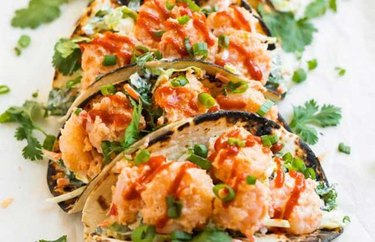 The Bang Bang Shrimp Tacos from Bonefish Grill (also available as an appetizer) are indulgent and delicious. The trouble is, they're deep-fried and aren't a well-balanced meal for a few reasons, one being the lack of vegetables.
Erin Clarke from WellPlated solves for this problem with her healthier rendition. Instead of deep-frying the shrimp, she does a pan-fry. The recipe also adds in a slaw mix made up of broccoli and cabbage.
The original dish from Bonefish Grill includes three tacos and provides 1,570 calories (!). This healthier recipe provides 819 calories for three tacos, plus extra vegetables so you'll feel fuller longer.
3. Burrito Bowl (Chipotle)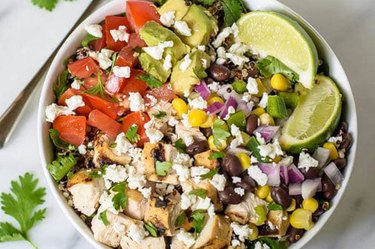 Much of the reason why we love Chipotle is that you can pick what proteins and beans you want to use, along with toppings. This recipe features chicken, which offers a leaner source of protein.
Quinoa, a high-protein, gluten-free whole grain is used as the base as well. For veggies, this copycat Chipotle Burrito Bowl recipe lists tomatoes, jalapeno and onion. You could up your vegetable count by adding grilled bell peppers or greens as well.
4. Peanut Butter and Jelly Smoothie (Jamba Juice)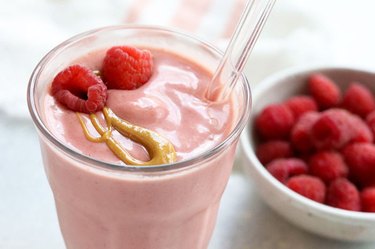 OK, this isn't exactly a "dining out" recipe but don't you miss grabbing a smoothie or coffee on your morning commute into work?
Jamba's secret menu offering calls for frozen yogurt, soy milk and fruit but there's also reports of it containing raspberry sherbet as well. Regardless, Megan from Detoxinista has crafted a much healthier version with no added sugars. All of the sweetness comes from frozen fruit and dates.
5. Vegetarian Lettuce Wraps (P.F. Chang's)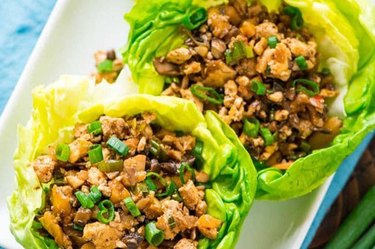 P.F. Chang's actually offers two lettuce wrap options: vegetarian and chicken, providing 570 calories and 660 calories, respectively.
Erin from WellPlated has replicated both with her "lighter twist" approach. Two lettuce wraps of the vegan version contain just 165 calories. Even if you were to double the portion, you're still well under the amount of calories found in P.F. Chang's offering.
This recipe has half the sodium found in the original recipe with 659 milligrams per serving. It also has a quarter of the saturated fat. Cutting down on both of these is good for your heart and overall health.
6. Avocado Egg Rolls (Cheesecake Factory)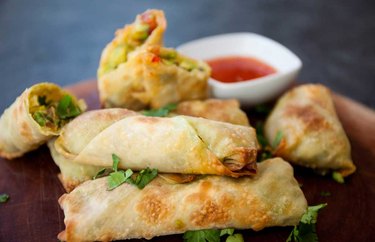 These copycat Avocado Egg Rolls have about half the calories found in Cheesecake Factory's infamous version. The restaurant's appetizer provides three egg rolls in total, which contains 908 calories, per their nutrition guide.
The secret to this version is using an air fryer because to cut down on the amount of oil needed. You'll still get that same crispy wrap you love with the burst of flavor inside but with fewer calories and grams of saturated fat.
7. All Hail Kale Salad (Veggie Grill)
If you haven't tried this salad, you're missing out. And although Veggie Grill only serves vegan options, you don't have to be totally plant-based to fall in love with this recipe. The sweet papaya-ginger dressing pairs well with the spicy bite from kale.
The dressing for this recipe is where Detoxinista really adds a healthier twist using fresh fruit paired with vinegar and a bit of oil and honey. You can add a lean protein to help round this out — chicken, salmon and tofu would all taste delicious.