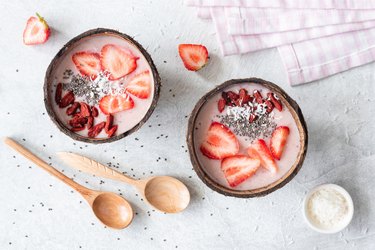 A match made in heaven, berries and breakfast go together like bacon and eggs, cheese and crackers, spaghetti and meatballs and, well, you get the point.
Strawberries — arguably the tastiest of the berry bunch — can sweeten any a.m. meal and add a heap of health benefits, too.
Rich in vitamin C and antioxidants like anthocyanin compounds and ellagic acid, strawberries can help keep you healthy by reducing inflammation and oxidative stress, Leslie Langevin, RD, author of ‌The Anti-Inflammatory Kitchen Cookbook‌ and co-owner of Whole Health Nutrition, tells LIVESTRONG.com.
Strawberries also contain fiber, manganese, potassium and folate, and help you maintain balanced blood sugar levels since they are a low glycemic fruit (i.e., they don't spike your blood sugar when you eat them), which is great for your weight loss goals, Langevin says.
So, how do you pick the perfect berry? For the sweetest box of strawberries, "look for deep red, fully ripe berries," says Langevin, adding that the deeper the hue, the higher the concentration of anthocyanin antioxidant compounds. In other words, the tastiest berries are also the healthiest!
Ready to make your mornings sweeter? These six breakfast recipes — clocking in below 400 calories — will put all your ripe strawberries to good use.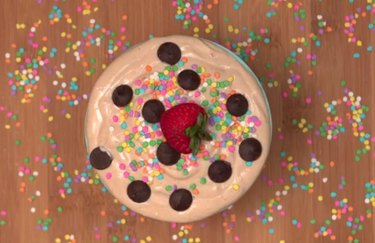 ‌Calories:‌ 364
‌Protein:‌ 14 grams
This chocolate chip cookie dough-inspired dessert doubles as a healthy breakfast.
Langevin loves jazzing up high-calcium, protein-rich Greek yogurt with antioxidant-abundant cocoa powder and fun toppings (one tablespoon of rainbow sprinkles!), so your breakfast bowl feels indulgent while still checking off all the right nutrient boxes.
Meanwhile succulent strawberries serve as a good-for-you garnish, bursting with vitamin C and potassium. To add even more antioxidants, ax the milk chocolate chips for a darker variety.
And if you're a fro-yo fan, you're in luck. "This yogurt mixture would also freeze well in popsicle molds for a frozen treat," Langevin says.
2. Overnight Strawberry and Peach Oat Parfait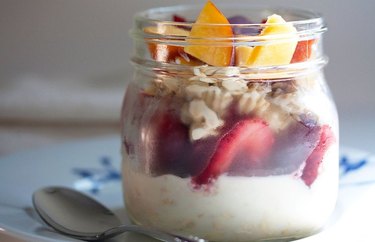 ‌Calories:‌ 357 calories
‌Protein:‌ 12 grams
Ideal for busy mornings, you don't need to lift a finger in the a.m. to enjoy these convenient overnight oats. Low in fat and high in protein, the calories in this peachy parfait are right on target for a satisfying breakfast.
Every gram of carbs in this jar comes from the blood-sugar-stabilizing complex variety, like strawberries and whole grains, which also offer a whopping 10 grams of filling, gut-healthy fiber, Langevin says.
"This is almost 40 percent of the recommended amount of fiber for a woman in a day," she adds. That's especially good news since an overwhelming majority of Americans — approximately 95 percent — don't consume the recommended daily amount of fiber — 25 grams for women and 38 grams for men — according to a July 2016 article in the ‌American Journal of Lifestyle Medicine.‌
For an extra dose of fiber and omega 3s, top your parfait with chia or ground flax seeds, Langevin recommends.
3. Healthy Strawberry Oat Bars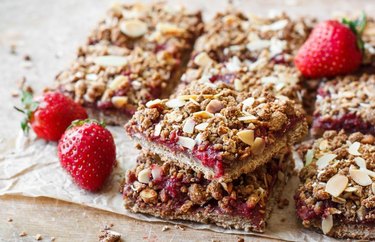 ‌Calories:‌ 263 calories
‌Protein:‌ 3 grams
Langevin calls this recipe "a no-bake healthy snack, breakfast and dessert all in one."
Dates provide natural sugars to sweeten this oat-based strawberry bar. But to balance out the sugar content from the dates and stay fuller longer, Langevin recommends pairing this with a side of protein (like an egg) or blending a scoop of protein powder into the base mix.
Watching your sugar intake? "Adding a few tablespoons of nut or seed butter to replace some of the dates would still allow it to hold together while reducing some of the sugar content," Langevin says.
If you have a nut allergy, sub in sunflower or pumpkin seeds, which would work just as well as macadamia nuts, she adds.
4. Strawberry Protein Pancakes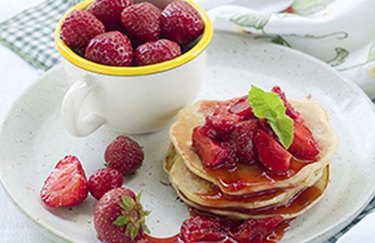 ‌Calories:‌ 326
‌Protein:‌ 34 grams
These protein-packed strawberry pancakes aren't your average griddlecakes.
"Providing 34 grams of protein per serving is an amazing feat at breakfast time," says Langevin, noting these filling flapjacks are fantastic for people on a weight loss program and athletes looking to build or maintain lean muscle.
If you want to amp up the amount of antioxidants, Langevin suggests grinding up freeze-dried strawberries into a powder and blending them into the batter.
They have just as much vitamin C as fresh strawberries and will add a pretty pink hue to your pancakes, she says.
5. Acai Banana Berry Smoothie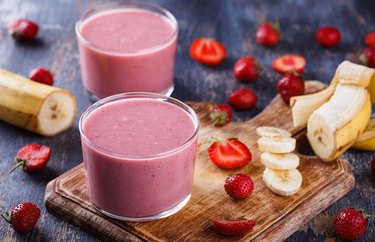 ‌Calories:‌ 316 calories
‌Protein:‌ 23 grams
Brimming with bananas and strawberries, this satiating smoothie serves up a nice balance of carbs, protein, fiber and fats for a supercharged breakfast or post-workout snack, Langevin says.
Plus, it's a powerhouse of polyphenols thanks to the addition of acai powder. ICYDK, polyphenols are plant-based micronutrients with antioxidant properties that protect you from dangerous free radicals.
And if your veggie intake is lagging, you can seamlessly sneak some into this smoothie. Adding a mild-flavored veg like cauliflower would diversify the smoothie's nutrient profile and create a thick, creamier consistency without totally transforming the taste.
6. The Berry Sesame Toast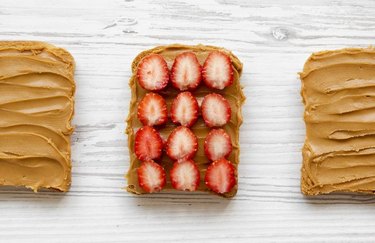 ‌Calories:‌ 201
‌Protein:‌ 9 grams
This tasty toast swaps fresh strawberries for jam in a lower sugar take on PB and J. The filling combo of fiber, protein and fats from sesame seeds and peanut butter provide all the fuel you need to stay satiated until lunch, Langevin says
This beneficial breakfast toast "also offers a good balance of complex carbs from the whole grain bread and strawberries," which pack a powerful punch of vitamin C to keep your immune system strong, Langevin says.
For even more antioxidants, Langevin suggests whipping up some strawberry chia seed jam.
Simply cook down two cups of fresh strawberries, and once they're reduced, mash the mixture with a potato masher. Then add three tablespoons of chia seeds, cooking until thickened.
Was this article helpful?
Thank you for your feedback!