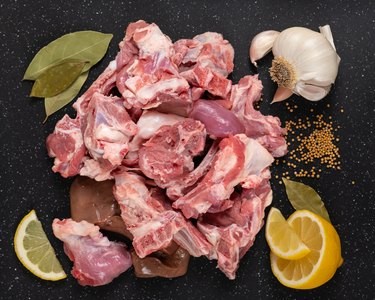 If you're searching for an additional red meat option, consider including goat meat in your diet. This healthy protein packs a veritable feast of nutrients, and it can provide some health benefits. You can also prepare this versatile red meat in several different ways.
Tip
Goat meat is a lean, healthy protein that's rich in vitamins and minerals. With less overall fat, saturated fat and cholesterol than other red meats, it earns its status as a healthy menu choice.
Goat Meat Taste and Nutrition
Goat meat, also called chevon, is a versatile red meat that you can grill, bake, mix into a stew or make into jerky, says the International Kiko Goat Association. Although many goat meat fans prefer consuming tender chevon from very young goats, the meat can be sourced from goats of varied ages.
So, what does goat meat taste like? This increasingly popular protein, which boasts low fat and cholesterol counts, typically tastes like veal when it comes from a young goat, while the meat from an older goat resembles a reduced-calorie version of a beef/venison blend.
A 100-gram serving, or 3.5 ounces, has 109 calories and contains 20.6 grams of protein, according to the USDA. With low cholesterol and zero carbohydrates, and only 2 grams of fat, chevon certainly qualifies as a lean, healthy protein with numerous nutritional benefits.
Goat Meat vs. Other Meats
Prairie View A&M University points out that goat meat has lower overall fat, saturated fat and cholesterol levels than other red meats such as beef, pork and lamb. Goat meat also contains beneficial iron and large quantities of heart-stabilizing potassium. Goat meat's low sodium levels may be useful to diners dealing with blood pressure issues.
However, the nutritional benefits of goat meat don't mean much if you can't obtain noncontaminated meat that's safe to eat. To that end, Virginia State University conducted a targeted study, the results of which were published in the November 2015 issue of the Journal of Food Protection.
Researchers sought to gauge the microbial quality of goat and lamb meat sourced from Virginia suppliers and internet-based retailers. The study focused on a total of 134 frozen meat products, split between the two proteins and sources.
Tested goat meat products included goat chops, goat ground and goat stew and researchers concluded that significant numbers of dangerous microbes and pathogens can be present in goat meat. Proper handling may help to minimize the risk of negative health consequences associated with consuming contaminated goat meat.
Learn About Goat Meat Demand
The worldwide market for goat consumption is surprisingly large, with goat meat making up 63 percent of all red meat consumed. In many Middle Eastern and North African countries, goats are the top animal protein source. Goat consumption is also prominent in other tropical regions, notes Alabama A&M and Auburn Universities. Within each country, cultural customs, religion and socio-economic status influence consumption practices.
Georgia researchers conducted a consumer survey to identify determining factors for future goat meat demand within the state. Researchers compiled results from a 593-person random-sample telephone survey conducted in 2012. The survey results appeared in the March 2017 issue of the Journal of Food Distribution Research.
The survey's results showed that 56 percent of participants who had never eaten goat meat would try a free sample of it from their grocery store. Respondents' household size, gender and education were factors in their decision. Researchers also emphasized the state's large goat inventory and substantial amount of imported goat meat. Taken together, these factors led researchers to predict an increase in future demand for goat consumption.