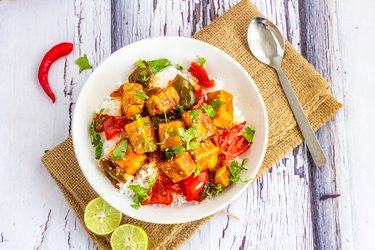 While PB&J is a classic comfort food (and for good reason: the nutty notes make a magnificent match with the sweet grape jelly), it's not the only way to enjoy peanut butter — or to reap the health benefits of this staple sandwich spread.
"Peanuts are also packed with other beneficial nutrients such as potassium, phosphorus, magnesium and B vitamins," she adds. From sweet to savory, these six simple peanut butter recipes aren't served between bread and will put your favorite jar to good use.
1. Bok Choy and Tofu Stir-Fry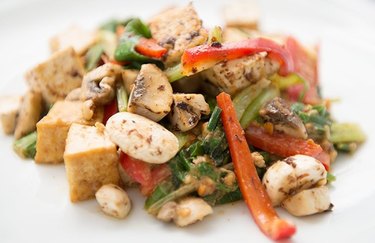 This easy stir-fry dinner combines creamy peanut butter, rice vinegar, soy sauce, garlic and red pepper flakes for a homemade lip-smacking sauce that's healthier than the sodium-stuffed, store-bought varieties.
"Lots of vegan dishes fall short on the protein front, but this one doesn't thanks to the addition of tofu and peanut butter, which brings this dish to a total of 16 grams of belly-filling protein per portion," Gans says.
Rich in healthy fats, iron and calcium, tofu is also low in calories, making it a great choice for someone looking to lose weight, Gans adds.
2. Vegetarian Thai-Inspired Lettuce Wraps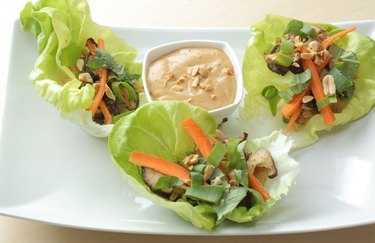 Inspired by Thai cuisine, these vegetarian lettuce wraps owe their flavor to fresh herbs and spices like ginger, garlic and basil, and a rich, savory peanut sauce. Meaty shitake mushrooms and crunchy water chestnuts bulk up the flavorful filling and nutrient profile of these high-fiber (8 grams per serving) plant-based lettuce cups.
To reduce the sugar content, try substituting the hoisin sauce for garlic and prunes or bean paste, Gans says.
3. Peanut Butter Protein Oatmeal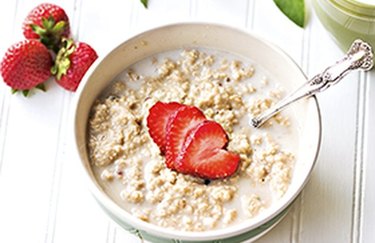 The combo of egg whites and peanut butter takes this comfy bowl of oatmeal to a whole new level. Packed with 16 grams of satiating protein and 5 grams of filling fiber, this robust breakfast is guaranteed to curb cravings and keep your appetite in check until lunchtime, Gans says.
4. Shrimp and Vegetable Salad With Coconut Peanut Sauce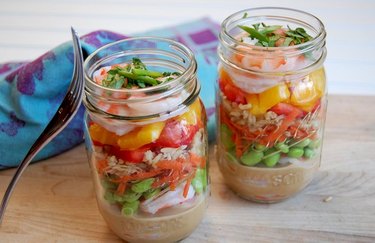 Creamy coconut milk and natural peanut butter come together for a salivating sauce that gains a pinch of sweetness from agave nectar and a spicy kick from Sriracha sauce. Layer it with crunchy carrots, crisp edamame, colorful bell peppers, fragrant basmati rice and juicy shrimp for a mason jar jampacked with tasty textures ‌and‌ essential nutrients.
5. Peanut Butter Yogurt Mash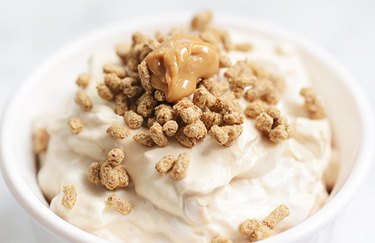 A delicious dollop of creamy peanut butter is all you need to upgrade the flavor factor of this simple yogurt parfait. Perfect for breakfast or lunch, this quick-and-easy, three-ingredient recipe is a protein and fiber powerhouse, providing 10 grams and 7 grams respectively, Gans says. Plus, Greek yogurt supplies a stellar source of calcium, which is important for bone health.
6. Chocolate Peanut Butter Protein Smoothie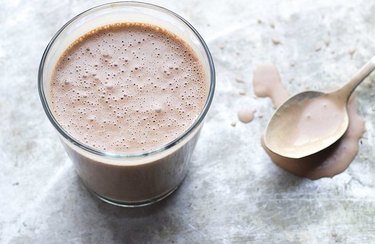 With a beautiful balance of carbs and protein, this chocolatey, creamy, plant-based smoothie supplies all you need to refuel and recover after a workout.
The chia seeds really take this salivating smoothie up a notch by boosting the fiber content to 13 grams per serving, Gans says. Essential for weight loss, fiber helps with satiety, regulates blood glucose levels and prevents constipation. Meanwhile, banana — the perfect complement to peanut butter — packs potassium, which may help regulate your blood pressure, Gans adds.