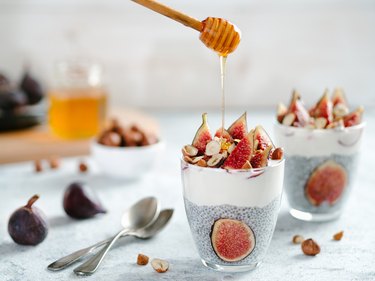 One of the reasons we love overnight oats so much is because they're easy to make and require little to no time in the morning. And if there's anything we're looking for in the a.m., it's more time.
But it's the simplicity and time-saving capabilities of overnight oats, paired with their inherent healthy attributes, that have made them a lasting hit versus a trendy, one-hit-wonder.
Chia seed pudding puts a new spin on overnight oats. Sure, you can enjoy it as a dessert — it does have a pudding-like consistency after all — but chia pudding also makes for a delicious base on which to build an easy and nutritious breakfast.
Chia seeds are tiny but their nutritional profile is anything but. Two tablespoons of the seeds provide 130 calories, 7 grams of fat (0.5 grams saturated fat), 10 grams of carbs (10 grams of fiber, 0 grams of sugar) and 6 grams of protein, per the USDA.
This small serving alone provides about a third of your fiber needs for the day!
To make chia pudding, you simply add chia seeds to a liquid of your choice of like milk, nut milk or water and stir. Seriously, that's it. But you'll want a good ratio of chia seeds to liquid.
Chia to Liquid Ratio
4 tablespoons of chia seeds per 1 cup of liquid.
You can start out with 3 tablespoons and add one more if you like your pudding on the thicker side. Once you stir the chia seeds a few times to remove the bigger clumps, cover and put it in the fridge for at least four hours (it doesn't have to be overnight).
That's just where chia pudding gets started. To round out the meal, you'll want to increase the calorie and protein offerings. A good place to start is using a protein-rich liquid like regular milk or protein-rich plant-based alternative like soy or pea protein milk.
Then come the toppings — these are all welcomed additions to any chia seed pudding base:
Fruit
Nuts and nut butters
Whole grains (like quinoa or oats)
Honey or maple syrup
Spices
While pairing your favorite flavors is half the fun, we've complied six chia pudding recipes to inspire you. Each recipe has 12 grams of protein or more to keep you satiated throughout the morning.
6 Chia Pudding Recipes to Wake Up To
1. Chocolate Protein Chia Pudding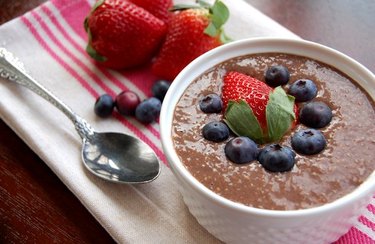 Calories: 183
Protein: 12 grams
This chocolatey bowl is the go-to basic chia pudding recipe that you'll want to keep on hand. By mixing the powder with the agave, cacao powder, vanilla extract and milk, you create a consistent liquid that's free of lumps. This recipe calls for strawberries as a topping but sliced almonds or almond butter would be a great addition as well.
2. High-Protein Vanilla Chia Pudding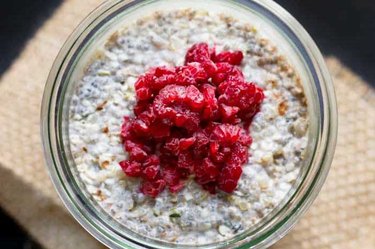 Calories: 258
Protein: 13 grams
If you're not feeling the basic chocolate option, vanilla may do the trick. Here, the protein boost is courtesy of hemp seeds as well as protein powder and cooked quinoa. You could use any whole-grain here like buckwheat or barley. For toppings, walnuts, bananas, berries or peanut butter would also be delicious.
Get the High-Protein Vanilla Chia Pudding recipe and nutrition info at Simply Quinoa.
3. Dreamy Almond Butter Chia Pudding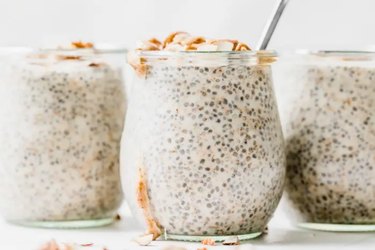 Calories: 705
Protein: 21 grams
This pudding packs maple syrup for a light touch of sweetness paired with creamy and rich alond butter, which makes for the ultimate compilation. Top it with peanuts, banana slices or dark chocolate chips for a breakfast you'll dream about.
Get the Dreamy Almond Butter Chia Pudding recipe and nutrition info at The Almond Eater.
4. Chia Seed Protein Pudding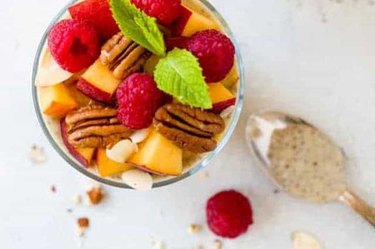 Calories: 200
Protein: 12 grams
Raspberry, peaches, sliced almonds and pecans — again, so simple, but so delicious at the same time. The sweet fruit has a tart side, which couples perfectly with the vanilla protein powder. This calls for a few liquid options like cashew milk, almond or soy but we recommend sticking with one that provides 8 grams of protein per cup or more.
Get the Chia Seed Protein Pudding recipe and nutrition info at Jessica Gavin.
5. Pumpkin Pie Overnight Oats With Chia
Calories: 274
Protein: 14 grams
This seasonal twist is the perfect example of what's possible with chia pudding. It brings together chia pudding and overnight oats for a tasteful twist, paired with real pumpkin puree and warming spices like cinnamon, nutmeg and ground ginger. Greek yogurt provides an ample amount of the protein found here but using regular milk, soy or pea protein milk would bump up the offerings even more.
Get the Pumpkin Pie Overnight Oats With Chia recipe and nutrition info at Ambitious Kitchen.
6. Chia and Quinoa Blueberry Breakfast Parfait
Calories: 425
Protein: 14 grams
If you tend to meal prep, this recipe is perfect for you. It calls for cooked quinoa but you can use any whole grain. Quinoa is known for being high in protein with 8 grams per cup (cooked) but there are other ancient grains that are high in protein, too, like kamut (10 grams per cup) and teff (10 grams per cup), according to the USDA.