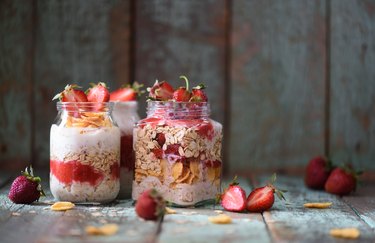 If you're always rushing through breakfast each day, or skipping it altogether, you're in luck: Overnight oats are the perfect solution for time-strapped mornings.
Whole-grain oats are the base and from there, it's up to you what you add. Fresh fruit, frozen fruit, dried fruit, nut butters, nuts and seeds all make for delicious and healthy topping options. The oats hold up well in the fridge for several days, so you can even double or triple the recipes — talk about a real time-saver!
The liquid you add is important, too. Milk, milk alternatives and yogurt provide satiating protein if you choose wisely. Look for products that are lower in sugar or unsweetened altogether.
When it comes to plant-based milk and yogurt, look for brands that have protein added — soy and pea protein are popular options. Adding protein through nuts, seeds and milk is important to provide a balance to the fruit and oats, which are good sources of healthy carbs.
Starting with a blank canvas (the soaked oats) can be intimidating when it comes to trying to figure out what combination of toppings to add. That's why we've rounded up five overnight oats recipes — all with at least 15 grams of protein — to help you start your morning on the right foot.
1. Overnight Strawberries and Crème Oatmeal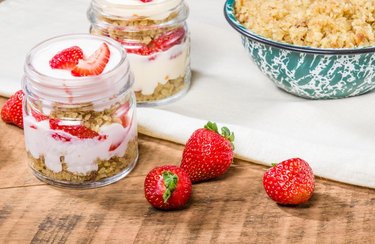 This simple dish — oats, milk, yogurt, strawberries and almonds — makes for a dessert-like breakfast that is packed with nutrition. Each serving has 20 grams of protein, which is much higher than the amount we typically take in at breakfast, according to a June 2014 study in Journal of Nutrition.
On average, we eat about 13 grams of protein at our a.m. meal. For comparison, we eat about three times that amount (38 grams) at dinner.
Research shows that balancing your protein intake throughout the day, especially as we age, is key for building and maintaining muscle mass. The Overnight Strawberries and Crème Oatmeal gets you on your way with 20 grams per serving.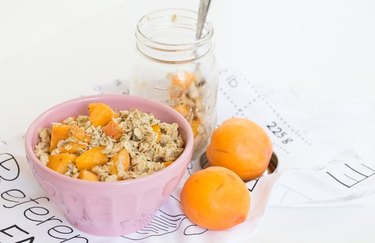 Here, chia seeds are used along with the oats to help soak up the liquid, adding volume (along with fiber and protein) to the bowl. They're a "thirsty" seed, so when you add chia seeds to overnight oats, you'll want to use more milk or yogurt so there's more liquid available.
Chia seeds along with hemp seeds (also in this recipe) are both sources of omega-3 fatty acids, which are healthy anti-inflammatory fats that make up the majority of this recipe's fat content.
The tart apricots round out the flavor of the oats and maple syrup. If you can't find fresh, you can add chopped dried apricot or try another fruit instead. The unsweetened pea milk is the driving force of the 16 grams of protein in this dish, while the rest comes from the hemp and chia seeds.
3. Overnight Apple Pie Protein Oats
This is a perfect pick for fall. Because the apple is sautéed beforehand and mixed with cinnamon, nutmeg and allspice, the recipe really does take on an apple pie flavor.
Protein powder is added here to boost the amount of protein — 24 grams per serving. You could make this a vegan option by using a plant-based vanilla protein powder and coconut oil instead of butter when cooking the apple.
What's great about this recipe is that it's balanced — carbs make up 46 percent of the calories with fat and protein each providing 27 percent of the calories. The carbs from the whole grain and fruit fuels your body while the protein and fat help to slow digestion, keeping you feeling fuller longer throughout the morning.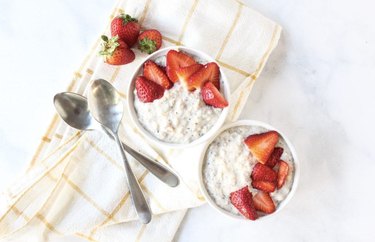 We mentioned milk, plant-based milk and yogurt as protein-filled liquids to add to your bowl but we'd be remiss if we didn't mention kefir as another option.
Kefir is a fermented yogurt-like drink that is brimming with probiotics. Kefir may even work better than yogurt in this situation, i.e., making overnight oats, because it has much more liquid.
This overnight oat option gets its sweetness from banana and a minimal amount of maple syrup while the hemp, chia and kefir bring the protein. Fresh or frozen berries would be great to add for more flavor, nutrients and fiber, although the 8 grams of fiber per serving is plenty if you just follow the recipes as is.
5. Overnight Peach Melba Oatmeal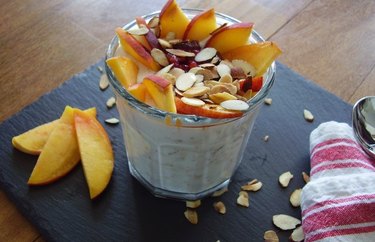 If you've never had peach melba before — peaches, raspberry sauce and vanilla ice cream — you're missing out. Here's a healthier way to enjoy the flavors — but for breakfast instead of dessert (although this could pass for dessert, too).
Combining whole-grain oats with milk and Greek yogurt is a perfect combination of carbs and protein. The sliced almonds and peach add flavor and crunch while the jam and honey deliver sweetness. Seven grams of fiber at breakfast is about 30 percent of the total needs for the day for women and about 20 percent for men.
But the 24 grams of protein — thanks to the milk and yogurt — gives this true staying power.