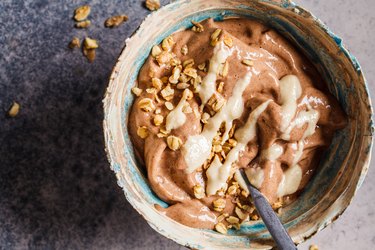 Fiber is quite the nutrient superstar: Not only does it help promote regular digestion and keep you feeling full for longer, but it's also linked to reducing the risk of developing conditions like heart disease and diabetes.
You should get at least 25 grams of fiber from whole foods for every 2,000 calories you eat per day, according to the FDA. (So if you eat fewer than 2,000 cals a day, you'll need a bit less than 25 grams of fiber and if you eat more than 2,000 calories a day, you'll need more than 25 grams.)
However, the average American adult only gets about 15 grams of fiber per day, a number we can all improve on. To help meet your daily fiber quota, wake up to these delicious high-fiber breakfast recipes. All pack in 28 percent or more of your daily recommended value of the nutrient, bringing you over a quarter-way closer to the goal — all while keeping midday cravings at bay.
1. Spicy Breakfast Burrito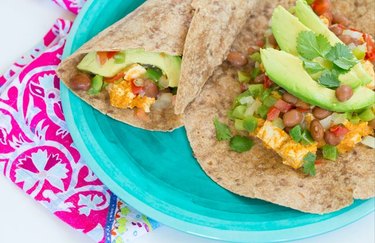 If you're a fan of spicy food, this breakfast burrito recipe will give you just the pop of flavor you're looking for. With 11 grams of fiber (44 percent of your daily value) per serving, this a.m. meal takes only 20 minutes to prepare and is high in protein, guaranteed to keep you satiated all morning long.
When you pair a high-fiber food with some healthy fats, you can kiss morning cravings goodbye. This recipe calls for half of a medium avocado, which is a great source of healthy, unsaturated fat, according to Harvard Health Publishing. Healthy fats aren't only a solid way to fight inflammation but may also help raise HDL (good) cholesterol levels.
2. Winter Panzanella Breakfast Salad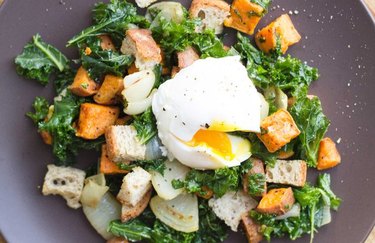 Although a breakfast salad recipe may be a little unconventional, this dish is something you want to add to your menu. It's low in sugar and full of nutrient-rich ingredients, including kale and sweet potatoes — which help bring the fiber count to 9 grams, or 36 percent of your daily value.
This recipe calls for whole eggs, which are an excellent source of protein. And while it's true that egg yolks are high in cholesterol, eating eggs can also lead to elevated levels of HDL cholesterol, which is actually beneficial for health, according to Keck Medicine of USC. Egg yolks are also high in lutein and zeaxanthin, two antioxidants that help support good eyesight.
3. Overnight Banana-Chia Breakfast Pudding Bowl With Cacao Nibs and Nuts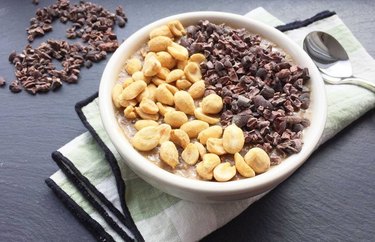 If you prefer to quench your sweet tooth in the morning, this overnight pudding bowl is a healthy option that packs 11 grams of fiber, or 44 percent of your daily value. This ten-minute dish is high in healthy, unsaturated fats and full of whole-food ingredients with little added sugar.
Toppung with cacao nibs, popularly known as a "superfood," is a great way to give your breakfast chocolatey flavor without all the added sugar. Cocoa is especially high in antioxidants, which are great for fighting inflammation and promoting healthy metabolic function, according to an April 2016 study published in ‌Nutrients‌.
Another commonly referenced superfood, chia seeds are also packed with nutrients. Chia seeds are high in omega-3 fatty acids, which can benefit the heart by potentially helping lower bad cholesterol (partially due to the high fiber content), blood pressure and inflammation, according to Harvard T.H. Chan School of Public Health.
4. Savory Protein Breakfast Bowl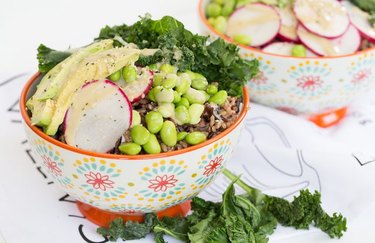 Full of grains, high-quality protein and vegetables, this recipe takes breakfast to a whole new level. The bowl takes only 20 minutes to prepare and, with 7 grams of fiber (about 28 percent of your daily value) and 26 grams of protein, is sure to keep you energized all morning. While this recipe is certainly nutritious, some of these ingredients can be high in calories, so be sure to watch your serving sizes.
Edamame (aka immature soybeans), one of the star ingredients in this dish, is actually a source of complete protein, which is rare in the plant world, according to the FDA. Complete proteins contain all of the essential amino acids, which your body needs to function properly.