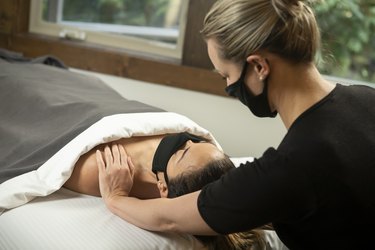 Between stress and your less-than-ergonomic home office setup, your neck and back muscles have probably twisted into tight knots during the coronavirus pandemic. No wonder, then, that you're craving the comfort and relaxation of a massage. But is getting a rubdown a good idea right now?
With COVID-19 cases currently surging in most states, you should probably skip the spa, since it's a nonessential activity. Being indoors and in close proximity with someone outside of your household heightens your chance of catching (or spreading) the virus.
But if your state, county and local numbers are relatively low, and you really need a little kneading, you should take several precautions to stay safe.
While the Centers for Disease Control and Prevention (CDC) provide guidance on activities such as going to gyms, nail salons and restaurants, they don't speak specifically to safety when visiting a massage setting. So we spoke with Amesh Adalja, MD, a senior scholar at the Johns Hopkins University Center for Health Security, to better understand ways to reduce your risk when getting a rub.
At-Home Massage Products to Try
1. Check COVID Rates in Your Area
While a hot stone massage sounds superb, just make sure your massage studio isn't situated in a COVID hotspot.
As infection rates continue to tick upward across the country (and around the globe), you should consider the COVID case counts in your area when deciding whether to get a massage.
If your neighborhood is experiencing a cluster of cases, it's probably better to reschedule your rub (or postpone it) for a later date.
In a massage setting, your greatest threat is physical proximity to the masseuse for an extended period of time. Remember, COVID-19 spreads mainly through respiratory droplets when an infected person coughs, sneezes or talks within six feet of another. And the virus, which may become airborne, can also travel further than six feet and linger in the air for minutes to hours, per the CDC. That means it can possibly infect others even after a sick person leaves a space.
In addition, coming into contact with frequently touched surfaces (like a massage table) can pose some risk, too, though this is not thought to be the primary way COVID is transmitted, according to the CDC.
Bottom line: If you or someone in your household is at a higher risk of severe illness due to COVID-19 (this includes older adults and people with certain underlying medical conditions), you might want to postpone the pampering.
But if getting a massage helps soothe symptoms of a chronic pain-related issue or vastly improves your quality of life, the benefits may outweigh the risks. In this case, consider the kind of massage you need. Different types present varying levels of risk.
"Massages where faces come near to each other are going to be higher risk, whereas a foot massage could be performed with a physical barrier between the client and the masseuse with only the foot in contact with the masseuse," Dr. Adalja says.
3. Research Massage Services
When mulling over a massage therapist or company, reach out to inquire about the safety measures they're taking to reduce the spread of COVID-19.
"You should ask about employee screening, cleaning protocols, client screening, waiting room procedures and what personal protective equipment is being used," Dr. Adalja says.
The Associated Bodywork & Massage Professionals, a national massage and bodywork practitioner association, provides a list of best practice recommendations in line with guidelines from the CDC and the World Health Organization (WHO) for massage therapists. Some of these include:
Massage therapists should conduct a pre-appointment health assessment online to reduce face-to-face interaction with clients and screen them for COVID risks.
Clients and massage therapists should wear face masks at all times.
Massage therapists should follow stringent sanitation protocols and wipe down all surfaces that a client might have touched using EPA-certified disinfectants.
Massage therapists should change all linens and, ideally, their clothes between each client.
Massage therapists should stagger client appointments (or text clients when they can enter the space) to limit the number of people in waiting rooms or common areas.
That said, these are simply recommendations. This means that massage studios can choose to abide by them or not. That's why it's essential to speak with the masseuse to learn what they're ​actually​ doing to help you decide whether a massage is worth the risk.
4. Opt for an Outdoor or Home Massage
Some massage studios are offering their services in the comfort of your own home. Having a home massage means you can avoid the waiting room or common spaces in a studio, Dr. Adalja says.
To make the setting safer for you and your massage therapist, you can try to improve the ventilation — or the amount of fresh air coming indoors — in your home. Poor ventilation inside may increase COVID transmission, according to the WHO.
​How to Increase the Natural Ventilation of a Room​
The Environmental Protection Agency recommends the following tips to enhance natural ventilation:
Open several windows or doors, preferably at opposite ends of the space (but not directly across from each other) to increase cross-ventilation.
Open the highest and lowest windows (especially on different floors).
Use indoor fans and place them in front of windows either facing toward the window (blowing stale air out), away from the window (blowing fresh air in) or ideally, a combination of both.

Position the fan so that its airflow does not blow directly from one person to another.
And if your masseuse can set up the massage table outdoors, even better.
"Transmission of COVID is lower in outdoor settings, so if activities can be performed outside, it can lower risks," Dr. Adalja says.
Unfortunately, an alfresco massage may not be possible as the cold weather rolls in.
Still, whether you receive a rub in your living room or in your backyard, keep in mind that either way is not without risks since it still requires a close encounter with someone outside your household. That's why it's important that you always sport a face covering and wash your hands frequently.
Concerned About COVID-19?
Read more stories to help you navigate the novel coronavirus pandemic: