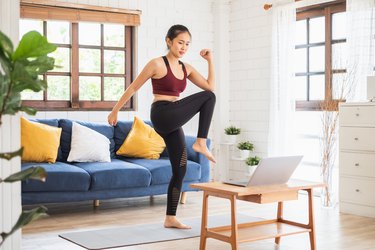 When the temperature drops and the weather forces you inside, you don't have to resort to the same squat-and-lunge routine you've been doing since March. Try this 20-minute body-weight workout from Micaela Gerling, personal trainer at Bodytec, an EMS training studio in Pretoria, South Africa.
"Body-weight movements are effective as they work a number of different muscle groups at the same time, helping you tone and strengthen your body from head to toe," Gerling tells LIVESTRONG.com.
And all of the moves below are designed to break you out of your typical running, walking or cycling cardio workout and get your muscles firing in a new way. Plus, these creative exercises challenge your brain in a new way too!
​Do:​ each exercise for as many reps as you can with good form in 60 seconds, taking breaks as needed. Beginners should aim to work for 30 seconds and rest for 30 seconds. Rest for 2 minutes between each 10-minute set.
Tip
Remember to contract your abdominal muscles to keep your core tight while doing each move, Gerling says. Core activation helps avoid lower back injuries.
Move 1: March With Arm Circles
Begin standing tall with your arms held out at your sides at shoulder level.
Start moving your arms in small circles in a forward direction as you march in place, bringing one knee up to your chest at a time.
Perform this exercise for 30 seconds doing forward arm circles and 30 seconds doing backward arm circles while you march.
Move 2: Jumping Jacks
Start with your arms at your sides and your feet together.
Jump your feet out to the sides while simultaneously lifting the arms out to your sides and above your head.
Immediately jump the feet back together while lowering your arms back to your sides.
Repeat.
Move 3: High Knees Run
Stand with your feet together, then begin jogging in place while lifting your knees as high as you can in front of you, one knee at a time.
You can put your hands out above your knees as a target for your knees to touch with each rep.
Tip
If you struggle with bringing your knees up high, jogging in place will do.
Move 4: Long Jump With Backward Shuffle
Stand with your feet shoulder-width apart.
Bend your knees to squat down slightly as you swing your arms behind you.
Swing your arms forward and extend through your legs to take a big leap forward.
Land on both feet with knees slightly bent and immediately shuffle backward to your starting point.
Repeat.
Move 5: Butt Kicks
Stand with your feet together and place your hands palm-side-up on your butt.
Start jogging in place bringing one heel at a time up toward you butt, aiming to get the heels to touch your hands with each rep.
Move 6: Burpee
Stand with your feet shoulder-width apart.
Bend down to put your hands on the floor just in front of your feet.
Immediately jump your feet out so that your body is in a high plank with your body in a straight line from head to hips to heels.
Quickly jump your feet back in toward your hands.
Stand up and jump as high as you can.
Land with knees slightly bent and repeat.
Move 7: Cross Jack
Stand with your feet hip-width apart and your arms out to the sides in line with your shoulders.
Jump your feet in, crossing your legs in the middle as you land. Your arms will simultaneously cross over in front of your chest.
Immediately jump the feet apart again with the arms opening to the sides.
Repeat, switching which arm and leg is in front or on top.
Tip
This exercise is almost like a jumping jack, except you'll be working in a horizontal plane of motion.
Move 8: Power Lunge
Stand with your right leg behind you (almost like you are getting ready to lunge).
Put your weight on your left leg and power through that leg to jump off it while bringing your left arm straight up into the air above the head.
Land on the left leg, letting your right leg swing through behind you into the starting 'lunge' position.
Repeat.
Do 30 seconds left leg and 30 seconds right leg.
Tip
Once you get more comfortable with the technique, you can go faster with the movement.
Move 9: Mountain Climber
Begin in a high plank with your body in a straight line from head to hips to heels. Keep your arms straight and tense and your elbows locked to support your body.
Bring one knee in underneath you toward your chest.
Quickly alternate legs so that the other knee comes up toward your chest.
Repeat.
Move 10: Speed Skater
Start by taking a small leap to one side with your right leg, while your left leg travels behind the body and the foot is placed behind the body (slightly crossing the mid-line of the body like a curtsy). Your right leg in the front is kept bent.
Immediately take a leap to the left with your left leg, placing the right foot at the back this time.
Keep alternating between left and right.
Tip
Once you find your rhythm and get more comfortable with the technique, you can start to go a bit faster.