If you've ever tried to incorporate butternut squash into your weekly menu, you know it takes a whole lot of handling and prep work. Often, it's more than we bargained for when preparing a side dish. Thankfully, there is one seasonal squash that is easy to cook and even easier to prep: delicata squash.
Delicata has the same flavor profile of butternut, but it's ​way​ easier to work with in the kitchen.
"Delicata squash is a winter squash with a skin that's thinner and more tender than other winter squashes," says Amy Gorin, RDN, a plant-based dietitian based in NYC. And thanks to that tender skin, you don't have to remove it before cooking. Simply slice the squash as you please (crescent shapes is one of our favorites) and sauté, roast or puree as you please.
As for nutrition, Gorin says it provides fiber, potassium, magnesium and vitamin C, plus a small amount of protein.
To further prove this veggie is the reigning champ of winter squashes, we asked Gorin to share five easy-to-follow delicata squash recipes for delicious side dishes the entire family will enjoy.
Are You Getting Enough Fruits and Veggies?
1. Maple-Glazed Delicata Squash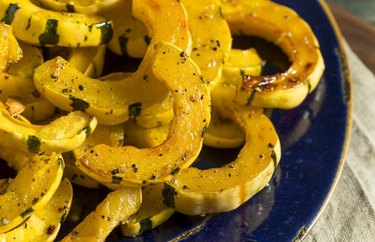 When side dishes include seasonal produce and fewer than five ingredients to make, it's a winner in our book. The maple glaze gives this creamy and tender vegetable a caramelized and sweet flavor without using processed sugar. And since delicata squash is rich in vitamins A and C, this is a great option for a starchy side that still boasts nutritional benefits.
2. Golden Delicata Squash Soup With Crispy Garlic Chickpeas
There's nothing like a bowl of soup when the temperatures start to drop. This golden, vegan-friendly soup has a vegetable base that's rich and creamy and topped with crispy chickpeas to increase the protein and fiber. Gorin suggests reducing the sodium level of this dish by opting for low-sodium vegetable broth and draining your can of no-salt-added chickpeas. If you want to sneak in even more veggies, consider adding options that won't alter the flavor like pureed cauliflower or chopped spinach.
​Get the Golden Delicata Squash Soup With Crispy Garlic Chickpeas recipe and nutrition info at Our Balanced Bowl.​
3. Roasted Delicata Squash, Kale and Leeks With Farro
This side dish has 7 grams of protein and fiber and is a hearty addition to any meal. "You'll get filling fiber from the farro and protein and healthy fats from the almonds," Gorin says. And if you want to make this dish even more green, feel free to double the amount of kale. It won't change the flavor, but it will boost the nutrients.
​Get the Roasted Delicata Squash, Kale and Leeks With Farro recipe and nutrition info at Blossom to Stem.​
4. Baked Spicy Delicata Squash Salad With Feta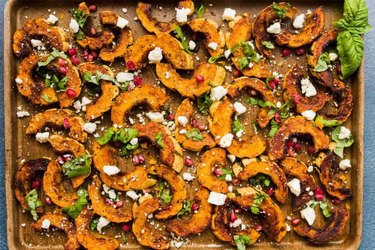 The name of the game with delicata squash is not to make it more complicated than it has to be. And this dish is full of flavor and heat, but you can whip it up with just 15 minutes of prep work. Gorin loves that this dish is sweetened with cinnamon, pomegranate arils, orange and balanced with the salty note of feta cheese.
​Get the Baked Spicy Delicata Squash Salad With Feta recipe and nutrition info at Reluctant Entertainer.​
5. Roasted Delicata Squash, Sweet Potato and Cranberry
This side dish is so beautiful, you'll want to use it as a centerpiece at your next dinner party. It's chock-full of fall flavors like squash, sweet potato and cranberries and it's naturally sweetened with cinnamon and pumpkin pie spice. If you're looking to lower the calories of this side dish, Gorin suggests decreasing the amount of ghee and olive oil. And to add more protein, try adding toasted pecans or almonds as a garnish.
​Get the Roasted Delicata Squash, Sweet Potato and Cranberry recipe and nutrition info at Whole Kitchen Sink.​