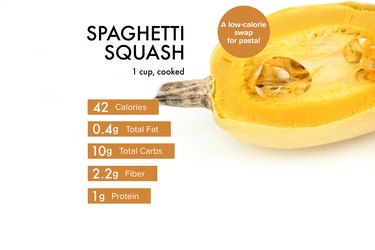 Spaghetti squash is part of the winter squash family (known as Curcurbitaceae) along with butternut, Hubbard and turban squash. It's typically large, yellow-skinned and oblong-shaped with a light-colored flesh that pulls away in strands that resemble spaghetti when cooked (hence, the veggie's name!).
Spaghetti squash is fairly neutral in flavor, has a tender and chewy texture and is often used as a swap out for pasta or grains — whether you choose to roast it, steam it or microwave it. Not only is it low in calories and carbs, it also provides a range of vitamins and minerals, including B-complex vitamins, dietary fiber and manganese.
Read all about the nutritional value of spaghetti squash, calories in spaghetti squash and how to cook it below.
Spaghetti Squash Nutrition Facts
​Calories:​ 42
​Total fat:​ 0.4 g
​Cholesterol:​ 0 mg
​Sodium:​ 26 mg
​Total carbs:​ 10 g
​Dietary fiber:​ 2.2 g
​Sugar:​ 3.9 g
​Added sugar:​ 0 g
​Protein:​ 1 g
​Total fat:​ One cup of cooked spaghetti squash has 0.4 grams of total fat, which includes 0.2 grams of polyunsaturated fat, 0 grams of monounsaturated fat, 0.1 grams of saturated fat and 0 grams of trans fat.
​Carbohydrates:​ One cup of cooked spaghetti squash has 10 grams of carbohydrates, which includes 2.2 grams of fiber and almost 4 grams of natural sugars.
​Protein:​ One cup of cooked spaghetti squash has 1 gram of protein.
Vitamins, Minerals and Other Micronutrients
​Vitamin B5:​ 11% Daily Value (DV)
​Vitamin B6:​ 9% DV
​Vitamin B3:​ 8% DV
​Manganese:​ 7% DV

​Vitamin A:​ 6% DV

​Copper:​ 6% DV
​Vitamin B1:​ 5% DV
​Magnesium:​ 4% DV
​Folate:​ 3% DV
​Zinc:​ 3% DV
​Potassium:​ 4% DV
Tip
Because spaghetti squash's calorie count is low, feel free to add more than one cup to your plate. Eating more spaghetti squash will also increase the amount of nutrients (including fiber and B vitamins) you take in without contributing to weight gain. A win-win!
Health Benefits of Spaghetti Squash
Now that you know about spaghetti squash nutrition data, find out all about its health benefits.
1. Spaghetti Squash Is Linked to Weight Loss
Spaghetti squash has 2.2 grams of dietary fiber and only 42 calories per cup. Because of its neutral flavor and spaghetti-like appearance when cooked, it can easily replace actual pasta or grains. This is a simple way to simultaneously decrease overall calories and increase nutrients in a dish.
Dietary fiber is a major player in the weight-loss game. Increasing your intake to 30 grams per day has been shown to help with weight loss, according to an article in the February 2015 issue of ​Annals of Internal Medicine​.
The Academy of Nutrition and Dietetics encourages eating high-fiber plant foods, such as spaghetti squash, to help regulate body weight, finding that higher intakes of dietary fiber have been associated with lower body weights. Increased fiber intake can also help with weight loss or maintenance because it helps you feel fuller longer.
Are You Getting Enough Fiber?
2. Spaghetti Squash Contains B Vitamins
Another reason spaghetti squash is healthy is due to its B-complex vitamins, including pantothenic acid (B5), niacin (B3), thiamin (B1) and vitamin B6. If you eat more than the mere one-cup serving size, you'll get a good dose of B vitamins, which play a critical role in converting food into energy and overall metabolism regulation, per Harvard Health Publishing.
B vitamins are considered the "anti-stress" nutrient because of their role in adrenal function and metabolism. Niacin is essential for the overall health of the brain, skin and nervous system.
Thiamin is vital for muscle, brain and nerve function. A thiamin deficiency, known as beriberi, can cause mental confusion, high blood pressure and heart issues. Vitamin B6 is a key player in regulating appetite, mood and sleep.
3. Spaghetti Squash Is Tied to Building Strong Bones
The majority of magnesium in our body is found in our bones and functions intimately with calcium and phosphorous. Calcium is the most abundant mineral found in the body, with more than 99 percent of calcium being found in the teeth and bones, according to the Institute of Medicine.
Spaghetti Squash Health Risks
​Food Allergies:​ Spaghetti squash is generally regarded as safe for most people to consume.
​Drug Interactions:​ There are currently no known drug interactions. Be sure to discuss any medication and food interactions with your health professional.
Spaghetti Squash Preparation and Useful Tips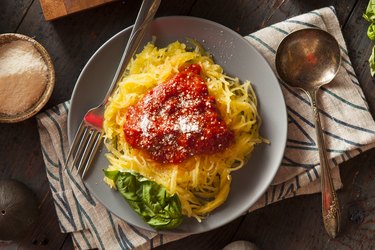 Spaghetti squash stores well so it can generally be found year-round, but hits peak season in the late summer and fall. Follow these tips to prepare and roast your spaghetti squash:
Choose a squash that is firm, heavy for its size and has a dull and hard rind.
Wash thoroughly under cold running water.
Cut squash in half lengthwise and remove seeds and fibrous material in the cavity.

Tip
Scoop out the seeds, dry them and roast them in the oven for a nutritious snack.
If the squash is particularly large and difficult to cut, place in the microwave for 2 to 3 minutes then try again. Microwave in one-minute intervals until you're able to cut squash.
Preheat oven to 400 degrees Fahrenheit. Line a baking sheet with parchment paper or aluminum foil.
Rub the inside of the squash with some oil and place cut-side down on the baking sheet.
Roast until flesh gets tender, approximately 30 to 45 minutes, depending on the size of the squash. It's done when you can pierce a fork easily and the flesh starts to pull away in spaghetti-like strands. For more "al dente" spaghetti squash, cook closer to 30 minutes; taste to make sure it's cooked to your preference!
Rake a fork across each half lengthwise to pull out the spaghetti squash in strands. Remove squash strings and place in a bowl.
Cooked spaghetti squash can be refrigerated in a container for up to one week or frozen up to three months.
Spaghetti squash can be used in a wide variety of dishes. Here are some quick serving ideas to get you started:
Toss with butter or olive oil and grated Parmesan or with your favorite pesto or pasta sauce.
Mix with marinara sauce, place back in the empty squash halves or a baking dish, top with mozzarella cheese and roast until warmed through and cheese is golden brown.
Mix with salsa and diced peppers and onions, place back in the empty squash halves or a baking dish, top with cheddar cheese and roast until warmed through and cheese is golden brown.
Mix spaghetti squash with chopped vegetables and your favorite vinaigrette dressing, and then top with cheese or toasted nuts and serve cold.
Alternatives to Spaghetti Squash
Spaghetti squash is good for you, but if you don't like including it in your diet, try summer squash and winter squash, which all have similar nutrient profiles.