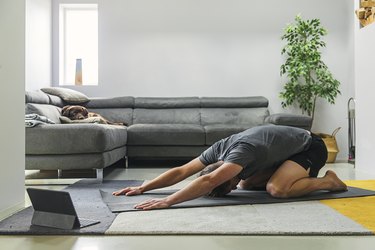 A tight, achy back can be a bummer. But if you have a resistance band on hand, you can soothe a stiff and sore posterior ASAP. Not just for booty exercises or pull-up assists, resistance bands boast big benefits for stretching too, especially hard-to-reach body parts like your back.
Plus, these versatile bands offer a resistance force to promote a combination of mobility and end-range strengthening because you're engaging muscles at their maximally lengthened position, Becourtney says.
When you increase your range of motion and load that movement pattern with resistance (via the bands), you can make a lasting change in your muscles, improving flexibility and strength simultaneously, he adds.
Best Resistance Bands to Buy
4 Resistance Band Back Stretches
Whenever your back feels stiff, grab a long looped resistance band and mini band, and get your muscles moving with these four stretches to loosen things up.
Tip
"If performing ​before​ a workout, these stretches should be more dynamic in nature and held for shorter periods of time to help increase blood flow to the working muscles and temporarily improve range of motion," Becourtney says. "On the contrary, if you're performing them ​after​ working out, these stretches can be held for longer periods (upwards of 30 seconds) to promote a state of relaxation and recovery via an increase in parasympathetic activity."
Move 1: Overhead Banded Lat Stretch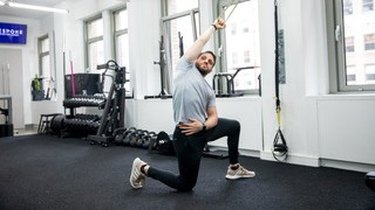 Anchor a long resistance band on a wall/door above you and hold onto the band with one hand while setting up in a half-kneeling position
​_ _​Let your chest rotate 90 degrees away from the line of pull of the band.
Allow the band to pull your arm overhead toward the anchor point. Pause to feel the stretch.
Hold for 30 seconds on each side for 2 to 3 sets.
Move 2: Band Resisted Thoracic Cat-Cow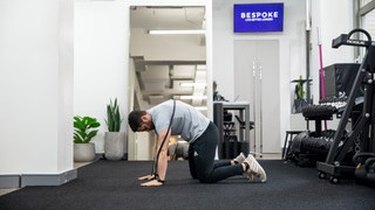 Hold one end of the long resistance band with one hand, then grab the other end with the other hand and bring it over your upper back while setting up in the quadruped position (on hands and knees) on the floor.
Perform a cat-cow motion, pushing into the resistance band while rounding your upper back.
Try to move one spinal vertebra at a time, starting from the base of the spine and ending with the neck, and reversing the movement as you arch your back. This is one rep.
Do 5 to 10 reps for 2 to 3 sets.
Move 3: Banded Thoracic Spine Open Book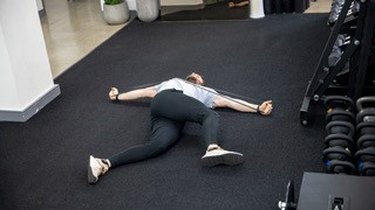 Lie on your side with your bottom leg straight and the top leg bent over your body, forming a 90-degree angle and resting on the floor.
Holding the long resistance band at opposite ends with both hands, place your arms together on the floor at 90 degrees from your body.
Maintain the bottom hand holding the band and the top knee on the floor while you lift the top hand across your body to the other side, trying to push that shoulder blade toward the floor until both arms are opened wide.
Slowly return to the starting position.
Do 5 to 10 reps on each side for 2 to 3 sets.
Move 4: Banded Child's Pose Overhead Lift Off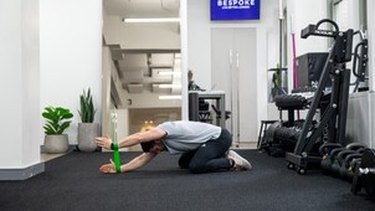 Start in a child's pose position, sitting your butt toward your heels and extending your arms out in front of you, keeping your nose toward the ground.
With a mini band around your wrists, separate your hands by pushing out into the band to create tension and then attempt to lift one arm off the ground at a time while remaining in the child's pose position from the waist down.
Do 5 to 10 reps on each arm for 2 to 3 sets.