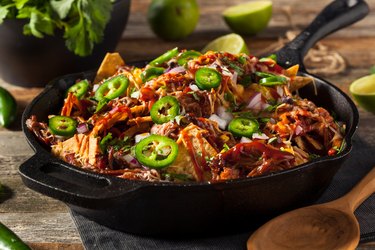 It's meaty, succulent and adaptable — pulled pork takes on any flavor profile you wish. And if you're cooking for a smaller group, pulled pork generally leads to leftovers, which opens the doors for endless creative creations. Let none of it go to waste!
You can use your leftover pulled pork within a few days to make some versatile meals for you and your family or freeze the extras for a future date when you're struck by a craving for something hearty and delicious. From tacos to soups, we've rounded up five must-try pulled pork recipes packed with protein.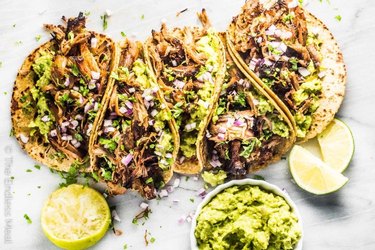 The best part about tacos is you can mix and match them how you please. There really are no rules when it comes to making this favorite. To keep the calorie count reasonable, try skipping the sour cream and cheese and top these tacos with fresh cilantro, lime juice and avocado. South Carolina-based registered dietitian Rachael Hartley, RD, suggests pairing these tacos with a simple slaw or grilled vegetables to create a well-balanced meal.
2. Pulled Pork Bowls With Avocado Slaw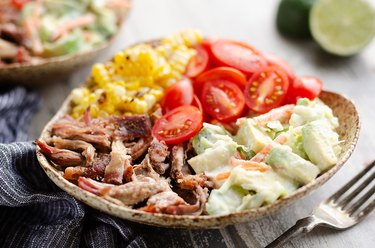 Since pulled pork is higher in fat than many other protein sources, pairing it with fresh and low-calorie foods can help balance out the meal. Instead of relying on mayo, this slaw is made with Greek yogurt for the same creamy effect with a fraction of the calories — and loads of protein. Hartley says the Greek yogurt adds a bright and tangy flavor, as well as calcium and gut-friendly probiotics.
3. Instant Pot Pulled Pork Coconut Curry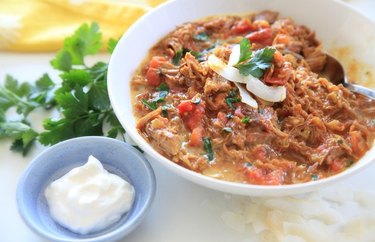 Typically curries require a lot of time, effort and ingredients to prep, but this Instant Pot version turns everything complicated into a one-pot wonder. You'll get 21 grams of sataiting protein per bowl, so you'll stay satisfied for hours. To make this a well-balanced meal, try pairing with wild or brown rice and a vegetable like broccoli or green beans.
4. Pulled Pork and Green Chile Black-Eyed Pea Soup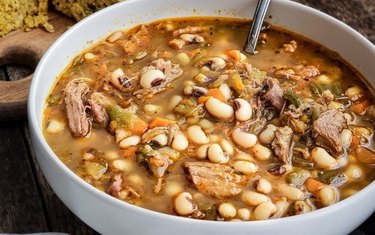 If you're in search of a soup recipe that is far from typical, this spicy Pulled Pork and Green Chile Black-Eyed Pea Soup is a must-try. It's filled with black-eyed peas, savory pork and spicy peppers to make each mouth full burst with flavor. "Black-eyed peas are packed with fiber and contain folate, iron, phosphorus, magnesium, zinc and potassium," Hartley says. Try pairing alongside a green salad or vegetables to make it a complete meal.
5. Pulled Pork Tacos With Pickled Onions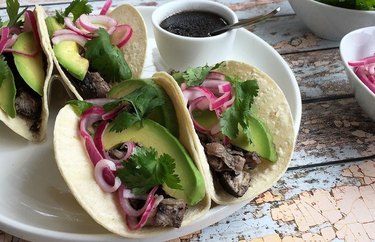 Cooking your pork with onion, garlic, oregano, ground coriander and pomegranate juice guarantees the meat will be extra tender and flavorful. Opting for whole-grain corn tortillas helps contribute to the impressive 7 grams of fiber in this dish. Serve with creamy avocado, tangy salsa verde and pickled onions for tacos your whole family will drool over.