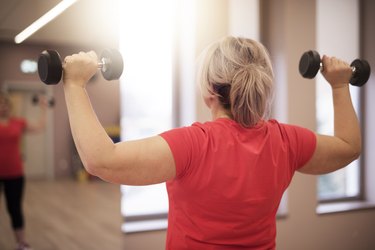 Get ready to say hello to strong, toned arms with this 20-minute workout that targets your triceps and chest. And while your goal may be to get rid of "armpit fat" completely, keep in mind that most people have at least some fat in that area, despite what you may see on Instagram.
But with the right exercises, along with cardio and a healthy diet, you can sculpt strong, sleek arms.
"Adding some muscle to the areas surrounding the armpits is the best thing we can do to tighten that area, along with a proper diet and lifestyle," Joey Thurman, certified personal trainer, tells LIVESTRONG.com. "Adding muscle can actually stretch out cellulite and make that area tighter and look better."
The other, arguably most important part, is a healthy diet. To lose weight and body fat, aim to cut 500 to 1,000 calories a day from your normal diet to lose one to two pounds a week in a healthy way, according to the Mayo Clinic.
Try This 20-Minute Workout to Sculpt your Arms and Chest
This at-home workout is a quick, effective way to strengthen your arms and chest and can help you with your goal to losing armpit fat. You'll need a set of dumbbells, resistance bands and a stability ball or step.
For best results, do the following workout three times a week, along with regular cardio. Thurman says you can expect to see firmer arms within a few weeks. "Beginners will see results faster, while people who have been working out longer may take a little longer."
​Do:​ each of the following moves for the given number of reps. Once you complete the circuit once, repeat it as many times as possible in 20 minutes.
Move 1: Face Pull
Activity
Resistance Band Workout
Secure a resistance band to the wall at chin height or higher.
Hold one end of the band in each hand with your arms extended straight out in front of you at chest height.
Pull the band back toward you in a slow and controlled manner.
Return to the starting position with arms straight.
Tip
"Keep your elbows high and think about bringing your shoulders blades together at the end point," Thurman says.
Move 2: Stiff-Arm Pulldown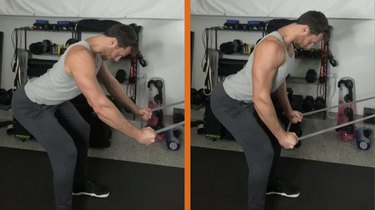 Activity
Resistance Band Workout
Secure a resistance band to the wall so that when you bend over at the hips, the anchor point is above you.
Hold one end of the band in each hand.
Bend your knees slightly and keep your back straight as you hinge at the hips to a 45-degree angle to the floor. Your arms should extend straight out in front of your chest.
Limit the bend in your elbows and keep your wrists straight as you pull the band down toward your quads.
Pull the band apart slightly as you come down.
Return to the starting position with control.
Move 3: Push-Up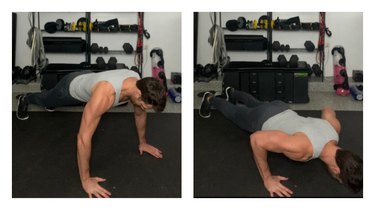 Activity
Body-Weight Workout
Start in a high plank, with your arms straight. Support your weight on your hands and toes with your body in a straight line from head to hips to heels.
Bend your elbows as you slowly lower down (take 2 to 3 seconds).
Press back up quickly.
Go to form failure, which means until you can't do another push-up with proper form.
Tip
To modify, drop to your knees or perform push-ups on an incline with your hands on a bench or step.
Move 4: Dumbbell Press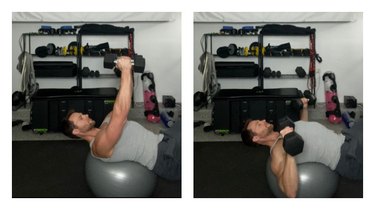 Activity
Dumbbell Workout
Grab a pair of dumbbells and lie with your upper back on a stability ball. Keep your knees bent at 90 degrees.
Start by holding weights by your chest, elbows bent. Keep your palms facing forward.
Press up toward the ceiling, until your arms are straight and the weights are over your chest.
Return to starting position with arms bent.
Tip
If you don't have a stability ball, you can use a bench or lie on the floor.
"Think about controlling the weight down and allow your shoulders to come back. Keep your chest elevated," Thurman says. "Focus on the squeeze through your chest."
Move 5: Praying Hands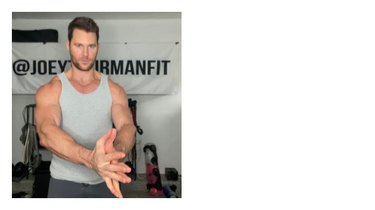 Activity
Body-Weight Workout
Place your hands together with your arms straight in front.
Squeeze your hands together as hard as you can.
Hold for 10 to 20 seconds. Repeat 3 to 4 times.
Tip
This isometric exercise builds muscle through tension and will help strengthen your pectoral muscles.
Move 6: Band Pull Apart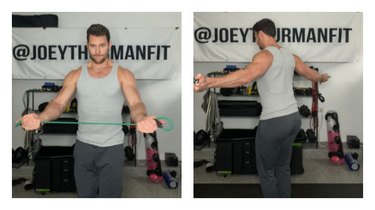 Activity
Resistance Band Workout
Hold one end of a resistance band in each hand at chest height, keeping your palms up.
Pull the band apart, until your arms are straight out to your sides. Squeeze your shoulder blades together.
Slowly control the band back to the starting position.
Tip
For more resistance, hold the band closer together. For less resistance, hold the band further apart.