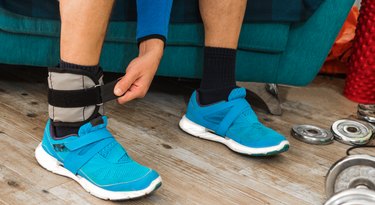 Gone are the ankle weights of yesteryear — those clunky, bulky weighted straps that never managed to stay on quite right. Today, ankle weights are sleek, comfortable and the perfect addition to your home gym.
They're a comfortable, affordable way to increase the intensity of your at-home workouts, and you can wear the weights on your ankles or your wrists. Plus, they're a great option for those who want to add resistance to their workout, but have difficulty holding dumbbells due to injuries or conditions like arthritis.
"Ankle weights create more resistance against gravity versus just body-weight exercises, making you work harder and increase the energy you burn," Dasha Einhorn, certified personal trainer and Pilates instructor, tells LIVESTRONG.com. "Since you are not restricted with machines, you can move in all planes of motion like our bodies are meant to, helping with balance, functional movements and coordination for everyday life."
They're not for all types of workouts, though.
"Ankle weights aren't generally recommended for cardio like walking or running because they put more strain on the ankle and knee joints and can aggravate varicose veins," Einhorn says. "And avoid them if you have any issues with your wrists, elbows or shoulders for these types of workouts."
Tip
If you are looking for more resistance while walking or running, Harvard Health suggests a weighted vest instead of ankle weights as this distributes the weight more evenly and doesn't overly stress your joints.
If you have arthritis or other joint issues, make sure you talk to a doctor before using ankle or wrist weights.
Einhorn says look for weights that are one to two pounds for the wrists, and you can go up to eight pounds for ankle weights. "They are great for a beginner who just started to learn proper form to prevent injuries because they don't offer that much load," she says.
Try This 20-Minute Full-Body Workout Using Only Ankle Weights
Ready to get started? Below, Einhorn and fitness instructor Kayleigh Guinee share their favorite exercises that, when combined, give you a full-body workout in only 20 minutes. Grab your mat and ankle weights and let's go!
Move 1: Bird Dog Crunch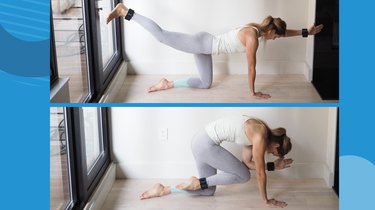 Start on all fours, shoulders over wrists and knees over hips.
Place one ankle weight on your right wrist and the other on your left ankle.
Lift and extend your right arm and left leg off the ground. Keep your core engaged, hips square and lower back neutral.
Draw your left knee to your right elbow by rounding the spine and lifting the bellybutton in.
Repeat for 15 reps on each side.
Tip
This full-body exercise improves the stability of your core, as well as strengthening your arms and legs.
Move 2: Lunge With Arm Raise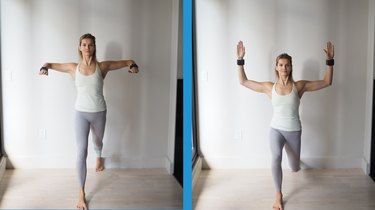 Place weights on your wrists.
Lunge forward, feet parallel and hip-width apart and both knees bent to 90 degrees.
Raise bent elbows to the side, in line with the shoulders, palms facing forward.
Straighten both legs and lower your forearms parallel to the floor, palms facing the floor, elbows in line with the shoulders.
Do 10 reps on each side.
Tip
If you experience any shoulder pain with this movement, lift your arms straight up as you do your lunges.
Move 3: Seated Oblique Twist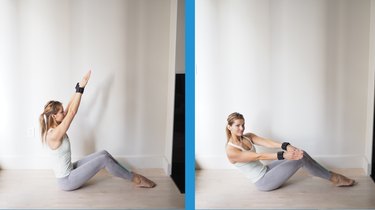 Place weights around both wrists.
Sit on the mat with legs bent, feet on the floor, legs squeezed together, arms extended forward.
On an exhale, round your spine and roll down half way.
Rotate to the right from the navel and up, bringing the hands outside the right knee.
On your next exhale, return to center and lift your chest up, arms on the high diagonal, ribs closed, shoulders down and back.
Next, rotate to the left, keeping your hips heavy and rotating from the bellybutton and up.
Return to center.
Do 10 reps to each side.
Move 4: Sumo Squat With Biceps Curl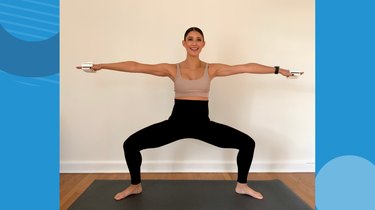 Place the weights on your wrists.
Start with your feet wide and toes turned slightly out, arms down by your sides.
Squat down as you lift your arms out to the sides in a T.
Straighten your legs and lower arms back down toward the center.
Squat again, this time curling your arms in front, bringing your weights to your shoulders (palms facing in toward your chest).
Continue alternating between a lateral raise and biceps curl as you squat.
Complete 16 squats total.
Tip
"Drop your tailbone toward the floor and keep your chest tall, lifting through the crown of the head," Guinee says. "Find your turn-out from the hips and try to keep your knees from caving in toward the center."
Move 5: Modified Side Plank With Leg Lift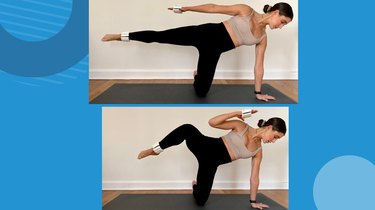 Place one weight around right ankle and one around right wrist.
Start with your left knee and hand down.
Extend your right leg out to the side, toes pointing forward and bring your right arm up and over your head.
Lift your leg to hip height and your arm parallel to your leg.
Lower back down to the modified side plank, then draw your elbow in toward your knee, slightly in front of your body.
Continue alternating between a straight arm and leg lift and bringing your elbow to your knee.
Complete 12 reps on each side.
Tip
"Keep your hips stacked while you lift and lower your leg," Guinee says. "Think about lifting up through your side body, using your breath to initiate the movements and your core to stay controlled."
Move 6: Single-Leg Glute Bridge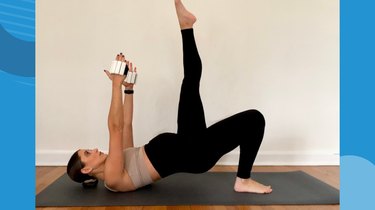 Place weights around your wrists.
Lie on your back with your feet on the floor about hip-width apart.
Extend your arms up to the ceiling, palms facing in and lift your hips and booty off the floor.
Extend one leg up to the ceiling, keeping the hips even.
As you lower your leg down to a hover, lower the arms, bringing them up and over the head without letting the weights crash to the floor.
Repeat 8 times on one side, then switch legs and continue for 8 more reps.
Tip
"Keep glutes, hamstrings and core engaged as you lift the hips," Guinee says. "Think about keeping whole foot down, including big toe, little toe and heel."
Move 7: Triceps Kickback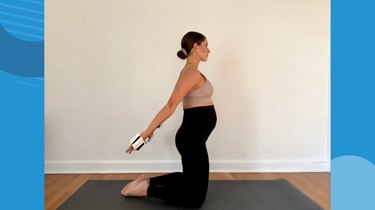 Place the weights around your wrists.
Start on your knees with feet close together (almost touching) and knees hip-width (or a little wider) apart.
Extend your arms straight back, engaging the triceps at the back of the arm.
Tap your hips and booty down toward your heels as you bend your arms at the elbow.
Come back to the starting position with arms extended back and a slight thrust of your hips to engage the glutes.
Was this article helpful?
Thank you for your feedback!