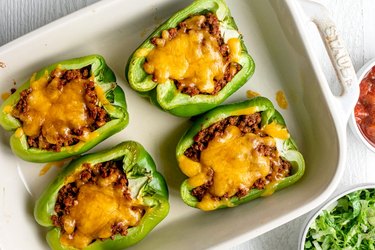 Taco night is always a fun crowd-pleaser — and now you can add an extra boost of veggies to yours with a simple swap: Bell peppers instead of taco shells.
"Serving taco-seasoned beef in pepper halves in place of taco shells is a great way to incorporate vegetables into an otherwise meat- and grain-centered dish," Portland, Maine-based culinary dietitian Kristy Del Coro, RDN, tells LIVESTRONG.com.
Plus, "Cooking the peppers and pairing with the fat from olive oil and natural fat from the beef optimizes the body's absorption of fat-soluble vitamins A, D, E and K," Del Coro notes.
This colorful dish is super flavorful, and the best part is, the ingredients that make it so tasty are healthy, too. "Tomato paste is a concentrated source of the antioxidant lycopene," Del Coro says. "And I love the added spices, which are a great way to add flavor without excess salt. Chili powder is a source of capsaicin, which is linked to helping boost the metabolism and reduce inflammation."
While the ground beef adds a good dose of satiating protein, if you want to make this meal vegetarian, you can use extra-firm tofu or black beans instead.
We love this dish for a busy weeknight, too, because you don't really need any sides with it. "This is a satisfying one-dish meal with a good balance of vegetables, protein and fat," Del Coro says.
Love this taco recipe? Try this chicken dish next:
Taco-Stuffed Peppers Recipe
3 bell peppers, halved and cored
1 pound ground beef

1 tablespoon olive oil
2 teaspoons chili powder
2 teaspoons dried cumin
½ teaspoon dried oregano
½ teaspoon garlic powder
½ teaspoon salt
½ teaspoon pepper
3 tablespoons tomato paste
½ cup water

For serving:
¼ cup shredded cheddar cheese
Finely shredded lettuce
Salsa
Step 1
Preheat the oven to 425 degrees Fahrenheit. Place the pepper halves in an oven-safe baking dish and bake until the peppers soften, about 15 minutes.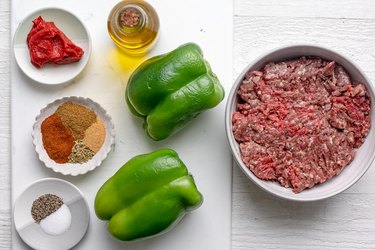 Tip
Cooking the peppers before stuffing them with the taco meat makes them more tender and easier to eat.
Step 2
Heat the olive oil in a skillet over medium-high heat. Add the ground beef and cook until browned, about 5 to 7 minutes. Drain any fat.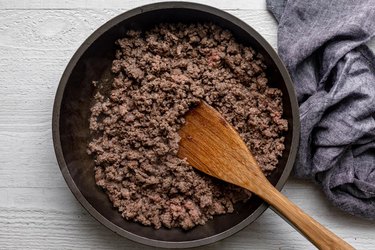 Step 3
Add the chili powder, cumin, dried oregano, garlic powder, salt, pepper, tomato paste and water. Stir to combine and continue cooking over medium-low heat until the sauce has thickened, about 3 to 5 minutes.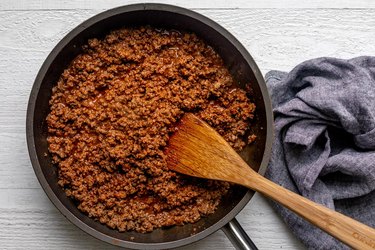 Step 4
Spoon the taco meat into the crevice of the four baked pepper halves and sprinkle the cheddar cheese on top.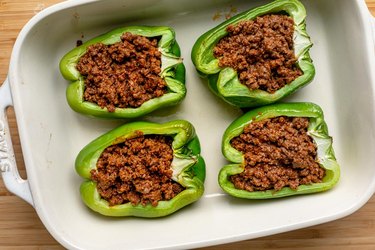 Step 5
Return peppers to the oven until the cheese melts, about 5 minutes. Top with lettuce and salsa or any other taco toppings you'd like.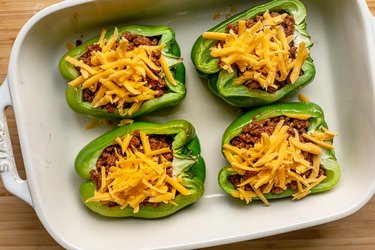 Tip
Use red bell peppers for a boost of vitamin C. "Red bell peppers contain more vitamin C than oranges — one medium red bell pepper provides an impressive 169 percent of the daily requirement," Del Coro says. For reference, one medium green bell pepper has 106 percent of your daily value of vitamin C (still great!).