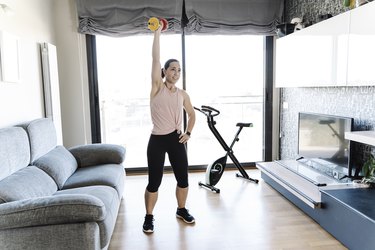 If you don't own a barbell, you might think that heavier lifting at home isn't an option. But you can recreate your favorite barbell moves with a set of dumbbells and a smarter strategy. Specifically, slowing down the speed of your reps.
"Tempo work is one of the best ways to make us stronger, work on control of movement and make exercises harder when we don't have more weight to put on the bar," Morit Summers, CPT, creator of Brooklyn-based training studio Form Fitness, tells LIVESTRONG.com.
That's because slowing the tempo of any exercise progresses the movement by increasing time under tension (or the amount of time your muscle is working against resistance), which ramps up the challenge and builds muscle, Summers says.
We promise you'll miss your barbell much less once you try these six dumbbell exercises that tie in a 3-1-1 tempo (3 seconds to lower, 1 second to hold, 1 second to lift the weight back up).
Tip
Tempo work can be done using any form of equipment (even your body weight), Summers says. But if you want to lift heavier and only own a light pair of weights, try incorporating a resistance band for an extra challenge.
1. Deadlift
Activity
Dumbbell Workout
Stand tall with dumbbells at your sides.
Keeping your back muscles engaged and your chest tall, hinge at your hips, maintaining a slight bend at the knees, and slowly lower the dumbbells toward the floor for a count of 3.
Hold at the bottom for a count of 1, then squeeze your backside and drive back up for a count of 1.
Tip
One of the best and most popular compound exercises, deadlifts are the perfect way to work your entire body, Summers says. Remember not to overextend in your lower back, though, she says. Keep your core engaged and your spine neutral throughout the whole movement.
2. Split Squat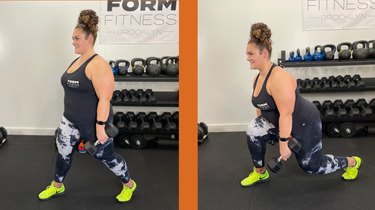 Activity
Dumbbell Workout
Start in a split stance with one foot in front of the other but feet still shoulder-width apart. Make sure you feel stable with your front foot planted and the back one resting on the ball of your foot.
Holding the weights at your sides, hinge your hips slightly back while driving your back knee toward the floor, counting to 3 on the way down.
Hold at the bottom for 1 count, then drive your weight through your front heel to stand.
Tip
Remember to engage your core. People lose their balance during split squats mainly because they aren't focused on keeping their core tight, Summers says. To maintain stability, you must strengthen all the muscles surrounding the spine (as well as the lower body), she says.
3. Front Squat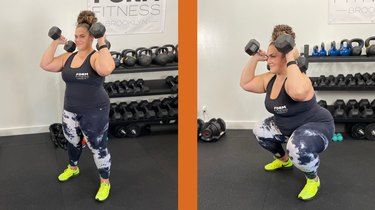 Activity
Dumbbell Workout
Standing tall with feet shoulder-width apart, lift the dumbbells to your shoulders (the head of each dumbbell can rest on your shoulders).
Bracing your core and keeping a neutral spine, slowly lower your hips down for a count of 3.
Hold for 1 count at the bottom of the squat before quickly driving up through your heels to return to standing.
Tip
Front squats are one of the best ways to work your legs, core and postural muscles, Summers says.
As you squat, the weight will want to pull you forward. This is what makes front squats so challenging, she says. To offset this, remember to keep tension in your back and core, which will help stabilize you.
4. Floor Press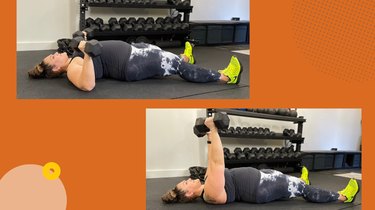 Activity
Dumbbell Workout
Start by lying on your back with the dumbbells in your hands, elbows bent at about 45 degrees and feet planted on the floor.
Press the weights straight up above the chest (not the face) for 1 count and hold for 1 second.
Slowly lower, using a count of 3 on the way down.
Don't rest at the bottom of the movement. Instead tap the floor with your elbows, then press up with control and continue.
Tip
The floor press is a great way to build upper-body and core strength without the need for extra equipment like a workout bench, Summers says. In fact, you'll use your core muscles to help stabilize you even more on the floor than you would on a bench, she says.
For an added challenge, you can progress the move by extending your legs straight out and flexing your feet, Summers says.
5. Bent-Over Row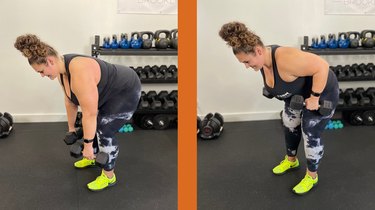 Activity
Dumbbell Workout
Start by standing tall with dumbbells at your sides.
Hinge your hips all the way back but keep your knees unlocked.
From this hinged position, maintain a flat back and a tall chest as you pull the dumbbells up toward your chest with control for a count of 1.
Hold at the top position for a count of 1, then slowly lower and release with a count of 3.
Tip
This exercise is an effective way to work your back and other postural muscles. Strengthening these muscles is so important, especially since many of us are now sitting more than ever and working from home with less-than-ideal office setups, Summers says.
Just make sure you don't "over" pull the dumbbells. You shouldn't round the shoulders or wrists in order to lift the weight higher, Summers says.
6. Overhead Press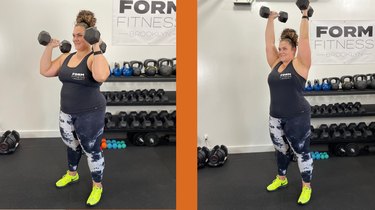 Activity
Dumbbell Workout
Start by standing tall, holding the dumbbells at shoulder height.
Bracing your core, press the weights straight up overhead for 1 count, keeping your arms in line with your ears (i.e., not too far in front or behind your head).
Pause at the top and maintain stability for 1 count, then slowly lower the weights toward your shoulders for 3 counts.
Tip
While the overhead press is an arm-focused exercise, you also have to engage your legs and core to do it properly, making it a full-body movement, Summers says.