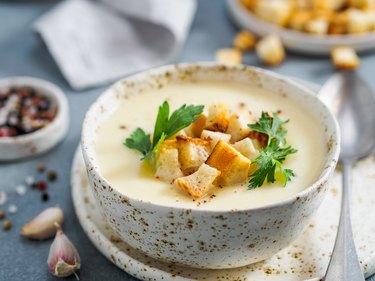 Creamy soups are the classic comfort food — there's just something soothing about the smooth, velvety texture that's so easy to slurp from a spoon.
While creamy soups serve up satisfaction as far as flavor, they don't offer a lot in the nutritional department. That's because they owe their characteristic consistency to heavy cream, which is crammed with calories and saturated fat.
Fortunately, there's a simple way to modify your homemade soups that'll supply health benefits without losing any of the signature creaminess.
Believe it or not, white beans make a surprisingly scrumptious swap for heavy cream. When pureed with broth, white beans like the cannellini kind claim a comparably creamy consistency to heavy cream but pack way more protein and fiber with fewer calories and less fat.
How to Use Beans as a Substitute for Heavy Cream
The bean swap strategy works well for any soup typically made with heavy cream such as "cream of" soups (for example, cream of broccoli, cream of potato or cream of mushroom) as well as chowders and bisques, says Laura Burak, RD, CDN, dietitian and author of ​Slim Down With Smoothies​​.​
All you need is 1 cup of cannellini beans (or any white bean) and 1 cup of low-sodium broth. If you're making a larger pot of soup, use this 1:1 ratio.
To start, sauté the other soup ingredients in heart-healthy oil (think: olive oil) and then add the beans, broth and any spices. "Heating the beans with broth can make them easier to puree with a blender or handheld mixer right in the pot," Burak says.
Tip
Consider investing in a simple handheld blender stick. They're small, inexpensive and perfect for blending soups directly in the pot (and creating a creamy texture), Burak says.
To create a creamy texture to your liking, you may need to adjust the amount of time you blend or add more broth if the soup gets too thick, Burak says.
Not a bean lover? No worries. White beans like the cannellini variety provide a neutral color and flavor, so you won't even taste them, Burak says. Cool beans!
For that reason, though, they lend less yummy flavor than fat-rich cream. But there's an easy fix: Simply add fresh herbs and spices to supply your soup with complex, delicious flavors without the need for heavy cream, Burak says.
"My motto is to taste and adjust — it's ready when it looks and tastes the way you like it," she adds.
Beans vs. Heavy Cream Nutrition
When it comes to nutritional benefits, beans outrank heavy cream big time.
1. Beans Packs More Protein and Fiber
"Beans are a great source of quality carbohydrates, which means they are a natural source of fiber, as well as plant-based protein," Burak says.
Just a 1/2 cup of cannellini beans boasts 9.8 grams of protein and 7 grams of fiber while the same amount of heavy cream only contains 1.7 grams of protein and no fiber.
Remember, foods rich in protein and fiber help keep you full, maintain steady blood sugar levels and can assist in weight loss (if that's your goal).
2. Beans Have Less Fat and Fewer Calories
"If you swap in beans for heavy cream, it's a way to provide a creamy texture and thickness while cutting down on saturated fat and unnecessary calories in soups and other dishes," Burak says.
Indeed, a 1/2 cup of cannellini beans contains 124 calories and 0.9 grams of fat (zero saturated fat) whereas the same serving of heavy cream yields 204 calories and 21.6 grams of fat (13.8 grams of saturated fat).
Substituting foods that are high in saturated fat (like heavy cream) with healthier alternatives (like beans) can reduce blood cholesterol levels and improve lipid profiles, according to the American Heart Association.
This is a big win for people with dietary concerns related to dairy, including those with a dairy allergy or lactose intolerance, Burak says. In fact, about 65 percent of people worldwide have problems digesting lactose, per the U.S. National Library of Medicine.
By substituting beans for heavy cream, dairy-free dieters can enjoy creamy soups without an unsettled stomach.
"Plus, beans work well to turn dairy-based dishes into vegetarian and vegan options," Burak adds.