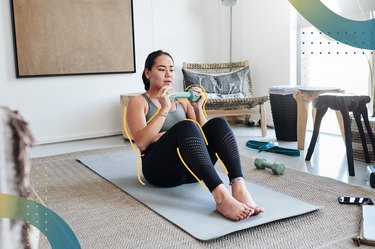 The 30-Day Dumbbell Challenge builds strength from head to toe. Get all the details on the challenge here.
A set of seriously sculpted abs is the unicorn of the fitness world: hard to track down, but once you do, you want to show it off. And if you've stopped seeing progress with your body-weight ab workouts, it's time to add a dumbbell.
"This is a style of training called progressive overload,"says Mathew Forzaglia, certified personal trainer and founder of Forzag Fitness on the NEOU App. "We add more weight to a specific muscle group, forcing it to adapt to a heavier stimulus." Ultimately, that leads to stronger, more defined abs.
"We can also add a dumbbell into core workouts to create a distraction for the primary movement," Forzaglia says. "For example, a dumbbell plank drag: We are focusing on a plank position, but by pulling the dumbbell through side to side, this will force the body to have to work together to control the hips and core."
Ready for a tighter core? Check out the four exercises below from Forzaglia, our 30-Day Dumbbell Challenge host. You'll do this workout every time our 30-day calendar says "Abs." (You can also do this workout anytime outside of the challenge!)
Every six days, the rep scheme changes so that you're doing the following:
Sets and Reps per Exercise
| Round | Sets | Reps |
| --- | --- | --- |
| 1 | 2 | 10 |
| 2 | 2 | 12 |
| 3 | 2 | 15 |
| 4 | 3 | 10 |
| 5 | 3 | 12 |
Try This Dumbbell Workout for Abs
First, start with a quick warm-up: Walk briskly for 5 minutes or jog in place for 3 minutes to get your chest and arm muscles ready to work. You can also try these core activation exercises.
1. Dumbbell Weighted Crunch
Activity
Dumbbell Workout
Lie down on your back, knees bent and pointed up to the ceiling with your feet flat on the floor.
Hold one end of a dumbbell in each hand directly over your chest.

Exhale and contract your abs as you raise your head, neck and shoulders off the ground, continuing to hold the dumbbell near your chest.
Inhale and lower back down with control.
2. Russian Twist
Activity
Dumbbell Workout
Start seated, holding a single dumbbell with one end in each hand in front of your abdomen.
Lean back slightly to engage your core.
Twist your torso to the right, tapping the weight to the ground on that side.
Use your abs to rotate back through center, then twist to the left side. That's 1 rep.
3. Dumbbell Woodchop
Activity
Dumbbell Workout
Stand with your feet hip-width apart holding a heavy dumbbell with one end in each hand.
Bend your knees slightly and hinge your hips back into a semi-squat as you lower the weight toward your right shin.
As you stand back up, use your core to swing the weight up over your head and to the left.
Return to the semi-squat position with the weight to your right side. That's 1 rep.
Do all your reps on one side before repeating on the other.
4. Dumbbell Plank Drag
Activity
Dumbbell Workout
Start in a forearm plank with your elbows below your shoulders and your body in a straight line from head to hips to heels.
Position a dumbbell just behind your right elbow.
Engaging your glutes, lower back and abs, reach your left arm across your chest to grab the dumbbell, dragging it under your body.
Pause when the dumbbell is beneath your left shoulder.
Return your forearm to the ground and repeat on the opposite side. That's 1 rep.
Follow Along With the Challenge
Use the calendar below to help you stay on track with the 30-Day Dumbbell Challenge. Do the workout (or rest day) listed, then check off each day as you complete it. (Get a printer-friendly version here.)