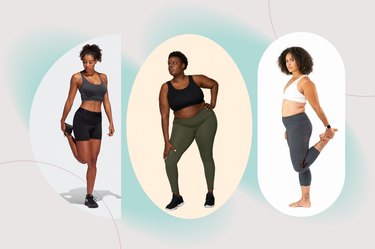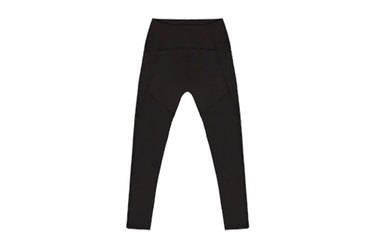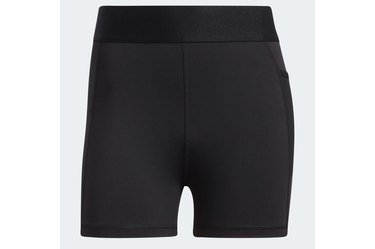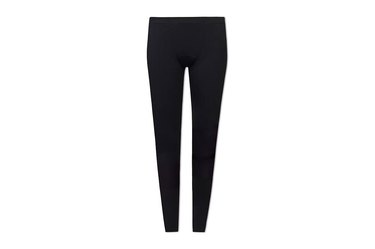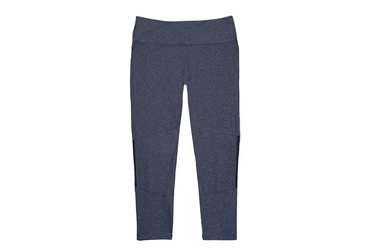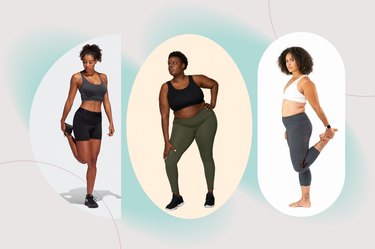 Whether you're a distance runner, CrossFitter or yogi, fear of your period leaking during a workout shouldn't mess with your mojo. That's where period leggings come into play.
Designed to allow menstruators to work out worry-free all month long, period tights put the leakproof technology that popularized period underwear into a workout legging. They feature an embedded absorbent gusset (usually polyester and/or elastane) that helps them to catch menstrual blood in place of, or in addition to, other period products.
After all, many people don't love the feeling of exercising on their period with a tampon, pad or menstrual cup. And for those with heavy flows, period leggings and shorts can serve as an extra layer of leak protection. Simply put, period leggings are a must-have for anyone who's ever skipped out on a training day because of a heavy flow.
Still, there's no such thing as a universal pair of perfect leggings, especially when you've also got a cycle to juggle. The best pair depends on a number of factors including style, sweat obsession and more.
Read on for a list of the best period leggings, tried and tested by yours truly. Plus, a handy list of things to keep top of mind when purchasing your first pair.
As a CrossFit trainer, longtime athlete, sexual health blogger and menstruator, I'm all about feeling your strongest, wherever you are in your cycle. So I rounded up the most popular period-proof workout leggings, then I tried each and every one out. I scored them based on several factors, including:
Fit and available sizes
Comfort
Absorbency

1. Best Overall: Thinx Leggings
​Sizes:​ XS - 4XL
​Colors:​ kale and black
​Absorbency:​ 27mL
Thinx is as dominant in the period clothing space as Kleenex is in the tissues market. So it should come as no surprise that Thinx Leggings grabbed gold.
A full-length, high-waist legging, the Thinx Legging has Thinx's signature period-proof lining built right into the crotch. Made of a polyester-elastane blend, the main downside of this pair is that they are not as stretchy as your go-to name-brand workout leggings. For activities that don't require much mobility like running, this was no-big for me. But, full transparently, I found the material a little constrictive for yoga.
All in all, Thinx Legging is a far less bulky option compared to layering their underwear (which I love!) with a pair of regular ol' leggings. Plus, you don't have to worry about getting a double-wedgie when you suit up. Win!
On top of that, the pair holds up to three regular tampons-worth of blood. That means you could even run a marathon or take on a triathlon in these without worrying about leaking. As a person with a light flow, this means I could wear the leggings to the gym and grocery store after without second thought.
Worth mentioning: The Thinx Activewear line also includes a pair of training shorts, cycling shorts and a leotard. So, if you're a fan of Thinx technology, but prefer the bike or barre studio to the trail or treadmill, look into these other options.
2. Best Shorts: Adidas Techfit Period Proof 3-Inch Short
​Sizes:​ XS - 2XL
​Colors:​ black
​Absorbency:​ N/A
Last summer, Adidas dropped an entire line of period-friendly products designed to keep people who menstruate in sport. And with a three-inch inseam, these shorts are best for those who ​know​ they enjoy moving and grooving in booty shorts. The pair is mid-rise and sports a thick waistband that promises to stay put while you play.
I wore them while doing a workout jam-packed with movements that usually shimmy my shorts down my legs (burpee box jump overs, double-unders and wall-balls) and didn't have to pause to re-adjust once!
The main downside of this pair is that they do ​not​ have the absorbency of a tampon or pad. They feature a wicking and leak-proof layers that can catch any escaping drops, but the shorts are designed to be worn with another menstrual product.
3. Best for Yoga: Ruby Love Period Leggings
​Sizes:​ Juniors - 3XL
​Colors:​ black
​Absorbency:​ 23mL
Attention, yogis: The Ruby Love Period Leggings are for you. Made mostly of cotton, these leggings ​don't​ have the sweat-wicking capabilities of the leggings you'd want to wear for extremely sweaty workouts. But, with built-in leakproof protection that can hold up to 2.5 tampons-worth of blood, these leggings are tops for lower-intensity activities.
Plus, they are stretchy-stretchy! I had no-problem getting into downward dog. And should I ever have the hip flexibility to do a full-split, I would feel comfortable wearing the Ruby Love leggings while I do, confident that they wouldn't rip.
The best part is that the absorbent gusset is built in seamlessly, so you'll be able to take on poses like downward dog and standing forward fold, without looking like you're wearing a diaper.
4. Best for Style: Dear Kate Go Commando Leggings
​Sizes:​ XS - 3X
​Colors:​ grey, galaxy, mosaic
​Absorbency​: 14mL
Hands down, Dear Kate's period-proof activewear line features the most stylish leggings in this category.
This particular cropped pair has mesh detailing much like the kind you'd see in pricier legging brands like Lululemon and Athleta. And there are even galaxy- and mosaic- printed options available. I don't know about you Fam, but look good feel good is a real thing for me when I'm lifting heavy. (Yes, I did hit a back squat PR in these bad boys. A particularly note-worthy feat considering my strength numbers usually dip that time of month.)
Dear Kate's Go Commando Leggings can only hold 1.5 tampons-worth of blood. So, they're best for exercisers with a light flow or those looking for a pair to wear at the end of their cycle.
5. Best for Comfort: Modibodi 7/8 Recycled Active Heavy Legging
​Sizes:​ XS - 2XL
​Colors:​ Black
​Absorbency​: 15mL
If comfort is your Queen, check out the Modibodi 7/8 Recycled Active Heavy Legging. Made out of a stretchy nylon-elastomer combo, these leggings are as snuggly as they are snug.
This comfortable pair also features a drawstring waist that allows you to cinch them tight to your hips. Gone are the days of your leggings slipping and sliding when you jump or jog. Or for me, burpee and box jump.
Built to hold up to 1.5 tampons of blood, these are best for menstruators like myself who have a light-to-moderate flow.
4 Factors to Consider When Buying Period-Proof Leggings
Of course, there's nothing worse than trying to exercise in clothes that don't fit well. Thankfully, all of the aforementioned brands offer at least six different sizes — some selling an even greater range of sizes up to 3X and even 4X.
If you're on the petite side — or typically shop in the juniors section — RubyLove is going to be your best bet. If, however, you typically shop in the plus-size section, Thinx is going to be the most inclusive for bigger bodies.
None of these period-proof leggings make you choose function over fashion. But they all actually have a unique look and style. If you're looking for something with chic detailing, Dear Kate is best. But if you're looking for a classic black pair, Thinx or ModiBodi are solid go-tos.
If you're really going to push your limits, you'll want to opt for leggings made of breathable, moisture-wicking fabrics like nylon and Spandex.
Cotton may be soft, but it'll have you drenched like a mop during an especially sweaty workout. So you'll want to save cotton period-proof leggings for lower-intensity activities like yoga (though, not hot yoga), walking and just lounging around and running errands.
Ultimately, if you're planning to wear them while you bleed, you need to make sure they can handle how much you bleed.
When you're picking your perfect pair, think about what size tampon, pad or cup you usually use — plus, how often you change (or empty) it. Next, think through the average length of your workout session.
Do some math, then make sure the leggings you add to your cart can hold at least as much. Note: A regular tampon can hold around 10mL.