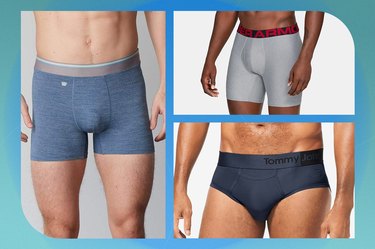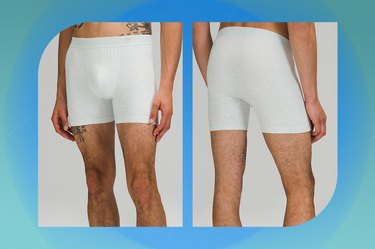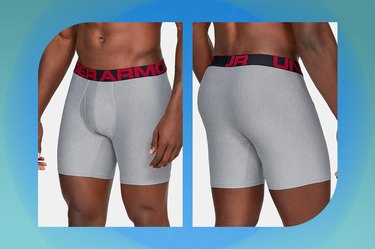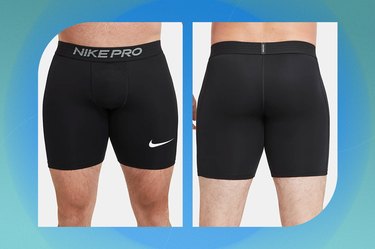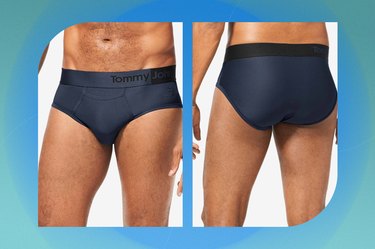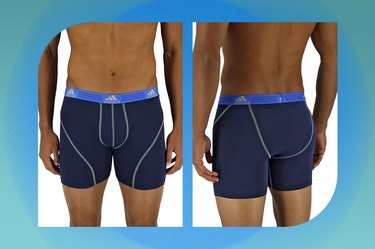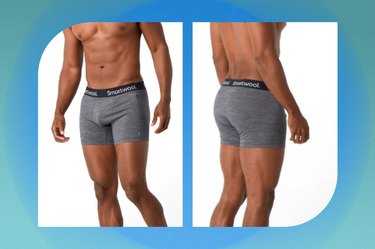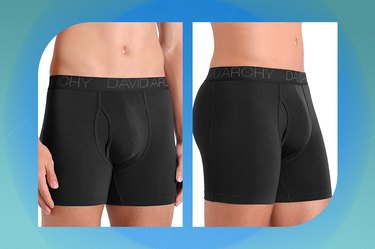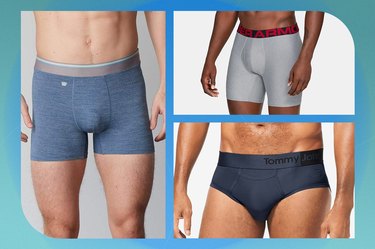 Sure, going commando for your workouts will help prevent sweat and odor-causing bacteria from sticking to your nether regions. But exercising with boxers and briefs has some perks, too: For one, you're less likely to irritate the skin in your genital area, which can lead to jock itch and other issues.
And two, men's athletic underwear is not like the cotton tighty-whities you slip on every day. Workout underwear is made of supportive, breathable and sweat-wicking materials so it doesn't restrict movement and provides comfort.
Choosing workout underwear comes down to fit, fabric and design. Check out the best men's athletic underwear and get expert tips on what to look for when shopping for the perfect pair.
At LIVESTRONG.com, we prefer to use gender-neutral language, but manufacturers typically market athletic underwear according to gender. Men's workout underwear is built to support greater weights and tends to be longer in length or roomier in the front due to anatomical differences. So people with penises or bigger bodies may want to opt for athletic underwear marketed as men's.
We chatted with a urologist, a doctor of physical therapy and some of the most active guys we know to find out their favorites. Then we narrowed down their picks based on the following criteria:
1. Lululemon Always in Motion Boxer 5"
Designed for working out, this men's athletic underwear has a roomy and supportive pouch for those with a penis. They also offer mild compression but don't make your body feel constricted while you train, says California-based physical therapist Jereme Schumacher, DPT.
These boxers are available in 5- and 7-inch lengths in S to XXL.
2. Under Armour Tech 6" Boxerjock
Under Armour's sporty boxers have a four-way stretch, allowing you to move in every direction without restriction, Schumacher says. Plus, their seamless construction is great for preventing friction between your privates during your workout, Dr. Shaw says.
If you have a problem keeping your drawers up while exercising, these boxers also have a fitted performance waistband that keeps them from falling.
These boxers are available from size S to 5XL.
You can wear these versatile Nike Pro shorts as a base layer or as is. Because of their snug yet stretchy fit, they're perfect for just about any kind of workout, but especially if you're running or doing plyometrics, Schumacher says.
The blend of polyester and Spandex also make these shorts sweat-wicking, which is a must-have if you want to ward off chafing, itchiness and skin infections, Dr. Shaw says.
Check them out in sizes S to 4XL.
4. Tommy John 360 Sport Trunk 4"
Among the best men's athletic underwear brands, Tommy John is one of Dr. Shaw's personal favorites.
These exercise trunks have a stretchy fabric to prevents wedgies, no matter how hard you're working. The center is also built with a flat middle seam that keeps your testicles in place without any restricting compression, Dr. Shaw says. And the waistband is wide and compressive enough to stay put, without rolling or uncomfortable bunching.
Try them out in sizes S to XXL.
5. Adidas Performance Boxer Briefs
Good news if you need to completely overhaul your underwear drawer: These Adidas performance boxer briefs come in packs of three.
They're made with a mix of mesh and cotton, which is good for breathability, Dr. Shaw says. The flat seams across the back and front prevent rubbing — a common issue in workouts with a lot of repetitive motion, like running and cycling.
Stock up in sizes S through 4XL.
6. Smartwool Merino Boxer Brief
If you're training in cooler weather, Merino wool is a great choice, according to Schumacher. It's not itchy or stiff like standard wool, but it keeps your body just as warm. Plus, Merino wool regulates temperature, so you don't have to worry about overheating during your workout.
The difference with Smartwool is that they blend their briefs with polyester, too, so they stay dry when you start breaking a sweat. Our testers like to wear these while rock climbing outdoors to help prevent chafing from climbing pants and keep temps regulated.
They're available in sizes S to XL.
7. David Archy Bamboo Rayon Trunks
Dr. Shaw is a fan of bamboo because it's naturally antimicrobial and fights odor. Bamboo is also uber-soft and moisture-wicking, which helps prevent conditions like jock itch.
We love that this men's workout underwear has a comfortable and roomy pouch with a front fly, so it doesn't sacrifice function. Available in a variety of lengths, including 4.5 inches, 5.5 inches and 8 inches, these boxer briefs cater to individual styles and needs. And at a 4.5-star rating with more than 11,000 reviews on Amazon, stocking up on these is a no-brainer.
You can buy them in S to XXL.
3 Tips for Buying the Best Men's Athletic Underwear
The first place to start? Look at your own anatomy, Dr. Shaw suggests. Everyone's body is different and your best pair of men's workout underwear will depend on your personal needs.
"Do what's right for your body," Dr. Shaw says. "There's this whole boxer and brief debate, but there's no one answer that's right for everybody. Experiment and buy a couple of pairs and see what feels right for you."
Keep in mind that testicles are about a degree or degree and a half cooler than the rest of your body, which is why they sit low, Dr. Shaw says. Considering that everyone's testicles sit at different heights, it's best to try several pairs to find your perfect fit.
You definitely want support in your workout undies, but you shouldn't feel like you're squeezing into them. A pair of underwear that compresses too much can be uncomfortable and problematic for sperm production. Look for men's workout underwear that lets you move freely in every direction without too much loose fabric.
2. Look for Moisture-Wicking Fabric
Keeping your crotch dry is crucial for avoiding skin issues like jock itch, chafing or infection. That's why you should look for fabric that's breathable and pulls moisture away from your body. Although cotton is comfortable and breathes nicely, it usually stays damp, according to Dr. Shaw.
Nylon, polyester, Merino wool and bamboo are more breathable and sweat-wicking materials you want in your workout underwear, he says.
Most men's workout underwear have a blend of different fabrics, so read the packaging closely and look out for these materials. Even a cotton pair that's blended with one of these performance fabrics should be fine for working out.
3. Consider Your Activities
The type of workouts you do will play a big part in your underwear selection, Dr. Shaw says. Cyclists, for instance, should look for a pair of longer, compressive boxers so they won't bunch up in the middle of a ride. Yogis might prefer a pair that's especially flexible, while runners may want ones that have a no-slip waistband.
More Great Workout Clothing