If you're an athlete looking for a source of motivation, look no further than CrossFit. There's a reason many of the sport's stars garner a million or more of followers on Instagram (and why the CrossFit Games winners are referred to as the Fittest in the World): They're tougher than nails.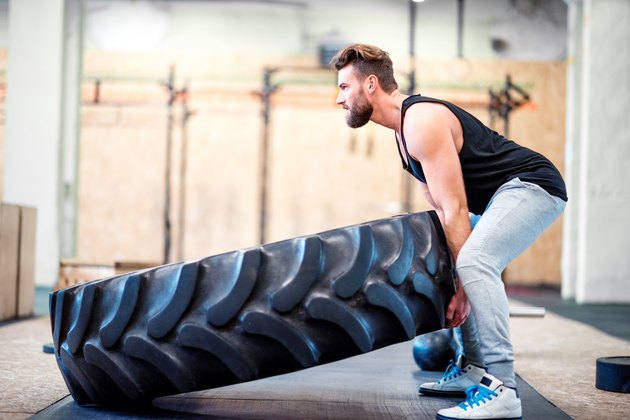 Though the sport is still relatively new — it was conceived in the late '90s — and it battles a stigma of injuring participants, the sport is a worldwide phenomenon among both recreational and professional athletes alike. No matter what your activity of choice, the next time you need a dose of inspiration, look to one of these athletes for their wisdom on what it means to be tough, determined and yet, humble.
1. The Athlete to Beat: Mathew Fraser
"The one line I always like was, 'I am going to do today what other people aren't willing to so I can do today what other people can't.' Whenever I am training by myself, I am running lines like that through my head. Trusting the hard work that I am putting in will pay off."
—Matthew Fraser, as told to NF Sports in 2017
ABOUT THE ATHLETE: Fraser first appeared in the CrossFit Games in 2014, where he earned the title of Rookie of the Year. Just two years later, he earned the title of Fittest Man in the World; a title which he won again the very next year. And again the year after that.
This Tennessee resident is no stranger to competition — his parents are Canadian Olympic figure skaters — and has learned some invaluable lessons along the way to earning the largest margin of victory in CrossFit Games history during his first win in 2016.
2. The Back-to-Back Fittest Woman: Tia-Clair Toomey
"If they stand behind you, protect them. If they stand beside you, respect them. If they stand against you, defeat them." (Nordic Viking saying)
"The main reason I love this quote so much and why I find motivation from it is because no matter the situation, you can always try and turn it into a positive by learning and evolving from that experience. But it also reminds you that you're never alone even when times are tough."
—Tia-Clair Toomey, as told to LIVESTRONG
ABOUT THE ATHLETE: Being the world's fittest takes both physical and mental strength, and Toomey digs deep by repeating this saying. She took the top spot at the CrossFit Games in both 2017 and 2018, and also has a history as a runner and weightlifter. She appeared in the women's 58-kilogram competition at the 2016 Summer Olympics in Rio, and just after taking the title of Fittest Woman in the World in 2018, she took gold in the 58-kilogram event in the Gold Coast Commonwealth Games.
3. The Comeback Kid: Katrin Daviosdottir
"A phrase that's stuck with me since 2014: 'Be the best me.' I love competing and I absolutely love a good challenge, but my focus every day is to become a better version of myself. It is to compete against my best potential and as long as I still see room to grow and I love what I do, I want to keep chasing that."
—Katrin Daviosdottir, as told to Shape in 2018
ABOUT THE ATHLETE: Daviosdottir made her first appearance in the CrossFit Games less than 10 years ago and made quite the name for herself in a short amount of time. Though she missed qualification for the Games in 2014 after falling out of the first place slot she held on the first day, Daviosdottir harnessed her mental power and came back even stronger. She took the title of Fittest Woman in the World in both 2015 and 2016.
4. The Fittest Man in History: Rich Froning Jr.
"Hey, if you're going to attack your weaknesses, there's no better time to get right back on the rope than the first opportunity presented. There was no 'Let's give this a try.' 'Or Let's see if I can do this.' What I told myself instead was a determined 'I'm gonna go do this.'"
—Rich Froning Jr., in his book, First: What It Takes To Win
ABOUT THE ATHLETE: No list of badass CrossFit athletes would be complete without Rich Froning Jr. After winning the CrossFit Games four times in a row from 2011 to 2014, he became known as the Fittest Man in History. The Tennessee resident owns affiliate gym CrossFit Mayhem, and he's captained the CrossFit Mayhem Freedom team to various victories in the years since.
Even as one of the top champs of CrossFit, Froning Jr. has seen his share of struggles. Most noteworthy being his 2010 performance at the Games, losing his lead in the final event when he fell during the rope climb. What he learned from the experience — and how he approached facing the rope climb again — is a lesson for all of us.
5. The Athlete Making Her Mark: Sara Sigmundsdottir
"The [Icelandic] saying is somewhat similar to "I can, I will" — I say this to myself over and over again when I need to push myself. During the 'Marathon Row' at last year's Games, I wrote this on my water bottles so that I would have this in my line of sight the whole time."
—Sara Sigmundsdottir, as told to LIVESTRONG
ABOUT THE ATHLETE: Though Sigmundsdottir doesn't yet have any CrossFit Games championships under her belt, that doesn't mean she hasn't made waves in the community. The Icelandic athlete has podium finishes under her belt and even won the 2015 Meridian Regional, outperforming athletes who have years more experience. If you still had any doubts, she completed in nine events in the 2019 Games with a broken rib before having to drop out.
6. The History-Maker: Annie Thorisdottir
"There's nothing wrong with dreaming big, just as long as you understand you need to put in hard work to make things happen. Also, it's key to have the right people around you to help and support you."
—Annie Thorisdottir, as told to Polar in 2018
ABOUT THE ATHLETE: In 2012, Thorisdottir became the first woman in history to win the title of Fittest Woman in the World twice, repeating her 2011 victory. This Icelandic athlete co-owns Crossfit Reykjavik and is sometimes called Iceland Annie. She became known for her fearlessness after she completed her first muscle-up mid-competition, after many unsuccessful attempts. She dreams big — and it's paid off.
7. The Veteran: Ben Smith
"I was taught at a young age that if you want something, be disciplined and work hard. Work harder than everyone else. So that's what I did with everything in my life. I wanted to be a great baseball player and I thought CrossFit could be the differentiator that got me there… If you want to be the best at something, you have to do something a little different. CrossFit was definitely different."
—Ben Smith, as told to Reebok in 2018
ABOUT THE ATHLETE: This Virginia athlete has participated in every CrossFit Games for the past decade. As a child and into his teen years, Smith's focus was baseball, but after being introduced to CrossFit, he hit the scene at 18 years old. He took the title of Fittest Man in 2015 and has made it on the podium a total of three times. What is his secret to success? Old-fashioned hard work.
8. The Young Gun: Lauren Fisher
"We don't grow when things are easy, we grow when we face challenges." (Unknown)
"My dad always told me when I was younger if I wanted anything in life, I needed to work hard for it, and nothing comes easy. If everything in life was easy, we wouldn't learn and we wouldn't grow. By going through tough times and struggles, we are pushed to our fullest potential and find out who we truly are in the process."
—Lauren Fisher, as told to LIVESTRONG
ABOUT THE ATHLETE: Fisher started her career as one of the youngest athletes — at age 14 — and just four years later was competing in Regionals. Each year, she became a stronger force, taking top spot in the California Regional in 2016. She isn't just a champion in CrossFit, however. She won the 2014 USA Weightlifting Junior National Championship in the 63-kilogram class. Fisher views her age as an asset, using her time in CrossFit to learn from the athletes around her.
9. The Fighter: Noah Ohlsen
"She [Joann, Noah's girlfriend] talked about potentially using a mantra for that day, that whenever things got tough I would be able to to just rely on a phrase or a word to help get me through the workout. We decided on saying, This is tough, but I'm tougher.
"I felt like that was good because I could use that when the workout was getting tough, as it had been the day before; I can be tougher than that, I can be better than these circumstances. Yeah, things aren't going my way, but I am better than that. I can pull through it. I can push through it and prove to myself and everyone else that I am tougher."
—Noah Ohlen, as told to Julian Castro in 2019
ABOUT THE ATHLETE: If you're looking for Ohlsen, you'll probably find him training. The athlete stays well-rounded by doing everything from running to Olympic weightlifting, and after five years of appearing in the CrossFit Games, he's still fighting his way to a win. Ohlsen has taken first in the Regionals four different times — 2014, 2015, 2017 and 2018 — and he isn't done yet.
10. The Small Yet Mighty: Camille Leblanc-Bazinet
"My logo represents a sentence that I use to repeat to myself: 'Impossible isn't far!' When people told me things like: You're too small for this sport. Wait until the real pro comes. You were just lucky. You can't. Girls shouldn't do this. Etc.
"My goal of winning the Games seemed so far away back then... one day I was looking at a horse and I was just thinking that a unicorn is just a horse with a little extra something... just a horn... still a horse; in fact, so close of simply being a horse... Impossible isn't far!"
—Camille Leblanc-Bazinet, as posted on Facebook in 2019
ABOUT THE ATHLETE: This Canadian was named Fittest Woman in the World in 2014 after winning The Games and when she isn't working out, she's working as a chemical engineer — no big deal. Leblanc-Bazinet is proof that small stature doesn't equate to a powerful athlete, even though she's heard she's too small for the sport in the past. In celebration of proving that size and might aren't the same, she uses a unicorn as her logo.