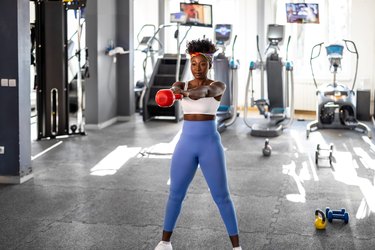 Looking to shake up your strength-training routine? Consider giving peripheral heart action (PHA) training a try. This form of resistance training can make your workouts more efficient, helping you boost your strength and endurance and burn more calories in less time.
And don't worry — the concept isn't complicated! Here's how PHA training works, why it's great, plus a sample circuit to get you started.
What Is Peripheral Heart Action Training?
Peripheral heart action or PHA training is a type of circuit training that alternates working your upper and lower body. It's much like traditional circuit training, where you move quickly from one exercise set to another. But instead of doing, say, an upper-back exercise followed by a biceps exercise or a squat followed by a leg press, you'd switch between upper-body exercises — like seated rows — and lower-body exercises — like lunges.
Often, PHA training involves switching between exercises that work big muscle groups.
This form of training speeds up circulation of your blood from your heart peripherally — aka to your extremities — which ultimately burns more calories and may contribute to gains in lean muscle mass, according to the National Academy of Sports Medicine (NASM).
What's more, PHA training is versatile and highly customizable.
"It's a little like interval training. You can do it for different lengths of time with different rep ranges, as long as you're not taking too much rest in between sets," Tamir says. You can adapt the concept to different fitness goals, too. "You can take a little more rest if you're looking to maximize strength or a little less rest if you're looking to maximize endurance."
In other words, this approach to strength training has something to offer almost everyone.
What Are the Benefits of PHA Training?
PHA training has the edge over standard resistance circuits in a bunch of important ways. Here's what you'll get when you alternate upper- and lower-body moves.
1. It Gives You an Efficient Workout
PHA training involves moving from one resistance exercise to the next relatively quickly, so your heart rate stays elevated while you work your muscles. This essentially gives you two types of exercise in one — strength and cardio — making it a great option if you don't have much time for working out.
"It's a great bang for your exercise buck," Tamir says. "You're gaining strength, but your heart rate will also be going up quite a bit, so it's also a calorie-burning exercise."
2. It Helps Reduce Muscle Fatigue
Spending your whole sweat session focusing on either your upper or lower body is a recipe for feeling exhausted fast. But when you switch back and forth, different muscle groups get more of a break (even while you're staying active), Tamir explains. As a result, you can actually go longer and harder.
3. It Supports Weight Loss
PHA training keeps your heart rate up, making it an effective calorie-burner. Alternating between upper- and lower-body movements can speed up circulation, which is thought to help decrease body fat and increase lean muscle mass, according to the NASM. "You'll also get that afterburn more efficiently than if you were doing straight cardio," Tamir says, referring to the process where your body continues to burn calories even after you've finished your workout.
4. It Improves Overall Fitness
PHA training can improve your cardiovascular endurance and your overall ability to carry out everyday activities. "It's great for heart health and for building overall functional strength for things like carrying groceries, carrying your kids, pushing heavy doors open or going swimming on vacation," Tamir says.
In fact, PHA training has been shown to improve aerobic capacity more effectively than intense cardio exercises like high-intensity interval training (HIIT), according to a November 2014 study in the ​European Journal of Applied Physiology​. The benefit is thought to come from PHA training's ability to enhance circulation, which may increase metabolism at the cellular level.
5. It Can Be Adapted to Your Needs
Most healthy people can perform PHA training, according to the NASM. As long as you stick with the basic concept of alternating between upper- and lower-body movements, you can switch up the exercises, weights, reps and sets and rest periods for your fitness level and goals.
"We build people up, starting with certain exercises for three to four weeks and then graduating to something more advanced," Tamir says.
How to Add PHA Training to Your Routine
PHA training can be incorporated in place of traditional circuit or strength-training workouts. "You can do it three or four times per week, depending on your [fitness level], how quickly you recover and what you're doing on your off days," Tamir explains. "You generally want to give your muscles about 48 hours to recover."
PHA Training Sample Workout
Want to give PHA training a shot? This circuit workout, designed by Tamir, is made for moderate fitness levels. It requires a set of dumbbells, a kettlebell and an exercise bench. Always get the green light from your doctor before trying a new activity if you're new to exercise.
Perform four rounds, taking 45 to 60 seconds rest between each exercise.
Jump Squat
Stand with your feet shoulder-width apart and your toes facing forward or outward slightly.
Keeping your feet flat on the floor and back straight, brace your core and push your hips back and down until your thighs are parallel to the floor (or as low as you can comfortably go).
From the bottom of your squat, push through your feet to jump explosively off the ground. (You can extend your arms down along your sides as you do so.)
Land safely with your knees slightly bent.
Plyo Push-Up on Bench
Place your hands on a bench (or table or other sturdy object) directly under your shoulders.
Bend your elbows and lower your chest to the bench.
Push back up with enough force for your hands to leave the bench.
Perform three rounds, taking 30 to 45 seconds rest in between each exercise.
Kettlebell Goblet Squat
Stand with your feet hip-width apart, toes pointed slightly out from parallel.
Hold the handle of the kettlebell with both hands in front of your chest with your elbows pointing down.
Push your hips back to initiate the squat. Bend your knees to descend until your thighs are at least parallel to the floor (or as low as you can comfortably go), keeping your chest up and your weight on your heels.
Press back up to standing.
Flat Dumbbell Chest Press
Lie on your back on a weight bench (or the floor) with a dumbbell in each hand. Hold the weights with straight arms above your chest. Plant your feet firmly on the floor and tighten your abs.
Bend your elbows and lower the weights until they are in line with your chest.
Press the weights back up over your chest.
Perform three rounds, taking 15 to 20 seconds rest in between each exercise.
Body-Weight Squat
Stand tall with your feet hip-width apart and brace your core. Focus on keeping your feet rooted into the ground and your core tight the entire time.
Extend your arms out in front of you and slowly bend your knees as you push your hips back to lower toward the floor. Focus on lowering your body as if you were going to sit on a chair.
Lower down as far as comfortable, or until your thighs are parallel with the floor.
Pause for a moment at the bottom of your squat.
On an exhale, reverse the motion by pressing through your heels to return to standing. As you stand, lower your arms back to your sides.
Push-Up
Begin in a high plank with your core and glutes engaged. Your shoulders should be stacked over your wrists and your hips should be in line with your head and heels.
Bend at the elbows at about a 45-degree angle from your torso and lower your body toward the ground.
On the way down, squeeze your shoulder blades together.
When your chest hovers just above the ground (or however far down you can go), press into the ground and push your shoulder blades apart to return to the starting position.
Body-Weight Alternating Reverse Lunge
Stand with your feet about hip-width apart, hands on your hips.
Step with your right leg 3 feet behind you and bend your knees until they form 90-degree angles. Your back knee should hover an inch above the ground and your front thigh should be parallel to the ground.
Keep most of your weight in the front leg as you press into your left heel and straighten your left leg.
Bring the right leg back to the starting position and stand up.
Repeat the motion with the opposite leg.
Do 10 reps per side.
Dumbbell Standing Overhead Press With Rotation
Start standing with your feet hip-width apart with a dumbbell in each hand, palms facing each other, elbows bent so the weights are racked at your shoulders.
Press the weights up overhead. As you do so, rotate your arms outward so your palms are facing forward.
Lower the weights, rotating your arms inward and back to the starting position.