Although fatigue after exercise is a normal response to physical exertion, extreme or persistent fatigue could indicate a health problem. People with extreme fatigue should seek medical evaluation, especially if other symptoms develop or they are unable to perform routine activities. Fortunately, most cases of extreme fatigue after exercise do not indicate a serious illness, and are preventable or treatable with lifestyle changes or medical care.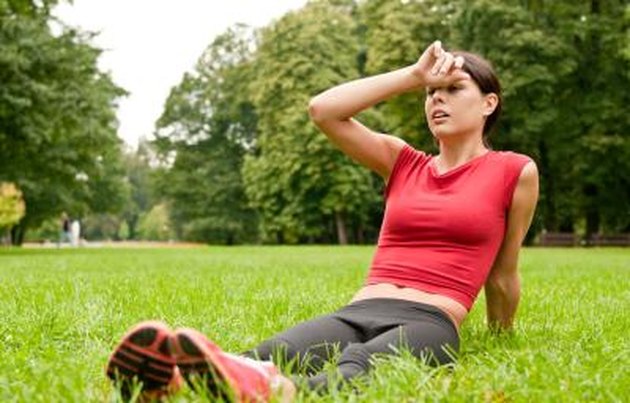 Features
Extreme fatigue after exercise is more common during hot weather, in people with certain medical conditions, or after performing an intense or very long workout. In addition, the National Library of Medicine website suggests that habits such as poor sleep or nutrition could increase the risk of experiencing extreme fatigue. People who feel extreme fatigue after exercise might experience additional symptoms, including difficulty breathing, pain or weakness.
Identification
Physicians identify extreme fatigue after exercise by conducting a physical exam of the patient and completing a medical history. Patients might need to provide blood or urine samples for laboratory testing if conditions such as diabetes, anemia or thyroid disorders are suspected. In addition, doctors might request the patient to complete a screening for depression.
Causes
Extreme fatigue after exercise, accompanied by poor athletic performance and difficulty breathing, might result from exercise-induced asthma. The Muscular Dystrophy Association website explains that metabolic diseases of the muscular system might cause extreme fatigue after exercising, due to the inability of the muscle to perform the chemical reactions necessary to get energy out of food. Other conditions that might cause extreme fatigue after exercise include anemia, thyroid disorders, allergies or abuse of alcohol or narcotics.
Treatments
If thyroid disorders are the cause of extreme fatigue after exercise, doctors often prescribe medications to regulate the thyroid gland. The Muscular Dystrophy Association website explains that physicians or nutritionists might recommend a specialized diet plan for those with extreme fatigue caused by metabolic muscle disorders. In addition, in some cases doctors might prescribe anti-depressants or multivitamins to treat fatigue caused or worsened by depression or poor nutrition.
Prevention
Drink water or a sports drink during and after exercise to prevent fatigue caused by dehydration. During the warmer months of the year, consider exercising in an air conditioned area or in the early morning hours when it is cooler outside. To build up endurance, slowly increase the duration and frequency of workouts as recommended by a doctor, and consider light exercise such as walking, rather than suddenly starting a vigorous routine that can amplify fatigue.