Exercise can either give you energy or take it away. This depends on several factors, including your current physical condition, your health and how much exercise you perform. If you're not in good health, talk to your doctor before starting an exercise program. He can advise you on what's best for you and what to avoid.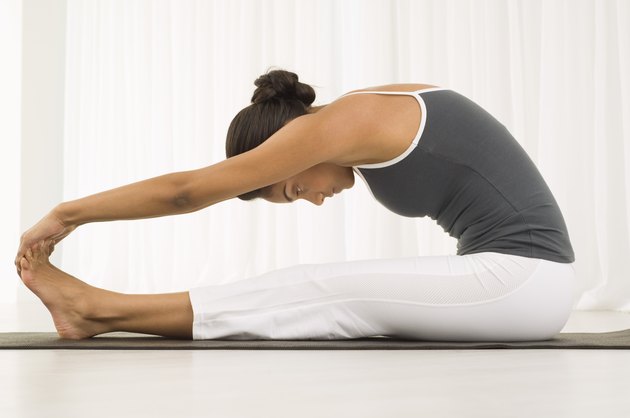 Feeling Tired
Exercise may leave you feeling tired and low in energy if you haven't exercised in a long time. This is especially true if you're also overweight. A way to deal with this is to start slow. Rather than jumping into a two-hour workout from the beginning, start with a 15-minute walk every day. As you get stronger, you'll feel less tired after a workout session.
High Energy Levels
Over time, exercise increases your energy level, not decrease it. A 2007 report published in "The University of Georgia Research Magazine" noted that regular exercise can significantly increase energy levels while fighting fatigue. The report analyzed 70 previous studies and found that all participants benefit from regular physical activity. Individuals who dealt with chronic conditions or serious diseases such as cancer reported an increase in energy when they were working out regularly.
Other Reasons for Fatigue
If you've been exercising regularly for a couple of weeks and still feel very tired, there could be medical reasons for it. A common cause for fatigue is anemia. Infectious diseases, endocrine and metabolic problems can leave you feeling too tired to exercise. Lack of sleep also leaves you low on energy. The National Sleep Foundation recommends between seven and nine hours of sleep for adults. If you're sleeping less than that, you might be running on empty. If you combine exercise with no energy, you end up feeling exhausted.
Extreme Exercising
You will feel very tired if you exercise to an extreme. According to psychiatrist Dr. Pauline Powers in her book "Exercise Balance," exercising too hard or too much leads to injuries, bone loss and puts some individuals at risk for an eating disorder. Adjust your exercise sessions until you feel tired, but not exhausted after a session. For example, walk or jog instead of running.