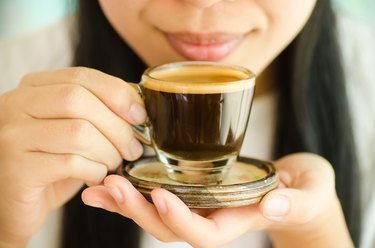 If you're an espresso fanatic, you know that the flavor, body and consistency of your java depend largely on the type of espresso beans you use. Using quality beans will reward you with a cup that's smooth and rich in flavor.
"Quality espresso beans and coffee beans are critical to achieving optimal flavor in any brew," says Heather Calatrello, founder and head roaster at ShedLight Coffee Roasters in San Diego, California. With that in mind, we set out to bring you the absolute best of the best espresso beans you can buy today.
To find the best espresso beans on the market, we spoke with Calatrello, Sylvia Fountaine, Spokane-based chef and CEO of Feasting at Home and Brian Chau, food scientist and food systems analyst at Chau Time, who shared their suggestions on what to look for in espresso beans.
We selected the beans based on their recommendations and the following criteria:
Type of roast
Bean state
Packaging
Aroma
1. Blue Bottle Coffee 17 Ft. Ceiling Espresso
Made with a blend of organic robusta beans, Blue Bottle Coffee's Espresso Beans "produce a smooth espresso," Calatrello says. Each blend is tested by the brand's professional tasters to ensure quality and taste.
You can shop a one-time purchase if you're testing out the waters, or sign up for a subscription and have your beans delivered right to your door. The brand also guarantees freshness by shipping the beans within 48 hours of roasting.
Pros

Cons

48-hour shipping
Subscription available
Guaranteed freshness
Quality-tested
2. Kicking Horse Cliff Hanger Espresso
If fruity and chocolate are flavors you seek, look no further than Kicking Horse's Cliff Hanger Espresso. The beans are sourced from Indonesia and Central and South America, offering a unique flavor.
"With notes of chocolate and brown sugar, it has the depth we like in espresso, but there's an unexpected wild cherry undertone that adds profound complexity," Calatrello says. The aroma of blackcurrant, milk chocolate and brown sugar combined is just as good as it tastes.
Pros

Cons

Unique flavor
Good aroma
Medium roast
3. Ladder Coffee Roasters Herbies Espresso
The flavor profile of Ladder Coffee Roaster's Herbies Espresso is not one to miss. "It's chocolatey and rich with a slight top note of grapefruit," Fountaine says.
Each bag was carefully roasted in Spokane, Washington in small batches to ensure quality. For the best brewing results, the brand recommends using the bag within four weeks of purchase.
Pros

Cons

Made in small batches
Subscription available
Rich flavor

Have to use quickly
Grapefruit flavor may not be for everyone
4. Lighthouse Roasters Espresso Blend
These beans come highly recommended by Fountaine for their sweet flavor profile. Sourced from Africa, Latin America and Indonesia, it produces a brew with a toffee-like flavor, notes of dark chocolate and a subtle hint of cherry, making for a tasty morning brew.
Plus, the beans work for a myriad of brewing methods, including drip coffee, French press, pour-over and espresso.
Pros

Cons

Rich flavor
Can be used for many brewing methods

Sweet finish may not be for everyone
5. Red Bay Coffee East Fourteenth
If you're looking to support a Black-owned espresso shop, make it Red Bay Coffee. "The company has a social mission and they are a must-try for their variety of single origins and blends," says Chau.
With types like Oakland Irish Roast and Ocho Libre Decaf, there are 13 espresso bean options to choose from. One of the notable finds on the brand's website is East Fourteenth, which is a dark roast with a blend of blackberries, dark chocolate and dates. The combination of these flavors creates a deliciously malty flavor.
Pros

Cons

Black-owned
Dark roast
Save 10% with a subscription

Malty flavor may not be for everyone
6. Addictive Coffee Roasters Morning Fix
Blended with cacao, orange peel and a hint of toasted vanilla, the Morning Fix is just what you need to get your morning started. This signature blend has a subtle citrus and nutty flavor and is sourced from Colombia, Ethiopia and Sumatra.
You have the option of making a one-time purchase or subscribing for shipments on a one- to five-week basis. Reviewers went as far as to call it the "best coffee ever."
Pros

Cons

Rich flavor
Subscription service available
Free shipping for orders over $49

Citrus taste might be too bitter for some people
3 Factors to Consider Before Buying Espresso Beans
Once the coffee is roasted, it begins to oxidize, which can turn coffee dull and sour after three weeks, Calatrello says. "The best way to ensure your coffee is fresh is by looking for the roasted date on the bag of coffee beans before buying," she says. "If the company doesn't provide roasting information, we say skip it."
The preservation time of espresso beans depends on how they're stored. Calatrello recommends that coffee be sealed in an airtight container or resealable bag and away from sunlight.
Fountaine says that quality espresso beans should have a shiny exterior. "That shine is from the oils within the beans, and generally indicates a darker roast and more robust flavor," Fountaine says.
The beans should also be a reddish-brown color, she adds. "If the beans look black, it is an indication that they have been over-roasted, which makes the coffee bitter."
Just like other food products, espresso beans can mold, especially if they are really fresh. Using moldy beans is not only gross, but it can really upset your digestive system.
If your coffee beans show any signs of discoloration, it's best to throw them away. And always check your bags for mold. If you spot any, Calatrello recommends tossing the beans and grabbing a fresh bag.