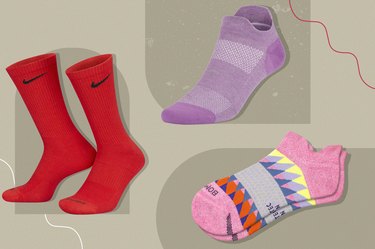 If you're someone who frequently experiences sweaty feet, you're in good company. In fact, an estimated 3 percent of the U.S. population — some 8 million people — suffer from what's known as plantar hyperhidrosis, or excessive foot sweating, according to the American Podiatric Medical Association.
This type of sweaty feet is not caused by the normal causes of sweating, such as high heat or exercise, but rather an all-the-time issue that occurs without a culprit. This condition can be both emotionally and physically debilitating, says Najwa Javed, DPM, podiatrist with Silicon Valley Podiatry Group and founder of E'MAR Italy.
"While no one knows what causes this condition, it seems to be inherited and can affect palms, soles, armpit, hair, legs and back," Dr. Javed says. "When affecting the foot, it can increase foot odor and can cause an increased risk of infections — including fungal toenails."
These symptoms are quite unpleasant and can be difficult to manage. One easy remedy is to ensure that you're purchasing the proper socks — ones that are breathable and both moisture-absorbing and moisture-wicking, Dr. Javed says.
If your socks aren't made with the right materials and structure, they can exacerbate sweating and even lead to blisters, she warns.
The Best Breathable Socks for Sweaty Feet
We reached out to three podiatrists, who offered product recommendations and broke down what to look for in socks that can help with sweaty feet. We selected these products based on their criteria, including:
Fit
Comfort
Cushion
Moisture-wicking abilities
Compression
Find more information on how we cover products here.
Why Are Certain Socks Marketed to Men or Women?
We make deliberate choices about the language we use and try to avoid language that implies a gender binary, but manufacturers tend to market products to men and women. Socks seem universal, so you may wonder why this is.
"Women's socks are thinner and lighter vs men's socks, which are thicker and heavier," Dr. Javed says. "Also, the 'welt,' which is known as the cuff of the sock, tends to be wider for men and narrower for women."
1. Bombas Running Ankle Socks
With an engineered honeycomb structure that hugs your foot where you need it most, Bombas reigns supreme in the sock department, especially for those with sweaty feet.
They're made from a cotton fiber that's soft and durable, a cushion footbed that supports the soles of your feet and they don't exacerbate sweat like so many other socks.
Because these socks are formulated for running, they're designed to be sweat-wicking.
Another plus: For every pair of socks purchased, the company donates one to someone in need.
2. Smartwool Run Targeted Cushion Low Ankle Socks
These low ankle socks are formulated for runners, so they're designed to withstand sweat — and lots of it. They are breathable, thanks to their use of naturally temperature-regulating Merino wool, and made using an Indestructawool™ technology that helps ensure their durability after extensive wear.
These socks also maintain their elasticity and shape quite well over time.
These socks from Allbirds are formulated for use by both men and women and range in sizes from small all the way to extra-large.
They're made from an ultra-breathable Trino material, which is Allbirds' name for their blend of tree and Merino wool, which together possess odor-reducing and moisture-wicking properties.
In addition to a reinforced heel, these socks are so low you can hardly see them no matter what type of shoes you pair them with.
4. Nike Everyday Plus Cushioned Training Crew Socks
If crew socks are your thing, you'll find everything you're looking for with this everyday pair from Nike. They are super comfortable with extra cushioning under the heel area and a snug, supportive arch band that stays put and provides an added cushion no matter your activity.
These socks also sweat-wicking and breathable to keep your feet dry and cool whether you're working out or sitting idly at your desk.
5. Cabeau Bamboo Compression Socks
"These 8-15 mmHg compression socks are perfect for those that benefit from mild compression socks," says Tim Oldani, DPM, podiatrist at Missouri Foot and Ankle in St. Louis.
They're made from bamboo, a natural material that Dr. Oldani points out it is ideal for those with sweaty feet because it is both breathable and helps regulate moisture. "This is especially nice for those that wear compression stockings, which traditionally are made from poorly breathable synthetic materials," he says.
What to Look for in Socks for Sweaty Feet
Here are a few features to keep in mind when shopping for the best socks to relieve sweaty feet.
While the fit of a sock might not need to be quite as exact as that of a shoe, it still plays a role of importance.
"The weight or thickness of socks can be a factor in foot odor so it is best to wear lightweight socks if you have sweaty feet," says Jackie Sutera, DPM, podiatrist and Vionic Innovation Lab Member. She recommends always trying socks on with your shoes to make sure they fit and comfortably.
Comfort is important when you're buying anything foot-related, and this is especially true if you suffer from sweaty feet. Dr. Sutera recommends looking for brands that are trying to incorporate the best of both worlds — offering targeted cushioning and also made with materials that whisk away moisture.
Along with comfort, adding cushioning can help reduce friction blisters as well as keep your feet from slipping and sliding in the shoes due to sweat, Dr. Javed says.
4. Moisture-Wicking Abilities
Since sweat breeds more sweat when in a moist environment, it's a good idea to look for socks that are made from moisture-wicking materials, such as natural or acrylic fiber blends.
"These socks have the ability to help draw the moisture away from your feet instead of trapping it," Dr. Sutera says. "Socks made of all cotton can absorb moisture but do not wick it away from the skin fully and frequently lead to blisters for people who sweat a lot."
Is this an emergency? If you are experiencing serious medical symptoms, please see the National Library of Medicine's list of signs you need emergency medical attention or call 911.