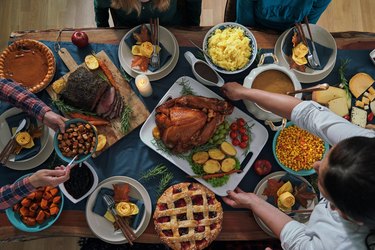 Holiday dinners require a bit more effort than your regular get-together.
Your house smells of cinnamon and rosemary, your friends and family have traveled from near and far to gather around the table and holiday cheer is in the air. The only downside? The exorbitant cost to make a holiday feast weighs on many hosts. Plus, food prices are expected to increase by up to 10 percent throughout 2022, according to the USDA.
Here are eight ways to prepare an affordable holiday dinner, according to registered dietitians.
1. Have a Plan — and Stick to It
When prepping for a big holiday feast, chances are you're going to make at least one trip to the grocery store. If you plan on winging it, you'll likely throw ingredients in the cart that you didn't budget for.
Before heading to the supermarket, sit down and strategize to reign in unplanned purchases. First, plan your menu ahead of time — that includes appetizers and desserts. Write down all of the ingredients you'll need and their quantities. Then, check your pantry for items you may already have, such as canned green beans and chicken broth.
Having a plan and detailed list of execution will help you stay laser-focused in the grocery store. It will also help you avoid the temptation of throwing fun (but pricey) seasonal items into the cart. Pumpkin-flavored frosting? You don't ‌need‌ it. Holiday-themed napkins? Stay strong.
Don't underestimate the big savings associated with shopping in bulk: The more volume you purchase, the less you pay per unit. When you're already planning on purchasing a large amount of food for a big meal, it makes sense to check your local warehouse first.
"It pays to have a club membership to warehouses like Costco, BJ's Wholesale Club and Sam's Club around the holidays," says Arizona-based registered dietitian-nutritionist Anne Danahy, RDN. "These stores usually have specials on holiday essentials, so take advantage and stock up."
If you don't use up ingredients that can go bad in time, you can freeze them. You can even freeze eggs bought in bulk — just crack and beat them, and then transfer them to freezer-safe containers, according to the Academy of Nutrition and Dietetics.
3. Use Canned and Frozen Ingredients
Holiday dinners often call for a lot of fresh produce, such as carrots, yams, cranberries, onions and so on. This is a great way to eat your fruits and veggies, but it can add up quickly. The budget-friendly alternative? Head to the freezer and shelf-stable aisles.
"Depending on the ingredient, the canned versions can be as much as 80 percent cheaper than fresh and 50 percent cheaper than frozen," says Joan Salge Blake, RDN, LDN, a registered dietitian and nutrition professor at Boston University. "You can create a very inexpensive vegetable soup for the first course by substituting the fresh veggies in the recipe with the canned variety, such as tomatoes, potatoes and beans."
Bonus: Canned and frozen vegetables are always washed, chopped and ready to use, which saves you time. Frozen produce may also contain more nutrients, according to the Mayo Clinic.
4. Score Big-Ticket Items When They're on Sale
If your holiday main involves roast turkey, glazed ham, pork tenderloin, lamb chops or another meaty centerpiece, you know that these aren't exactly inexpensive dishes. You can save big on the main course by timing it right.
"Grocery stores often reduce the price of turkeys around the holidays to attract buyers," Blake says. "They put the birds on sale to lure shoppers into the store to buy everything else for the meal."
Most grocery stores circulate flyers and post deals on their mobile apps, so you can keep track of sales. Shop around to find the best bargains and strike when the time is right. You can always freeze meat and thaw it before the big day.
This hack also applies to smaller items. "You can stock your freezer when your favorite holiday items go on sale," Danahy says. "For example, fresh cranberries: They're available in the fall but last all year in the freezer. When they're on sale, stock up and thaw as needed for fresh cranberry sauce." Frozen food is safe forever, according to the USDA.
There's no shame in asking for help, and sometimes it takes a village. Cooking up an entire holiday meal with multiple courses is a big financial ask for one person, and no one expects you to fork up the entire bill yourself. If you're expecting many guests, ask them to bring a dish or item to help lighten the load and cost.
"Everyone knows how much work goes into preparing holiday meals, so when someone offers to bring something, I always say yes," Danahy says. She recommends keeping tabs on what people are planning to bring so you don't end up with ten pumpkin pies but no gravy.
Feeding many mouths can get complicated and costly real quick. So, less is more. Yes, you need a large number of servings, but you don't need as much variety as you'd think.
Stick to a handful of dishes instead of biting off more than you can chew with an elaborate menu. This will save you time and money.
"When you're hosting a dinner, it's easy to go overboard with too much food or too many different dishes," says Danahy. "Choose a few favorite dishes and make enough for one average portion per person. No one will ever miss that extra side dish or appetizer."
7. Swap Convenience for Savings by DIY-ing
When you buy a premade pie, you're not just paying for the cost of the ingredients — you're paying a premium for the convenience of not having to bake one yourself. When you take the DIY route, the savings are noticeable, though the trade-off is your time.
"Don't pay extra for things you can do yourself," warns Blake. "For example, baby carrots come in a ready-to-cook size, but they typically cost more than double the amount of regular carrots."
Around holiday time, many dishes can be purchased ready-made at the store. You can even buy a full spread from some restaurants if you don't want to prepare everything yourself. To get the most bang for your buck, try to DIY some dishes you would normally buy, such as mashed potatoes, gravy, cranberry sauce, stuffing and green bean casserole.
This applies to clean-up, too. If you usually serve holiday meals with paper plates, disposable napkins and plastic cutlery to save on time doing the dishes, you can save money by using reusable dinnerware.
The (arguably) best part about holiday dinners is the leftovers. You can heat up the leftovers for days and get creative with recipes to reuse them.
Knowing that your efforts will create dozens of servings throughout the days following the holiday season makes the upfront cost sting a little less.