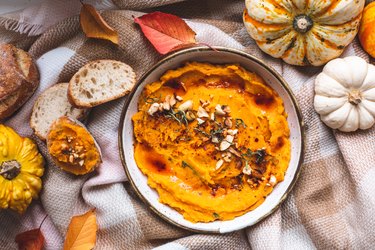 The sweetheart spice of autumn, pumpkin spice steals the show during the crisp months and puts the pizzazz into fall favorites like pumpkin pie and the PSL. It owes it fragrant flavor to a mix of ground cinnamon, nutmeg, ginger, cloves and allspice.
"A common benefit that all these spices share is their high antioxidant and polyphenol content," Nicole Chimbetete, MPH, RDN, tells LIVESTRONG.com. "Polyphenols are plant-based micronutrients that help fight disease and inflammation in the body."
​Cinnamon:​ Common in Ayurvedic medicine and cooking, cinnamon has been linked to decreased cholesterol, blood glucose and blood pressure, Chimbetete says.

​Nutmeg:​ This spice contains compounds linked to improved mood, blood sugar control and heart health, Chimbetete says.
​Ginger:​ Well-studied as an anti-nausea remedy, ginger also helps with inflammation and migraines, Chimbetete says.
​Cloves:​ Ranked highest in dietary polyphenols, according to a 2010 ​European Journal of Clinical Nutrition​ study, cloves possess microbial benefits and have been proven to fight various strains of fungi and bacteria. Plus, they offer painkilling effects that are often used to soothe toothaches, Chimbetete says.
​Allspice:​ Allspice, the dried, unripe berries of the Jamaican pepper, pimenta, has traditionally been used to treat menstrual cramps, upset stomach, muscle aches, sore joints, indigestion, respiratory congestion and toothaches, Chimbetete says.
So, to reap all these potential benefits, don't limit your pumpkin spice seasoning to pies and lattes.
From savory stew to a healthy hummus spread, these six pumpkin spice recipes will keep your bottle busy once you've baked your share of pies for the season.
1. Saucy Braised Root Vegetable Entrée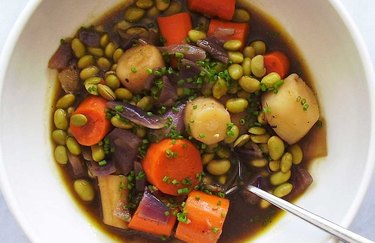 Think pumpkin spice is solely for sweets? This savory stew will change your mind. Rich in root veggies like parsnips, carrots and onions, this garden stew's earthy base of mushroom broth braises the vegetables to peak, melt-in-your-mouth tenderness.
One serving supplies a substantial two cups for only 220 calories and a whopping 7 grams of fiber.
2. Pumpkin Spice Protein Pancakes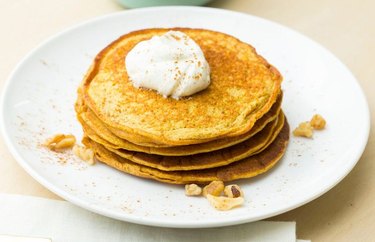 These pumpkin spice pancakes will satisfy your sweet tooth without spiking your blood sugar thanks to a hearty chickpea flour batter which boasts filling fiber. Plus, with 7 grams of satiating protein per serving, these flavorful flapjacks will keep you full for hours.
Top these with a drizzle of a maple syrup, crunchy pecans and a dollop of Greek yogurt for an extra dose of protein and gut-healthy probiotics.
3. Pumpkin Spice Latte Energy Bites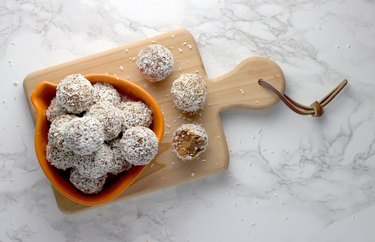 When the midday slump strikes, these pumpkin spice energy bites will give you the extra oomph you need to power through the day (or a tough workout).
Naturally sweetened with dates, these pop-in-your-mouth energy balls contain cacao nibs and espresso powder to give you a slight caffeine boost. Raw walnuts and flecks of coconut flakes offer a touch of texture and a satisfying crunch.
4. Pumpkin Peanut Butter Cups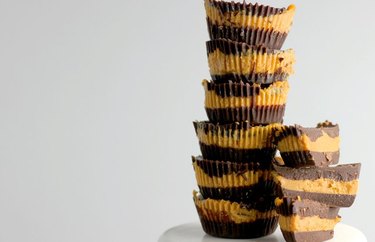 These pumpkin spice peanut butter cups possess all the chocolaty, peanut buttery flavor of the store-bought variety minus the processed junk and added sugar. And with the addition of pure pumpkin, these bite-sized cups also provide a powerful punch of vitamin A, an antioxidant that protects your eye health and fights free radicals, Chimbetete says.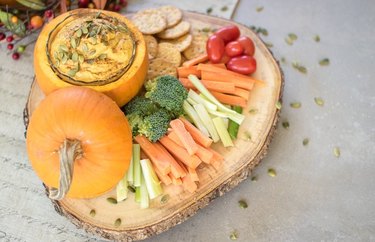 Hummus gets a fall makeover with this pumpkin spice spin on the classic chickpea dip. And by adding the good-for-you gourd in three ways — spice, seeds and canned — you get triple the pumpkin flavor (and antioxidants).
Serve with vegetable crudité or whole-grain crackers for extra fiber or simply spoon it from the bowl (we won't judge).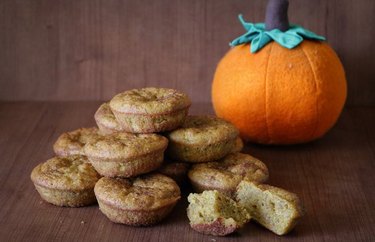 Who needs an oven when you can "bake" these fuss-free pumpkin spice muffins in under two minutes in your microwave? With just a pinch of honey for sweetness, these healthier, hearty, homemade muffins pack in the protein (11 grams) and fiber (9 grams) and will crush your pumpkin pie cravings.
What's more, these muffins seamlessly sneak in flaxseeds (and omega-3s) for a heap of heart-friendly benefits.